In celebration of twenty-five years of audio discontent, New Orleans miscreants, EYEHATEGOD, will kick off 2014 with a short run of live assaults through the West Coast and Australia.
The 25 Years Of Dysfunctional Family Abuse Tour will commence this Friday in Las Vegas and pillage its way through Phoenix and Los Angeles before trekking Down Under for onstage debauchery in Perth, Brisbane, Sydney and Melbourne. From there, team EYEHATEGOD will bring their sonic rumble back to the States leveling Reno, San Francisco, Oakland, Seattle and Denver.
EYEHATEGOD: 25 Years Of Dysfunctional Family Abuse Tour 2014:
1/10/2014 Cheyenne Saloon – Las Vegas, NV
1/11/2014 Joe's Grotto – Phoenix, AZ
1/12/2014 Los Globos – Los Angeles, CA
1/16/2014 The Rosemount – Perth, AU
1/17/2014 The Hi Fi – Brisbane, AU
1/18/2014 The Hi Fi – Sydney, AU
1/19/2014 The Hi Fi – Melbourne, AU
1/20/2014 The Tote – Melbourne, AU
1/22/2014 Jub Jubs – Reno, NV
1/23/2014 Brick And Mortar – San Francisco, CA
1/24/2014 Oakland Metro – Oakland, CA
1/25/2014 The Highline – Seattle, WA
1/26/2014 The Bluebird Theater – Denver, CO
In related news, NPR recently conducted an interview with vocalist Mike IX Williams during one of two NYC performances in November. Check it out at THIS LOCATION.
Further EYEHATEGOD intelligence – including new album details – to be disclosed in the coming weeks. Until then, suffer.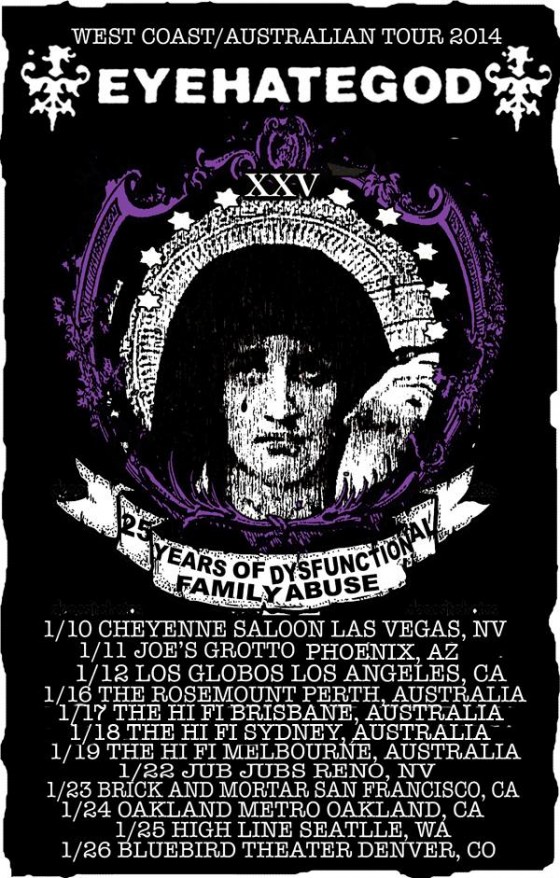 http://www.eyehategod.ee
https://www.facebook.com/OfficialEyeHateGod
http://www.mikeix.com