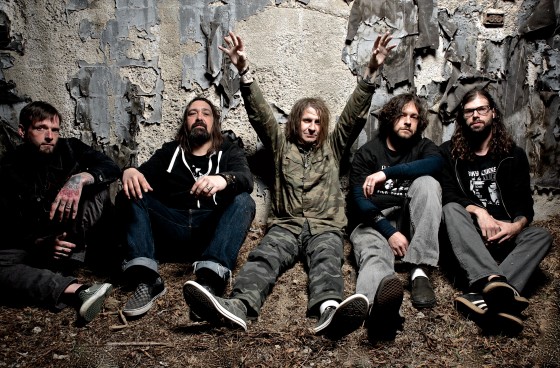 Louisiana's favorite emperors of amplification, EYEHATEGOD, today premiere their brand new video for "Medicine Noose," via Revolver Magazine. The clip was shot in various locales around New Orleans by renowned artist/director Josh Graham of Suspended In Light, and captures perfectly the song's dark, riotous, fuck-all essence.
Roll your ocular organs on over to Revolver at THIS LOCATION to view the video along with some words from vocalist Mike IX Williams about the track.
EYEHATEGOD's chart-leveling, self-titled new studio offering – their first full-length in nearly 15 years – was released on May 27th and continues to earn the adoration of fans and media both Stateside and beyond. "Their albums take on a life of their own, personifying what life is like in the lower middle class and working class neighborhoods of the various backwaters of forgotten America," relays About.com, crowning the record, "a classic of the genre." Noisey dubs Eyehategod, "…the record that EHG fans have been waiting for; a stomping and venomous set of eleven tracks that reignite the band's amazing propensity for down-trodden, electric blues," Consequence Of Sound christenes it, "…a worthy comeback and their most entertaining release since 1996's Dopesick," adding that it's both, "urgent and raw, as if the band hasn't aged a day, especially in the case of Williams. His volatile howl hits adolescent highs and scratchy lows on opener 'Agitation! Propaganda!' and the song's d-beat gallop is a welcome dose of speed before the relentless, sludgy grooves that follow," while Metal Insider notes earnestly, "To say that this album is 'a triumphant return,' or 'the album we've all been waiting for' are elephantine understatements. This album holds its own against some of the best of their canon and that alone makes it one of the best metal albums you'll hear this year." Adds MetalSucks pointedly, "it's really fucking good." EHG graces the cover of the July issue of Decibel Magazine, available now. Purchase your copy at THIS LOCATION.
EYEHATEGOD continues to crumble stages across the US on a near month-long live assaullt with metallic hardcore unit, Ringworm, and ravaging punk metal culprits, Enabler. Relays The New York Times in a recent recap of their Brooklyn performance, "Something happened to EYEHATEGOD in the last decade… some kind of stability – a realization of exactly what the band has and how to use it. It has a very good new and self-titled album, its first in 14 years. And its show at Club Europa, in Brooklyn, on Saturday night, fell in line with the last three I've seen by the band, before and after Mr. LaCaze's death from respiratory failure in August. It was an extended family of riffs, played over the new drummer Aaron Hill's weaving, swinging drum patterns, and under the singer Mike IX Williams' wretched howl and crinkly-eyed, mirthless smile. It was low-end body music, half-slovenly, half-graceful, impossibly deep – music for moving to in fluid motion…This was a band built on a narrative about doing the opposite of what it thought people wanted: playing slow and messy music in a fast and virtuosic time, the 1980s speed-metal moment. Now, it's hard to understand it any other way than an act of refined generosity. It doesn't matter how many copies of the new album are sold. Few have done better at creating success out of failure. [Read the full review HERE]."
Additionally, the band recently announced a special one-off live date where they'll return to Brooklyn, New York's Acheron with support from Iron Reagan, Vektor and Strong Intention. See all confirmed dates below.
EYEHATEGOD w/ Ringworm, Enabler [remaining dates]:
6/12/2014 Birdy's – Indianapolis, IN [tickets]
6/13/2014 Cobra Lounge – Chicago, IL [tickets]
6/14/2014 Pyramid Scheme – Grand Rapids, MI [tickets]
6/15/2014 Bottom End Bar – Appleton, WI [tickets]
6/16/2014 Triple Rock – Minneapolis, MN [tickets]
6/17/2014 Diamond Pub – Louisville, KY [tickets]
6/18/2014 Fubar – St. Louis, MO [tickets]
6/19/2014 Hi Tone – Memphis, TN [tickets]
6/20/2014 Southport – New Orleans, LA [tickets]
6/21/2014 Dollhouse – Savannah, GA [tickets]
6/22/2014 Orpheum – Tampa, FL [tickets]
6/23/2014 Looseys – Gainesville, FL [tickets]
6/24/2014 Zydeco – Birmingham, AL [tickets]
6/25/2014 The Handlebar – Pensacola, FL [tickets]
End Tour
7/15/2014 Acheron – Brooklyn, NY [info]
Eyehategod is available via Housecore Records at THIS LOCATION.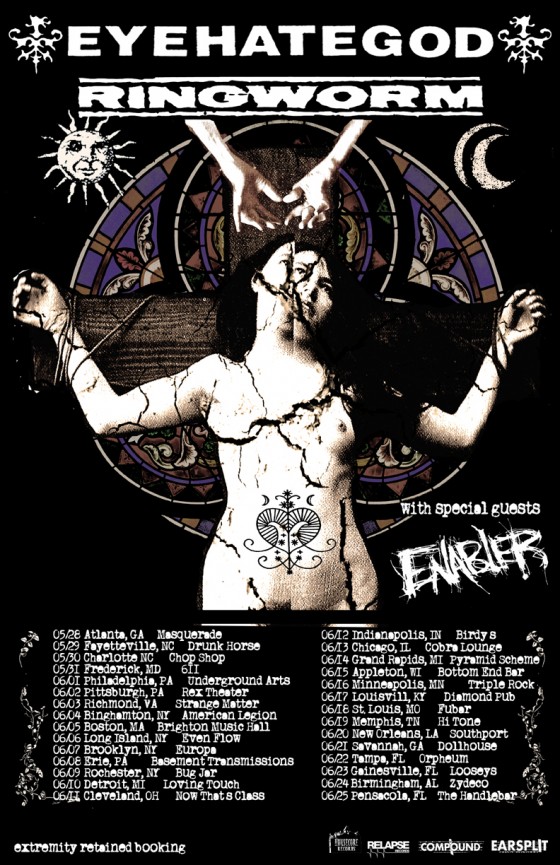 http://www.eyehategod.ee
http://www.facebook.com/OfficialEyeHateGod
http://www.thehousecorerecords.com