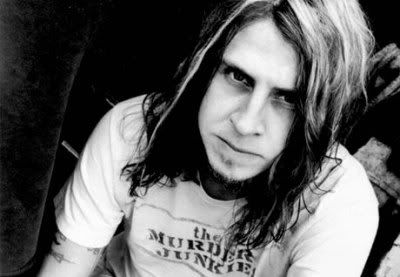 About.com's Justin Norton recently spoke with EYEHATEGOD frontman Mike Williams before the band's San Francisco performance late last year. Check out a clip below. Full interview at:
http://heavymetal.about.com/od/interviews/a/eyehategodinterview.htm
…Prior to Eyehategod's San Francisco performance in late 2009, I spoke at length with Williams about his writing career; his work as a lyricist; Eyehategod's future; his favorite books and writers (Fahrenheit 451, Kurt Vonnegut and Charles Bukowski) and if he approaches his craft as a writer and lyricist in the same fashion. Williams was blunt but eloquent. He's obviously driven by the desire to use both writing and music to clear the slate; almost an act of creation through annihilation. One thing the volatile frontman doesn't ever see himself doing: settling down.
Justin M. Norton: You recently put out your first spoken word project. What made you decide to pursue that — was it something you've always wanted to do?
Mike Williams: Definitely. I've been writing since I was really young and I've always wanted to record it and put it out. I also have a few new projects lined up that use background noise and ambient stuff and spoken word.
How did you approach this project? Was this an idea that's been brewing or did it come out of the blue? Is the spoken word an expansion on what you do with Eyehategod or an entirely different endeavor?
I think it fits in with what we do. I hate to bring it to Rollins and Black Flag, but we're such a Black Flag influenced band it sort of came around to that. But I don't like the comparison. We've always been the type of band that's not just metal or punk, but into noise and spoken word, offering people different facets of listening….
In related news, EYEHATEGOD will tour Europe this April: