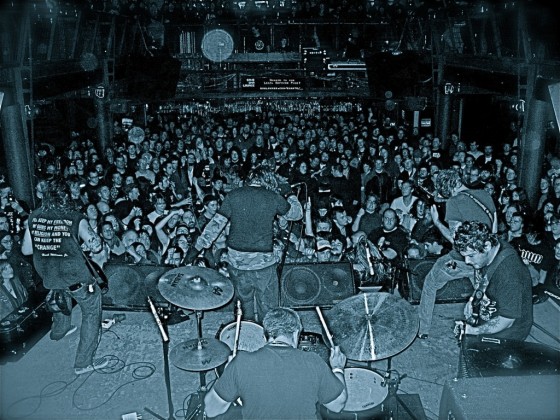 EYEHATEGOD, Louisiana's favorite purveyors of hardcore, blues-based, unrepentant, post-amplificated dirge, will head to Europe this Summer to further spread their audio message of discontent. The caravan of decadence and debauchery begins July 20 at Serengeti Festival 2012 in Stukenbrock, Germany and will pillage its way through 19 cities, leaving in its wake nothing but broken glass and hurt feelings.
Commented frontman Mike Williams of the latest rampage: "In this wonderful End-Time era of 2012, New Orleans' only 'Brotherhood of the Pharmaceutical Probation System,' EYEHATEGOD, are once again hitting the rusted railroad tracks and unpaved interstates, hitchhiking their lonesome souls all the way across the seven seas to do even more psychological damage to the music industry, and put full blown reality and life's terrible immorality in all your faces…where it belongs."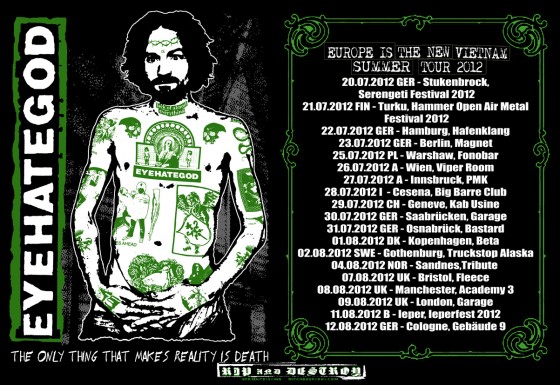 EYEHATEGOD – Europe Is The New Vietnam Tour 2012:
7/20/2012 Serengeti Festival 2012 – Stukenbrock, Germany
7/21/2012 Hammer Open Air Metal Festival 2012 – Turku, Finland
7/22/2012 Hafenklang – Hamburg, Germany
7/23/2012 Magnet – Berlin, Germany
7/25/2012 Fonobar – Warsaw, Poland
7/26/2012 Viper Room – Wien, Austria
7/27/2012 IBK – Innsbruck, Austria
7/28/2012 Big Barre Club – Cesena, Italy
7/29/2012 Kab Usine – Geneve, Switzerland
7/30/2012 Garage – Saabrücken, Germany
7/31/2012 Bastard – Osnabrück, Germany
8/01/2012 Beta – Copenhagen, Denmark
8/02/2012 Truckstop Alaska – Gothenburg, Sweden
8/04/2012 Tribute – Sandnes, Norway
8/07/2012 Fleece – Bristol, United Kingdom
8/08/2012 Academy 3 – Manchester, United Kingdom
8/09/2012 Garage – London, United Kingdom
8/11/2012 Ieperfest 2012 – Ieper, Belgium
8/12/2012 Gebäude 9 – Cologne, Germany
In related news, EYEHATEGOD is preparing for another U.S. takeover this fall. Details to be confirmed in the coming weeks. In the meantime check out live footage of new track "Medicine Noose" from Dark Lord Day 2012 in Munster, Indiana in April at THIS LOCATION. Check out the full set HERE.
http://www.eyehategod.ee
https://www.facebook.com/OfficialEyeHateGod
http://www.MikeIX.com