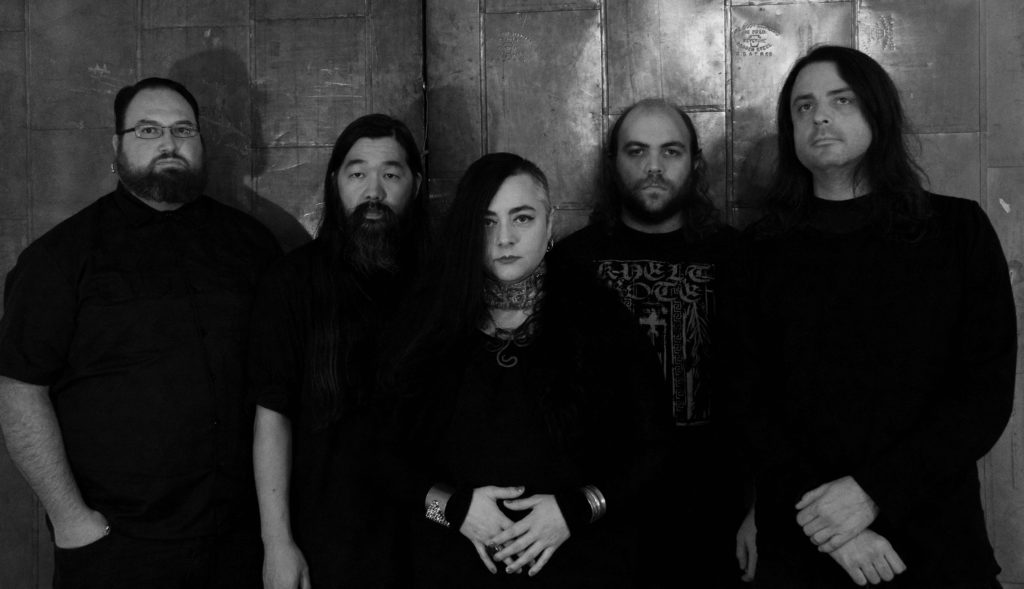 Avant metal collective EYE OF NIX recently joined forces with Prophecy Productions who will reissue the band's devastating Black Somnia full-length October 26th. Initially released in limited quantities via Scry Recordings, Black Somnia will now be available on digipack CD and vinyl formats. For preorders, visit THIS LOCATION. The reissue comes in advance of the band's impending new full-length, slated for release in 2019 via Prophecy.
In conjunction with the re-release of Black Somnia, EYE OF NIX will bring their enigmatic psalms to East Coast stages next month. The mini tour will begin with a warm up show in their hometown of Seattle October 18th before heading to Portland, Maine on Halloween. From there, the band will make their way through New York, Rhode Island, and Washington for five more shows including an appearance at Prophecy Fest at The Knitting Factory in Brooklyn, New York November 3rd alongside Alcest, Xasthur, Kayo Dot and more. See all confirmed dates below.
Comments vocalist Joy Von Spain, "Prophecy has shown they value artistic vision, quality recordings, and art time and time again. Working with them is an enjoyable experience and it's exciting to be reaching new listeners. This fall, EYE OF NIX sets out on our first tour since the completion of Black Somnia – and we are looking forward to playing Northeastern cities for the first time! We're even more excited to participate in the inaugural US festival where we'll be presenting the album in its entirety, live."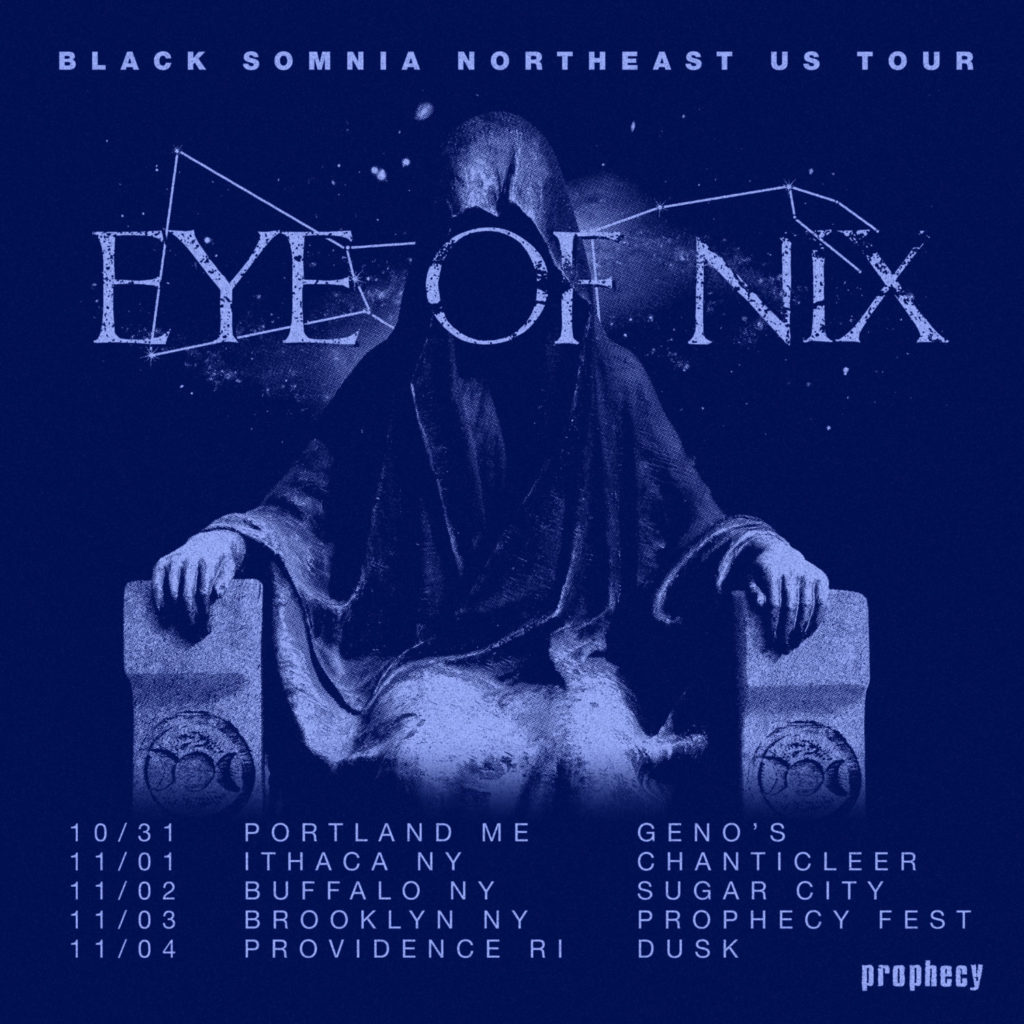 EYE OF NIX:
10/18/2018 LoFi – Seattle, WA
10/31/2018 Geno's – Portland, ME
11/01/2018 Chanticleer – Ithaca, NY
11/02/2018 Sugar City – Buffalo, NY
11/03/2018 Prophecy Fest @ Knitting Factory – Brooklyn, NY
11/04/2018 Dusk – Providence, RI
11/09/2018 Highline Bar – Seattle, WA
Formed in the Pacific Northwest in 2012, EYE OF NIX has released two albums and a demo EP to date and has shared the stage with artists like SubRosa, Voivod, Jarboe, King Dude, Worm Ouroboros, Sabbath Assembly, Eight Bells, and Atriarch. The band's creative intent is to craft music that is threatening, beautiful, and harsh through mesmerizing rhythms, emotive melodies, and haunting.
Recorded by renowned producer Billy Anderson (Bell Witch, Pallbearer) at The Hallowed Halls in Portland, Oregon and mastered by Brad Boatright (Gatecreeper, Necrot), Black Somnia centers on themes of fear, control, and anxiety while shape-shifting through a lens of blackened psychedelia and doom. The band collaborated with ritual visual artist Anima Nocturna to create the album's stunning artwork. EYE OF NIX is founding vocalist Joy Von Spain, guitarist Nicholas Martinez, and noise artist Masaaki Masao. As of 2018 the group is joined by bassist Zach Wise and drummer Luke LaPlante.
"…atmospheric, ambitious melodic black metal meets thoughtful, midnight-tinted doom, stately neocrust, and ghostly vintage goth in a perfect danse macabre…" — Noisey
"Interesting samples add atmosphere and an overall uneasy sonic mood commensurate with Von Spain's lyrical meditations on fear and discomfort. Occasional harmonized vocals and synthesizer melodies slice through the record's gloom. The result is a mature musical journey with a surprisingly varied emotional palate." — The Stranger
"Von Spain's operatic vocal tendencies make it epic, the psychedelia embedded in it makes it hypnotic, and the blackness and sludge creates a harsh abrasiveness." — Invisible Oranges
"…a heart-stopping experience, a record that combines all the shadowy forces we fear and delivers them in a moving, massive presentation. It's not every day we get bands that truly stand on their own, but EYE OF NIX is one of them, and they're a force with which the world might not be fully ready to contend." — Meat Mead Metal
"Harsh, unsettling and, at all times, abrasive, this sits at a point too glacial for sludge, too disjointed for black metal, too melodic for noise, yet too artistic and challenging for the listener ever to feel at ease, all while openly flaunting capabilities across these disparate styles." — Ghost Cult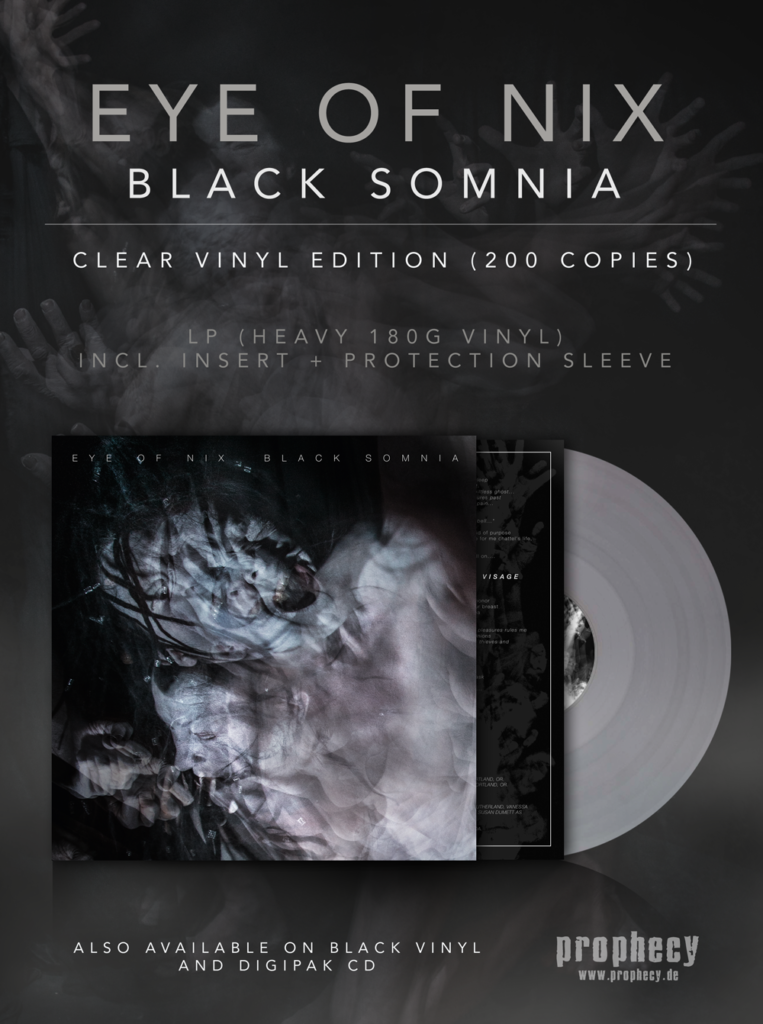 https://us.prophecy.de/artists/eye-of-nix
https://eyeofnix.bandcamp.com
https://www.facebook.com/EYEOFNIX
https://www.instagram.com/eyeofnix
http://en.prophecy.de
http://www.facebook.com/prophecyproductions