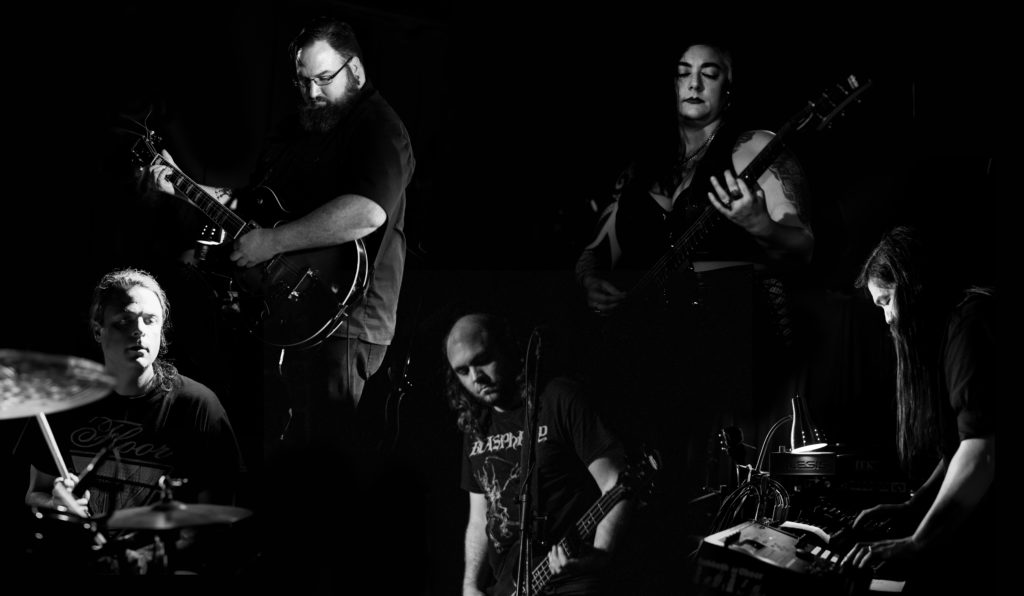 Avant metal collective EYE OF NIX recently completed their first ever East Coast tour. The week-long trek included an appearance at Prophecy Fest at The Knitting Factory in Brooklyn, New York alongside Alcest, Xasthur, Kayo Dot, and more.
Visit Cvlt Nation for a tour diary documenting the band's adventures at THIS LOCATION.
EYE OF NIX recently reissued their critically-lauded Black Somnia full-length via Prophecy Productions. Initially issued in limited quantities via Scry Recordings, Black Somnia is now available on digipack CD and vinyl formats. For orders, visit THIS LOCATION.
Recorded by renowned producer Billy Anderson (Bell Witch, Pallbearer) at The Hallowed Halls in Portland, Oregon and mastered by Brad Boatright (Gatecreeper, Necrot), Black Somnia centers on themes of fear, control, and anxiety while shape-shifting through a lens of blackened psychedelia and doom. The band collaborated with ritual visual artist Anima Nocturna to create the album's stunning artwork. EYE OF NIX is founding vocalist Joy Von Spain, guitarist Nicholas Martinez, and noise artist Masaaki Masao. As of 2018 the group is joined by bassist Zach Wise and drummer Luke LaPlante.
Stream Black Somnia in its entirety below.

Forged in the Pacific Northwest in 2012, EYE OF NIX has released two albums and a demo EP to date and has shared the stage with artists like SubRosa, Voivod, Jarboe, King Dude, Worm Ouroboros, Sabbath Assembly, Eight Bells, and Atriarch. The band's creative intent is to craft music that is threatening, beautiful, and harsh through mesmerizing rhythms, emotive melodies, and haunting.
"Von Spain deserves mention in the same breath as Diamanda Galás and Siouxsie Sioux… she shares an uncompromising attitude and a fervent desire to make her voice a conduit for catharsis. Even when on the dark folk of 'Fear's Ascent; which sounds like a Greek Orthodox dirge using her eerie voice to intone a rapturous hymn, the intensity is astounding." – Invisible Oranges
"…called 'hypnotic' and 'heart-stopping' by critics, Black Somnia embodies both those contrasting descriptions – there are times when vocalist Joy Von Spain is gentle, other times when she's operatic, and still others where she sounds like a possessed person vomiting out her demons." – Alternative Control
"…a jarring and very unsettling seven minutes of frenetic drums, pummeling doom riffs and frequent tempo changes, all underpinned by the tortured howls of vocalist Joy Von Spain." – Echoes And Dust on opening track "Wound And Scar"
"…atmospheric, ambitious melodic black metal meets thoughtful, midnight-tinted doom, stately neocrust, and ghostly vintage goth in a perfect danse macabre…" – Noisey
"…a mature musical journey with a surprisingly varied emotional palate." – The Stranger
"…a heart-stopping experience, a record that combines all the shadowy forces we fear and delivers them in a moving, massive presentation. It's not every day we get bands that truly stand on their own, but EYE OF NIX is one of them, and they're a force with which the world might not be fully ready to contend." – Meat Mead Metal
"…a work of art put together from extreme metal styles with a spooky gloom that's… scary, beautiful, ghostly, dark, painful, liberating and… interesting!" — Vokills
"…a unique sinister force…" — The Offering
"…howling, cavernous, avant-garde metal that's doom at heart and restless of spirit." — Collective Zine UK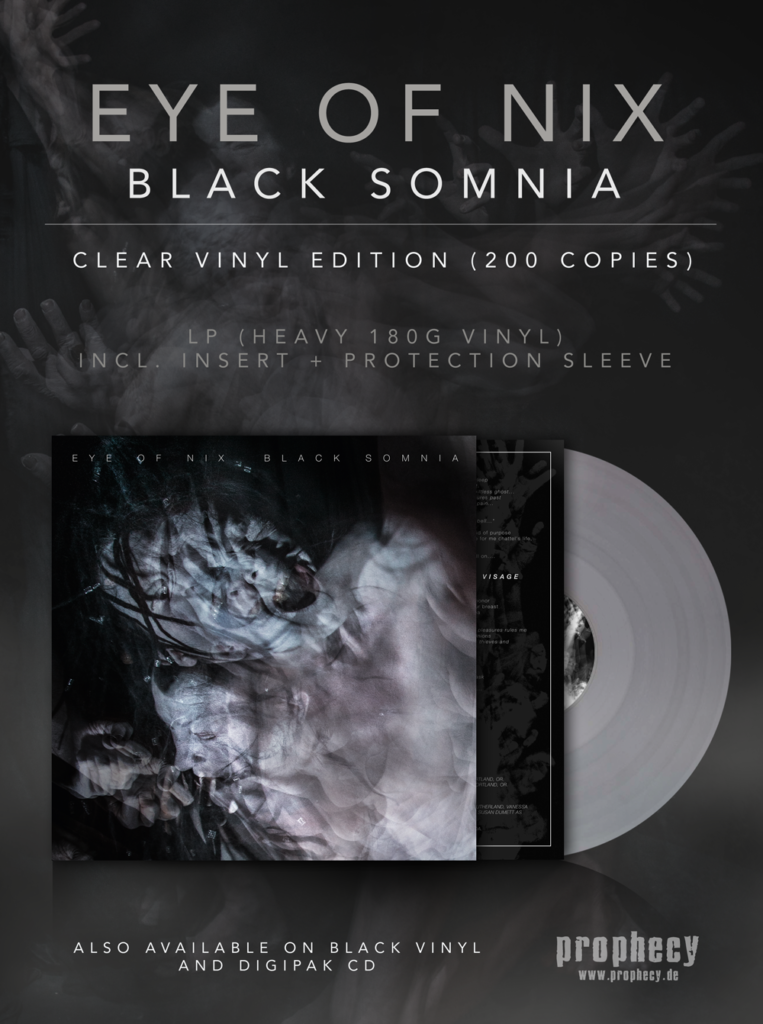 https://www.facebook.com/EYEOFNIX
https://www.instagram.com/eyeofnix
https://eyeofnix.bandcamp.com
http://www.animanocturna.com
http://en.prophecy.de
http://www.facebook.com/prophecyproductions