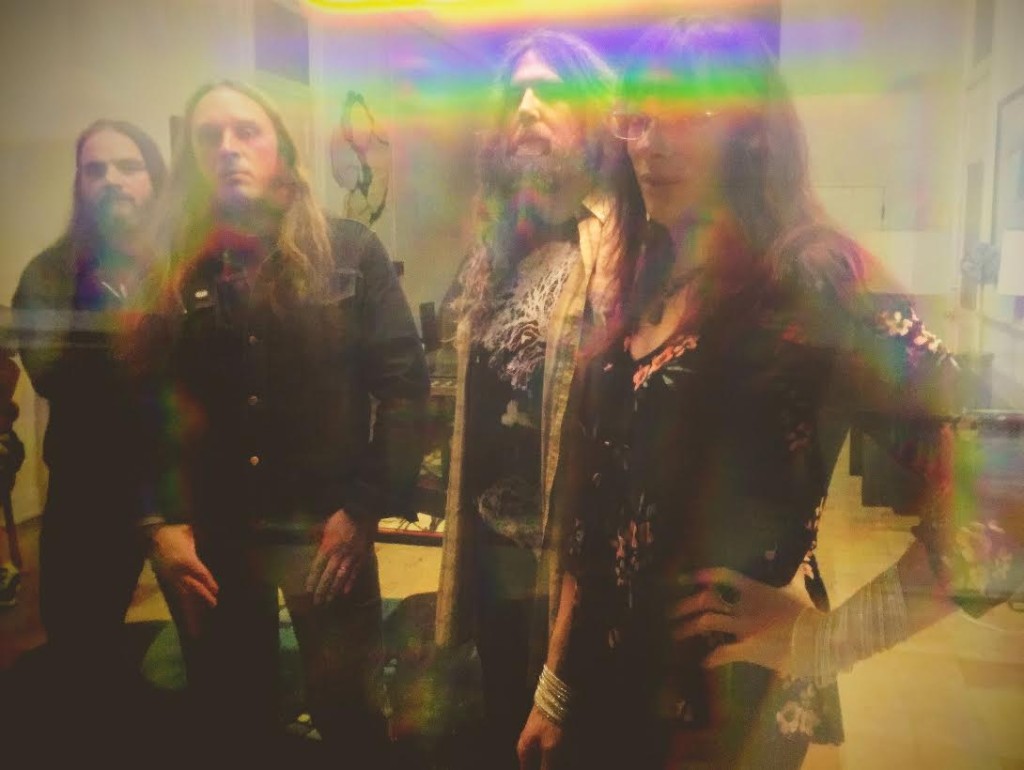 [photo by Danielle Petrosa]
Ohio-based quartet EYE presents their sprawling psychedelic/prog masterpiece, the band's fourth LP, Vision And The Ageless Light, through Laser's Edge this week, the album catching an early stream through Decibel Magazine.
The serene but intense kaleidoscope of sound EYE produces on Vision And The Ageless Light is full of ever-changing moods, sounds, and colors; the album a clear capturing of an epic and ecliptic chapter for the band. It stands as a sonic document of a spirit of a group that rolled through a plethora of changes and seasons during its writing, recording, and completion. It also marks as an introduction to a new solid, more musically communicative lineup of the group with the original songwriting foundation of it still mightily intact.
Decibel Magazine is now streaming EYE's new album in its entirety, noting, "Fusing the sounds of 1970s heavy metal with prog and psychedelia, Vision And The Ageless Light has one foot in the past and one foot in the present day. The influence of bands like Pink Floyd and Yes is immediately obvious, from the light vocals and guitar solos to the mesmerizing synthesizers parts."
Stream the entire album now at THIS LOCATION.
A video of EYE performing the album's "Searching" live as part of The Mug and Brush Sessions has also just been published HERE.
Laser's Edge will issue Vision And The Ageless Light on CD, LP, and digital formats this Friday, November 18th; preorders for the CD are live HERE and the LP HERE.
Offers the band's Lisa Bella Donna, "Vision And Ageless Light is the fourth offering from EYE. It's a very ecliptic record. We all brought lots of life experience and current happenings to the muscle mass of the music on this record. We joined forces with new members that we feel brought lots of great new energy to the sessions that went into bringing these songs to the stereo spectrum. This lineup is rock solid and a great pleasure for all of us onstage and off. We truly enjoyed every session of putting this record together. We spared no expenses at not only capturing raw, live moments the best we could, yet also allowing passageways to bring in a plethora of sounds and tones we wanted to take the listener on a unique journey with us… We will be performing regionally as much as possible. We're already back in the studio finishing up tracks for a full 2xLP of music for a 2017 release. We're very inspired for the continuum of EYE and the music that emerges. Thanks to everyone who has been so supportive."
Following two shows supporting Hawkwind this past week, EYE has booked shows in Akron and Cleveland on December 16th and 17th, respectively. Additional tour dates are to be expected for announcement throughout the coming weeks as EYE continues to promote Vision And The Ageless Light.
EYE Live:
12/16/2016 Thursdays – Akron, OH w/ Nights
12/17/2016 Happy Dog – Cleveland, OH
EYE's Vision And Ageless Light was recorded in parts at Relay Recording with Jon Fintel, and at the band's Lisa Bella Donna's own Backroads Recording Studio, after which it was mastered by Phil Demetro from Lacquer Channel Mastering in Toronto, and completed with artwork by Anthony Yankovic, as with the band's three prior albums. The band incorporated many classic studio techniques to create a mountainous curve to the atmosphere to the record; vintage instruments guitars, keyboards, and amplifiers, a mass of modular synthesizers, upright bass, reverse tape editing techniques, mixing down to different reel to reel recorders, singing and playing together, gongs, Tibetan prayer bowls, chimes, and much more. The production of the record was fully intended to keep a flowing river of sound and atmosphere throughout its duration, yet centering it with raw, visceral live performances to tape.
https://eyemusic.bandcamp.com
https://www.facebook.com/EYE00
http://eyemusic.bigcartel.com
http://www.lasersedgegroup.com
http://www.facebook.com/TheLasersEdge
http://www.twitter.com/thelasersedge