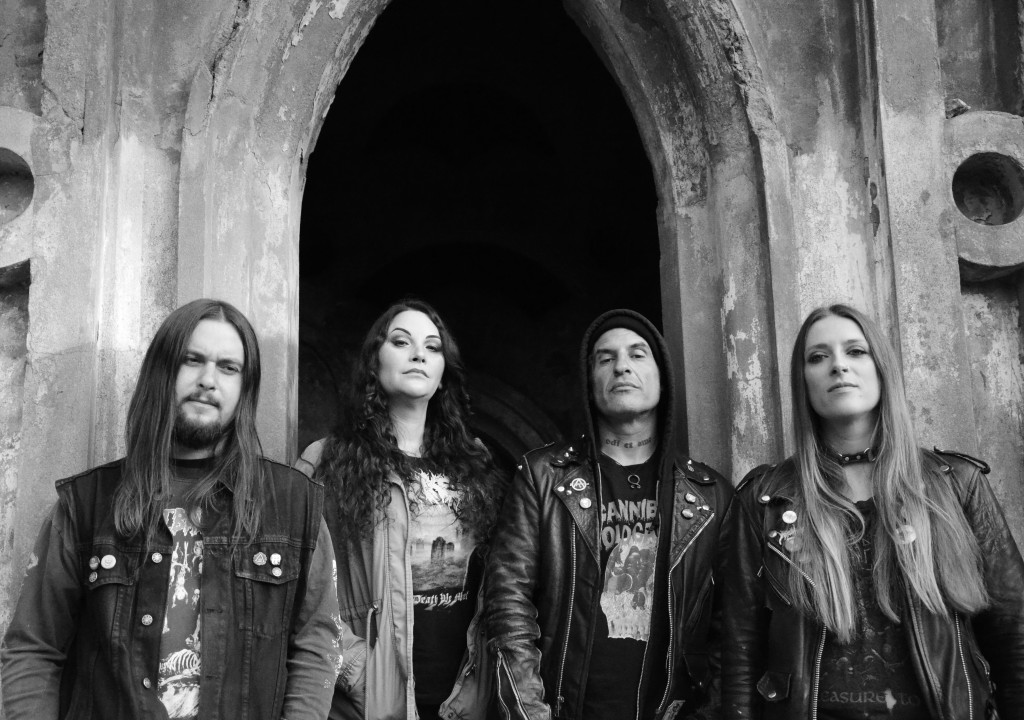 [photo by Jehnifer Mickalacki-Sublett]
Bay Area death metal quartet EXTREMITY is lining up to issue their debut LP, Extremely Fucking Dead, through 20 Buck Spin in early April, and the outfit has just deployed the album's gory "Chalice Of Pus" through a premiere at Decibel Magazine.
EXTREMITY's lineup of Bay Area veterans, Shelby Lermo (Vastum, Ulthar), Aesop Dekker (Worm Ouroboros, Ludicra, Agalloch), Marissa Martinez-Hoadley (Cretin, Repulsion), and Erika Osterhout (Necrosic, Scolex, Trepanation), stirs the salaciously sanguine death and grind sewage on Extremely Fucking Dead to a crepitating clamor of cacophonous cruelty.
Decibel spills forth "Chalice Of Pus" from the LP, adjoined by an interrogation of Martinez-Hoadley and Osterhout. The mag calls out the record's, "ungodly morbid destruction," continuing, "Whether rending limbs with trem-picked, blastbeat-riddled dirges reminiscent of old school NYDM, or pummeling your brainmeat until it bruises and calcifies into something like caveman coprolite, a la early Grave, EXTREMITY clearly know their way around death metal."
Also hear the previously-released "Crepuscular Crescendo" at Invisible Oranges HERE.
20 Buck Spin will release Extremely Fucking Dead on April 7th, with digital, CD, and LP formats confirmed, including a gold vinyl variant limited to 150 copies and a multi-color variant limited only to 20 Buck Spin mailorder. Stand by for physical preorders and additional audio samples to be issued in the days ahead. Digital preorders for the album are posted HERE.
EXTREMITY will ravage the West Coast in support of Extremely Fucking Dead, beginning with their debut live performance, support Hammers Of Misfortune in San Francisco on April 13th. Later in the month, EXTREMITY embarks on their first tour together supporting death metal legends Asphyx. The tour runs from April 25th through 30th, with shows in San Diego, Los Angeles, Oakland, Portland, Seattle, and Vancouver.
EXTREMITY Debut Live Performances:
4/13/2017 SF Eagle – San Francisco, CA w/ Hammers Of Misfortune [info]
4/25/2017 The Brick – San Diego, CA w/ Asphyx
4/26/2017 The Echo – Los Angeles, CA w/ Asphyx
4/27/2017 The Metro – Oakland, CA w/ Asphyx
4/28/2017 The Raven – Portland, OR w/ Asphyx
4/29/2017 The Highline – Seattle, WA w/ Asphyx
4/30/2017 The Rickshaw Theatre – Vancouver, BC w/ Asphyx
Gestating in the twisted bowels of the Bay Area for six years, only now, in 2017, has EXTREMITY dislodged itself from the musty climes of obscurity to contaminate the American metal cesspool. Like a jaundiced plume drifting up from a fetid swamp, on Extremely Fucking Dead the four-piece infect death metal with odiously oozing intentions. From the grisly gore metal of "Crepuscular Crescendo" to the Bolt Thrower-ravaged plunder permeating "Bestial Destiny," EXTREMITY presents a simultaneously studied and loosely devastating specter of death metal cited from the genre's many epicenters in America, Scandinavia, the UK and beyond.
https://www.facebook.com/extremedeath
http://www.20buckspin.com
http://www.facebook.com/20buckspin
http://twitter.com/20buckspinlabel
http://listen.20buckspin.com