EXHUMED returns from the depths with their macabre new album, To The Dead, out TODAY on Relapse Records.
As the pioneers of blood-soaked gore metal, EXHUMED's storied career needs no introduction. To The Dead is the culmination of decades of nightmarish riffs, obliterating blastbeats, and hellish screams from the very depths the band crawled out from!
"To The Dead is a destination," notes frontman Matt Harvey, "a rotting world populated by the grotesquely twisted truths of our waking world and the decaying fallout of our most deranged ambitions. But it's also a title that evokes a celebration of, and an invitation into, the gore-soaked world of EXHUMED."
The very celebration of EXHUMED's history is ever-present on this album. "We've expanded the writing team on the record to include former members Mike Beams, Leon del Muerte, Matt Widener, and Bud Burke in an effort to celebrate the band's history — at this point decades of it — and I think the resulting record is an excellent testament to the surprising longevity of Gore Fucking Metal!"
So please, accept the band's humble invitation and sink six feet down to their level. EXHUMED can't wait for you to get a whiff of what they've cooked up — this will be the most fun you've ever had being disgusted.
Stream EXHUMED's To The Dead at THIS LOCATION.
Watch EXHUMED's previously released videos for "Drained Of Color," (directed by Nikko DeLuna) HERE and "Carbonized" HERE.
To The Dead will be available on CD, LP, and digital formats. Physical preorders are available at Relapse.com HERE. Find digital preorders HERE.
EXHUMED will kick off a US headlining tour later this Fall. The journey runs from November 11th through December 17th. Support will be provided by Hulder and Vitriol as well as Molder from November 11th through November 22nd and Castrator from November 23rd through the tour's conclusion. See all confirmed dates below.
EXHUMED w/ Hulder, Vitriol, Molder:
11/10/2022 Dante's – Portland, OR
11/11/2022 Substation – Seattle, WA
11/12/2022 The Shredder – Boise, ID
11/13/2022 Ace's High Saloon – Salt Lake City, UT
11/14/2022 HQ – Denver, CO
11/16/2022 Reverb Lounge – Omaha, NE
11/17/2022 Lefty's – Des Moines, IA
11/18/2022 Reggies – Chicago, IL
11/19/2022 Club Garibaldi – Milwaukee, WI
11/20/2022 Sanctuary – Detroit, MI
11/21/2022 Legends – Cincinnati, OH
11/22/2022 No Class – Cleveland, OH
w/ Hulder, Vitriol, Castrator:
11/23/2022 Cattivo – Pittsburgh, PA
11/25/2022 Sonia – Boston, MA
11/26/2022 Johnny Brendas – Philadelphia, PA
11/27/2022 The Meadows – Brooklyn, NY
11/29/2022 Metro Gallery – Baltimore, MD
11/30/2022 Norfolk Taphouse – Norfolk, VA
12/01/2022 New Brookland Tavern – Columbia, SC
12/02/2022 Bogg's – Atlanta, GA
12/03/2022 Will's Pub – Orlando, FL
12/04/2022 Brass Mug – Tampa, FL
12/07/2022 White Oak – Houston, TX
12/08/2022 Come And Take It Live – Austin, TX
12/09/2022 Amplified – Dallas, TX
12/10/2022 Rock Box – San Antonio, TX
12/12/2022 The Launchpad – Albuquerque, NM
12/13/2022 Nile Underground – Mesa, AZ
12/14/2022 Brick By Brick – San Diego, CA
12/15/2022 Constellation – Santa Ana, CA
12/16/2022 Don Quixote – Los Angeles, CA
12/17/2022 Eli's Mile High – Oakland, CA
"To The Dead shows no sign of middle-aged sag. In fact, these ten tracks might be the tightest the band's put to tape in the past decade – high praise considering EXHUMED's sterling recorded output." – Decibel Magazine
"Matt Harvey is one of the most dedicated death metal freaks out there…" – Loudwire
"…a perfect bridge between early Death and modern-day Napalm Death. It's an album that's ripe with rich guitar melodies, blasting death grind and the dueling attack of Harvey's high-pitched, angry screams and Ross Sewage's deep, guttural vocals. …one of the best death metal albums of 2022." – Blabbermouth
"This Cali band is in the business of turning putrefaction into a source of entertainment… To The Dead is loaded with adrenaline…The guitars menace and seduce as you hurry to join them in their Danse Macabre. The raspy vocals, grunts, and low growls will make you feel as if you are in the middle of an overdose." – Metal Injection
"EXHUMED has delivered a stellar record with To The Dead. While Necrocracy and All Guts, No Glory are recent acmes of their career, the production on To The Dead is closer to home. It's raw and gnawing. The putrid essence is honed. Seamless tempo changes are abundant and vitalizing. Gnarly, grimy, and seething; like a rabid wolf's fangs ripping through bone and flesh. Or a deranged human's band saw dismembering a protruding femur freshly protruding from a frightening chase, still not found days later." – New Noise Magazine
"EXHUMED don't reinvent the wheel on To The Dead and they didn't need to. By honoring their past and continuing to refine their formula, they've hacked and slashed their way into another killer entry in their discography." – MetalSucks
"If you want an album to enthrall and terrify in equal measure this Halloween and beyond, you don't need to look any further than To The Dead, so put it on, turn up loud and listen gleefully as EXHUMED give you more treat than trick with their gloriously deranged music." – Distorted Sound   
"To The Dead is another solid entry into the band's metallic mortuary, a fine example of what the band has been putting on display for over 30 years. If you keep on rotting, they'll keep on rocking." – Heavy Music HQ
EXHUMED:
Matt Harvey – guitar, vocals
Ross Sewage – bass, vocals
Mike Hamilton – drums
Sebastian Phillips – guitar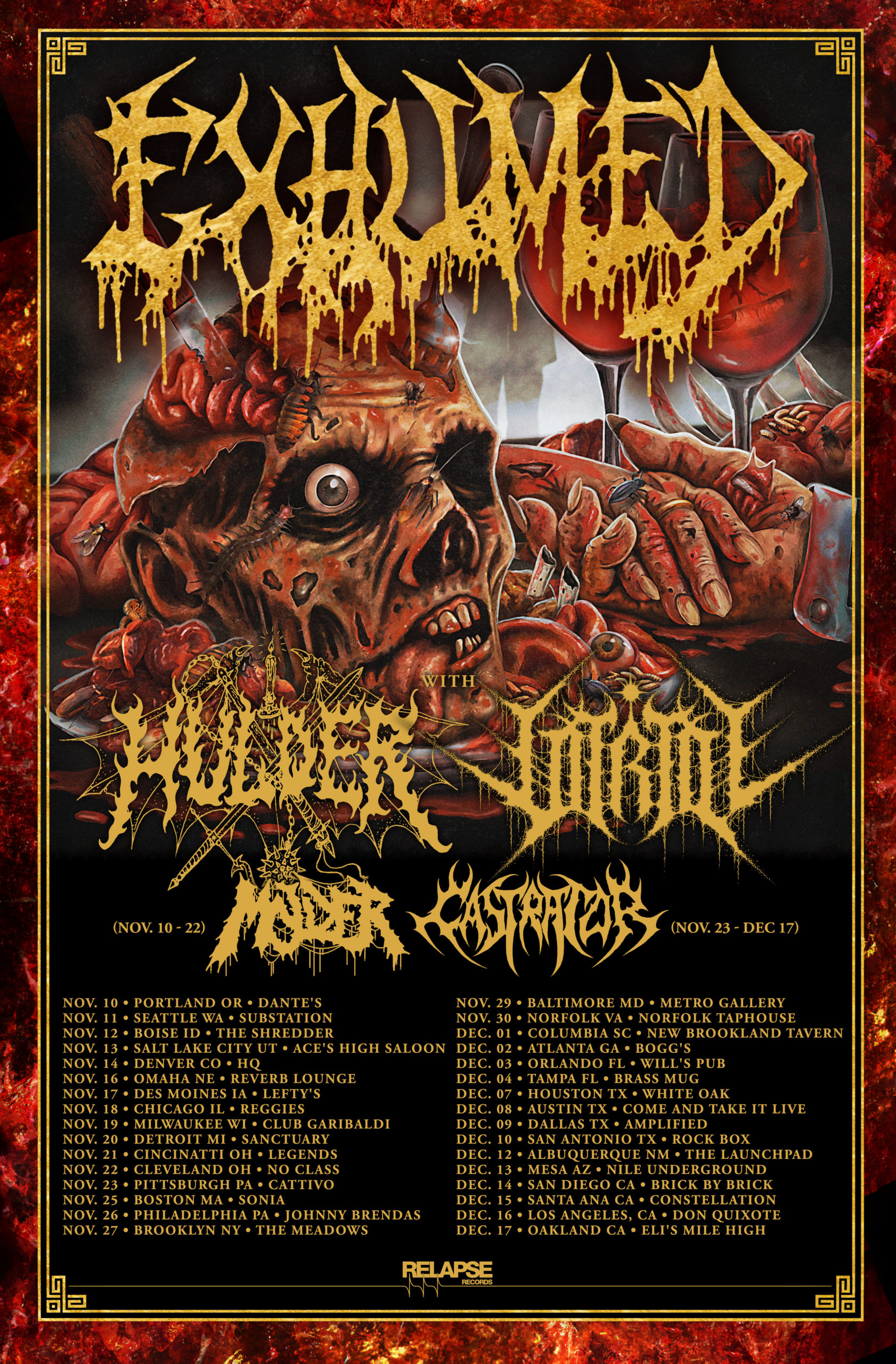 http://exhumed.bandcamp.com
http://www.facebook.com/exhumedofficial
http://www.instagram.com/exhumed_official
http://twitter.com/exhumedofficial
http://www.youtube.com/user/OfficialExhumed
http://www.relapse.com
http://www.instagram.com/relapserecords
http://www.facebook.com/RelapseRecords
http://www.twitter.com/RelapseRecords