Goregrind roadhounds EXHUMED will bring their hymns of repugnance to the live arena again on this year's edition of the Summer Slaughter Tour, set to commence tomorrow at the House Of Blues in Los Angeles. This run will mark the return of former bassist Bud Burke, who will take the place of Wes Caley on guitar.
Comments frontman Matt Harvey: "We're psyched to welcome Bud Burke back in the ranks of EXHUMED, this time on lead guitar. For those of you who knew him as our bassist (from '99 – '04), you will be pleasantly surprised when he melts your face onstage with the band for the Summer Slaughter tour. Rob [Babcock], Mike [Hamilton] and I are all excited to have someone with killer chops and a deep history with the band on board. We look forward to coming to your town, drinking all your beer and then making fun of your record collection as usual! After the Canadian Ritual tour with Black Dahlia Murder, we made the decision to part ways with guitarist Wes Caley, and Bud was the perfect person to step in on lead guitar. I know Wes' new project, Downfall, is currently in the works and will be awesome and we wish him the best. In the meantime, we'll see all your drooling, sweaty faces on the road!"
EXHUMED continue to tour in support of their acclaimed fifth full-length All Guts, No Glory, which is still streaming in its entirety HERE. And if you missed it, check out "The Way Of Flesh" from the deluxe version of the record courtesy of GunShyAssassin at THIS LOCATION.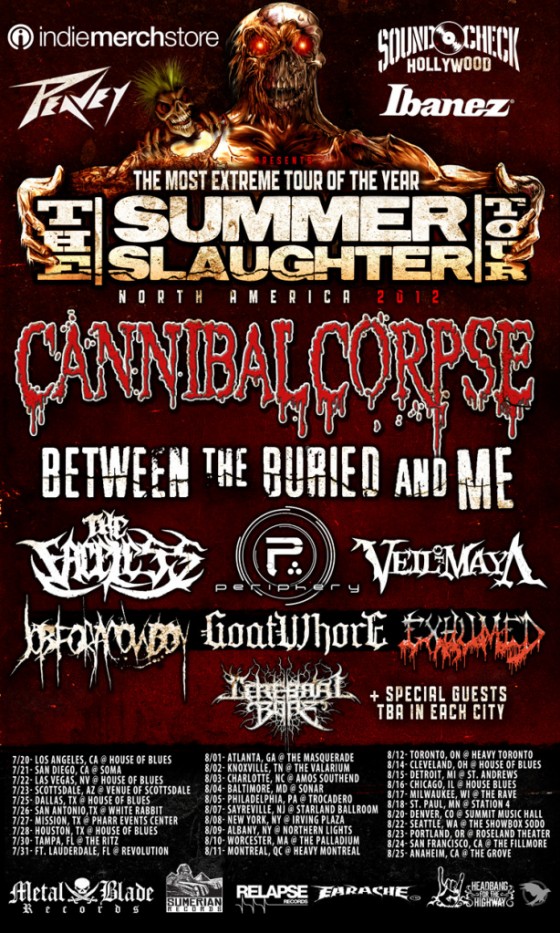 EXHUMED – Summer Slaughter Festival 2012
w/ Cannibal Corpse, Between The Buried and Me, The Faceless, Periphery, Veil of Maya, Job For A Cowboy, Goatwhore, Cerebral Bore
7/20/2012 House of Blues – Los Angeles, CA [TICKETS]
7/21/2012 SOMA – San Diego, CA [TICKETS]
7/22/2012 House of Blues – Las Vegas, NV [TICKETS]
7/25/2012 House of Blues – Dallas, TX [TICKETS]
7/26/2012 White Rabbit – San Antonio, TX [TICKETS]
7/27/2012 Pharr Events Center – Mission, TX [TICKETS]
7/28/2012 House of Blues – Houston, TX [TICKETS]
7/30/2012 The Ritz – Tampa, FL [TICKETS]
7/31/2012 Revolution – Ft. Lauderdale, FL [TICKETS]
8/01/2012 The Masquerade – Atlanta, GA [TICKETS]
8/02/2012 The Valarium – Knoxville, TN [TICKETS]
8/03/2012 Amos – Southend Charlotte, NC [TICKETS]
8/04/2012 The National – Richmond, VA [TICKETS]
8/05/2012 The Trocadero – Philadelphia, PA [TICKETS]
8/07/2012 Starland Ballroom – Sayreville, NJ [TICKETS]
8/08/2012 Irving Plaza – New York, NY [TICKETS]
8/09/2012 Northern Lights – Albany, NY [TICKETS]
8/10/2012 The Palladium – Worcester, MA [TICKETS]
8/11/2012 Heavy Montreal – Montreal, QC [TICKETS]
8/12/2012 Heavy Toronto – Toronto, ON [TICKETS]
8/14/2012 House of Blues – Cleveland, OH [TICKETS]
8/15/2012 St. Andrew's – Detroit, MI [TICKETS]
8/16/2012 House Blues – Chicago, IL [TICKETS]
8/17/2012 The Rave – Milwaukee, WI [TICKETS]
8/18/2012 Expo Five – Louisville, KY * No Cannibal Corpse [TICKETS]
8/20/2012 Summit Music Hall – Denver, CO [TICKETS]
8/22/2012 The Showbox Sodo – Seattle, WA [TICKETS]
8/23/2012 Roseland Theater – Portland, OR [TICKETS]
8/24/2012 The Fillmore – San Francisco, CA [TICKETS]
8/25/2012 The Grove – Anaheim, CA [TICKETS]
http://www.facebook.com/ExhumedOfficial
http://www.myspace.com/exhumed
http://www.gorefuckingmetal.blgospot.com
http://www.relapse.com