In what seems like an endless international tour cycle in support of their acclaimed fifth full-length All Guts, No Glory over the past year, Cali goregrinders EXHUMED will this week take part in the kickoff of the brutal Canadian Ritual Tour 2012.
Set to rip through the upper crust of the United States and across the expanses of the vast Canadian Provinces, the twenty-date Canadian Ritual Tour sees EXHUMED joining Ottawa-based grindcore assassins Fuck The Facts as support for tour headliners, Detroit's metalcore henchmen The Black Dahlia Murder for the entire live offensive.
Following the Canadian Ritual Tour, EXHUMED will bring their blood-splattery to the masses on the Summer Slaughter Tour with Cannibal Corpse, Between The Buried and Me, The Faceless, Periphery, Veil of Maya, Job For A Cowboy, Goatwhore, Cerebral Bore. Tickets are on sale NOW. Check tour dates below.
Additionally, today GunShyAssassin is streaming "The Way Of Flesh" from the deluxe version of the band's All Guts, No Glory. Sever your soul to the sounds this dismembering anthem at THIS LOCATION.
Canadian Ritual Tour 2012
w/ Fuck The Facts, EXHUMED, The Black Dahlia Murder:
5/11/2012 High Noon Saloon – Madison, WI
5/12/2012 House Of Rock – Eau Claire, WI
5/13/2012 The Venue – Fargo, ND
5/14/2012 Mannys – Billings, MT
5/15/2012 A-Club – Spokane, WA
5/16/2012 Rickshaw – Vancouver, BC
5/18/2012 Starlite Room – Edmonton, AB
5/19/2012 The Den – Calgary, AB
5/20/2012 The Exchange – Regina, SK
5/21/2012 WECC – Winnipeg, MB
5/22/2012 CROCKS – Thunder Bay, ON
5/24/2012 Wreck Room – Toronto, ON
5/25/2012 Imperial – Quebec City, QC
5/26/2012 The National – Montreal, QC
5/27/2012 The Manhattan – Moncton, NB
5/28/2012 The Pavilion – Halifax, NS
5/29/2012 The Seahorse – Halifax, NS
5/31/2012 Ritual – Ottawa, ON
6/01/2012 Rum Runner's – London, ON
6/02/2012 St. Andrews Hall – Detroit, MI
EXHUMED – Summer Slaughter Festival 2012
w/ Cannibal Corpse, Between The Buried and Me, The Faceless, Periphery, Veil of Maya, Job For A Cowboy, Goatwhore, Cerebral Bore
7/20/2012 House of Blues – Los Angeles, CA
7/21/2012 SOMA – San Diego, CA
7/22/2012 House of Blues – Las Vegas, NV
7/23/2012 Venue of Scottsdale – Scottsdale, AZ
7/25/2012 House of Blues – Dallas, TX
7/26/2012 White Rabbit – San Antonio, TX
7/27/2012 Pharr Events Center – Mission, TX
7/28/2012 House of Blues – Houston, TX
7/30/2012 The Ritz – Tampa, FL
7/31/2012 Revolution – Ft. Lauderdale, FL
8/01/2012 The Masquerade – Atlanta, GA
8/02/2012 The Valarium – Knoxville, TN
8/03/2012 Amos – Southend Charlotte, NC
8/04/2012 Sonar – Baltimore, MD
8/05/2012 The Trocadero – Philadelphia, PA
8/07/2012 Starland Ballroom – Sayreville, NJ
8/08/2012 Irving Plaza – New York, NY
8/09/2012 Northern Lights – Albany, NY
8/10/2012 The Palladium – Worcester, MA
8/11/2012 Heavy Montreal – Montreal, QC
8/12/2012 Heavy Toronto – Toronto, ON
8/14/2012 House of Blues – Cleveland, OH
8/15/2012 St. Andrew's – Detroit, MI
8/16/2012 House Blues – Chicago, IL
8/17/2012 The Rave – Milwaukee, WI
8/18/2012 Station 4 – St. Paul, MN
8/20/2012 Summit Music Hall – Denver, CO
8/22/2012 The Showbox Sodo – Seattle, WA
8/23/2012 Roseland Theater – Portland, OR
8/24/2012 The Fillmore – San Francisco, CA
8/25/2012 The Grove – Anaheim, CA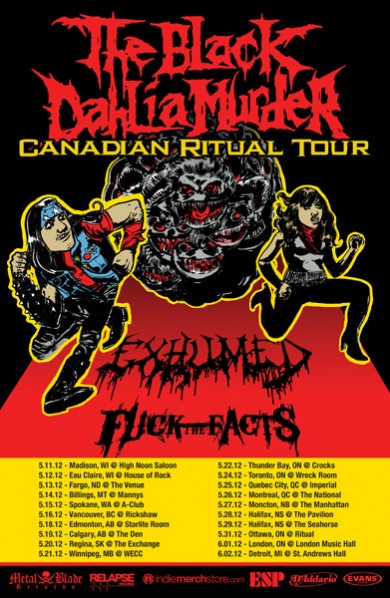 http://www.facebook.com/ExhumedOfficial
http://www.myspace.com/exhumed
http://www.gorefuckingmetal.blgospot.com
http://www.relapse.com