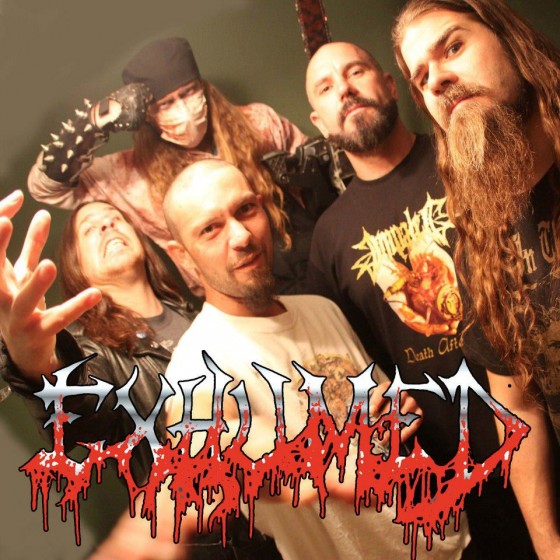 With the re-unveiling of EXHUMED's now-iconic debut full-length, Gore Metal: A Necrospective 1998 – 2015, now just one month away, today the gatekeepers at Revolver Magazine are delighted to decimate ear holes with a renovated version of longtime live favorite, "Limb From Limb."
Expounds vocalist/guitarist Matt Harvey: "So… for the second 'single' from our hubris-laden rerecording of Gore Metal, here's live staple 'Limb From Limb.' This one has been rerecorded pretty much exactly how we've played it live for years now; faster and a bit punchier than the original – not to mention infinitely more audible – and with the lovely chainsaw solo in the bridge. Now that's what I call musical development! Anyway, it's a great tune to piss off some neighbors with and will hopefully inspire you to find new and atrocious uses for your motorized home and garden appliances. Cheers, and enjoy!"
Get carving to the violent resonance of "Limb From Limb," now stenching-up the airwaves of Revolver at THIS LOCATION.
And if you missed it, you can still delight in the carnage of "Open The Abscess," streaming below.
Crowned "…a classic piece of blazing gore metal with death on its mind from start to finish," by MetalSucks, Gore Metal was initially released in 1998. A boundary-defying audio manifestation of vile, grinding, over-the-top death-metal, Gore Metal beams with charming repugnance, its raging riff subversions, foul-themed, slasher-film-inspired prose and putrid cover art still repulsively alluring nearly two decades since its release.
Not content to let the album rot away, EXHUMED returned to the studio to rerecord the underground classic. The resulting Gore Metal: A Necrospective 1998 – 2015, slated for release next month via Relapse Records, maintains the bone raw aggression of the original recordings while adding depth to the sonic devourment thanks in no small part to years of touring and a vastly improved-sounding recording quality.
As a precursor to the release, EXHUMED will be goring stages throughout North America with co-headliners Napalm Death and Voivod later this month. Set to commence on January 27th in Miami, the band will raze nearly three-dozen municipalities, with the trek coming to a close on February 28th in Houston. Additional support will be provided by Iron Reagan and Black Crown Initiate with Ringworm, Dayglo Abortions, Theories and Phobia to appear on select performances throughout the journey.
EXHUMED:
1/24/2015 The Rock – Tucson, AZ
1/25/2015 Red 7 – Austin, TX
w/ Napalm Death, Voivod, Iron Reagan, Black Crown Initiate:
1/27/2015 Grand Central – Miami, FL w/ Ringworm
1/28/2015 State Theater – St. Petersburg, FL w/ Ringworm
1/29/2015 The Masquerade – Atlanta, GA w/ Ringworm
1/30/2015 Ziggy's – Winston-Salem, NC w/ Ringworm
1/31/2015 Soundstage – Baltimore, MD w/ Ringworm
2/02/2015 Gramercy Theater – New York, NY w/ Ringworm
2/03/2015 Union Transfer – Philadelphia, PA w/ Ringworm
2/04/2015 Opera House – Toronto, ON
2/05/2015 Maverick's – Ottawa, ON
2/06/2015 Club Soda – Montreal, QC
2/07/2015 Palladium – Worcester, MA w/ Ringworm
2/08/2015 The Chance – Poughkeepsie, NY w/ Ringworm
2/09/2015 Agora Ballroom – Cleveland, OH w/ Ringworm
2/10/2015 Reggie's – Chicago, IL w/ Ringworm
2/11/2015 Amsterdam – Minneapolis, MN w/ Ringworm
2/12/2015 The Zoo – Winnipeg, MB
2/13/2015 The Exchange – Regina, SK
2/14/2015 Republik – Calgary, AB
2/15/2015 Starlite Room – Edmonton, AB
2/17/2015 Rickshaw Theater – Vancouver, BC w/ Dayglo Abortions
2/18/2015 Studio Seven – Seattle, WA w/ Theories
2/19/2015 Hawthorne Theater – Portland, OR
2/20/2015 Metro – Oakland, CA w/ Phobia
2/21/2015 Strummers – Fresno, CA w/ Phobia
2/22/2015 House of Blues – Los Angeles, CA
2/23/2015 Club Red – Tempe, AZ w/ Phobia
2/24/2015 Sunshine Theater – Albuquerque, NM w/ Phobia
2/25/2015 Summit Music Hall – Denver, CO w/ Phobia
2/26/2015 Granada Theater – Lawrence, KS w/ Phobia
2/27/2015 Gas Monkey – Dallas, TX w/ Phobia
2/28/2015 Fitzgerald's – Houston, TX w/ Phobia
Presented with completely new artwork and a gaggle of detailed liner notes, Gore Metal: A Necrospective 1998 – 2015 will be unleashed via Relapse Records February 10th, 2015 digitally, as a limited edition LP, and as a deluxe two-CD set which comes packaged with the original version of the album for the price of a single CD. Relish the gorific bargains! Preorder your copy today at THIS LOCATION. Desirers of the digitals can point their browsers HERE.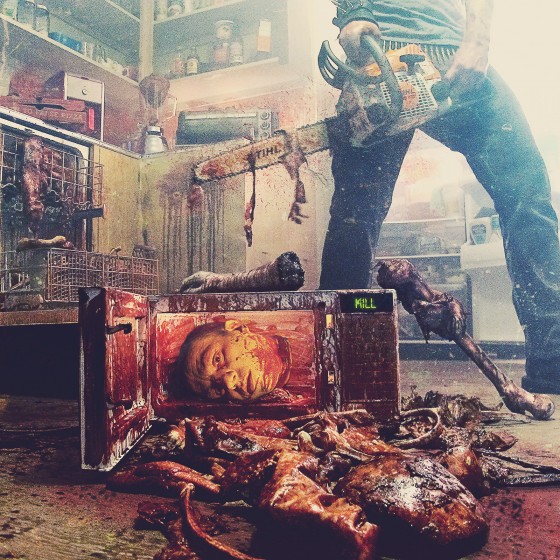 http://www.gorefuckingmetal.blogspot.com
http://www.facebook.com/ExhumedOfficial
http://www.relapse.com