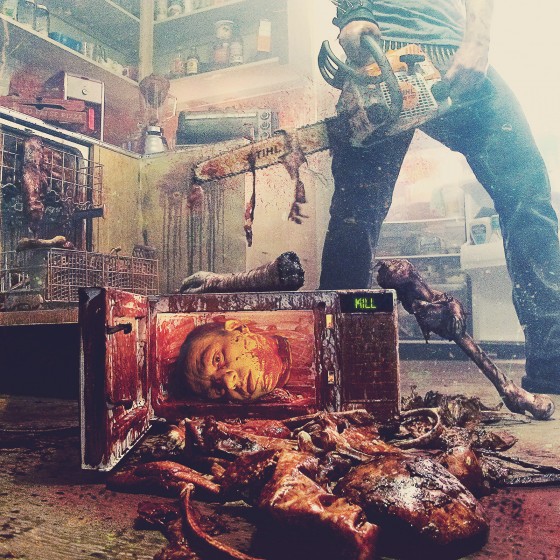 Originally released in 1998, EXHUMED's now-classic debut full-length, Gore Metal, was a boundary defying offering of filth-ridden, grinding, over-the-top death-metal. Unrepentantly fast, furious and maniacal, Gore Metal gleamed with a delightful audio repugnance bedecked in blazing riff infiltrations, slasher-film-inspired lyrics and vile cover art. It was the record that made Carcass seem PG-rated by comparison and thus certified itself as a true underground classic.
Not content to let the album rot away, EXHUMED returned to the studio almost two decades later to re-record the landmark offering. The resulting Gore Metal: A Necrospective 1998 – 2015, set for release this February via Relapse Records, maintains the maniacal ferocity of the original recordings while adding depth to the sonic devourment thanks in no small part to years of touring and a vastly improved-sounding recording quality.
Proclaims vocalist/guitarist Matt Harvey: "I'm super pumped that we got the chance to re-record Gore Metal. I don't think any of us were happy with how it turned out the first time around, so getting another shot at it meant a lot to me personally. I was also really excited to have our old friend Ross Sewage reprise his vocals on the new version, ensuring that it still sounds like that era of EXHUMED, though things are a lot more audible this time around!"
Get surgical with the sounds of "Open The Abscess," below:
Gore Metal: A Necrospective 1998 – 2015 Track Listing:
1. Necromaniac
2. Open The Abscess
3. Postmortem Procedures
4. Limb From Limb
5. Enucleation
6. Casket Crusher
7. Death Mask
8. In My Human Slaughter House
9. Sepulchral Slaughter
10. Vagitarian II
11. Blazing Corpse
12. Deadest Of The Dead
As a precursor to the release, the perpetual road warriors in EXHUMED, currently terrorizing Europe alongside Aborted, Origin and Miasmal, will embark upon a massive North American live takeover next year with co-headliners Napalm Death and Voivod. Set to commence on January 27th in Miami, the band will raze nearly three-dozen megalopolises, with the infiltration coming to a close on February 28th in Houston. Additional support will be provided by Iron Reagan and Black Crown Initiate with Ringworm, Dayglo Abortions, Theories and Phobia to appear on select performances throughout the trek. See confirmed dates below. You have been warned.
EXHUMED w/ Aborted, Origin, Miasmal:
12/15/2014 Grillen – Colmar, FR
12/16/2014 Steinbruch Theater – Darmstadt, DE
12/17/2014 Jubez – Karlsruhe, DE
12/18/2014 Rock It – Aalen, DE
12/19/2014 Heavy Xmas – Zürich, CH
12/20/2014 Turock – Essen, DE
EXHUMED:
1/24/2015 The Rock – Tucson, AZ
1/25/2015 Red 7 – Austin, TX
w/ Napalm Death, Voivod, Iron Reagan, Black Crown Initiate:
1/27/2015 Grand Central – Miami, FL w/ Ringworm
1/28/2015 State Theater – St. Petersburg, FL w/ Ringworm
1/29/2015 The Masquerade – Atlanta, GA w/ Ringworm
1/30/2015 Ziggy's – Winston-Salem, NC w/ Ringworm
1/31/2015 Soundstage – Baltimore, MD w/ Ringworm
2/02/2015 Gramercy Theater – New York, NY w/ Ringworm
2/03/2015 Union Transfer – Philadelphia, PA w/ Ringworm
2/04/2015 Opera House – Toronto, ON
2/05/2015 Maverick's – Ottawa, ON
2/06/2015 Club Soda – Montreal, QC
2/07/2015 Palladium – Worcester, MA w/ Ringworm
2/08/2015 The Chance – Poughkeepsie, NY w/ Ringworm
2/09/2015 Agora Ballroom – Cleveland, OH w/ Ringworm
2/10/2015 Reggie's – Chicago, IL w/ Ringworm
2/11/2015 Amsterdam – Minneapolis, MN w/ Ringworm
2/12/2015 The Zoo – Winnipeg, MB
2/13/2015 The Exchange – Regina, SK
2/14/2015 Republik – Calgary, AB
2/15/2015 Starlite Room – Edmonton, AB
2/17/2015 Rickshaw Theater – Vancouver, BC w/ Dayglo Abortions
2/18/2015 Studio Seven – Seattle, WA w/ Theories
2/19/2015 Hawthorne Theater – Portland, OR
2/20/2015 Metro – Oakland, CA w/ Phobia
2/21/2015 Strummers – Fresno, CA w/ Phobia
2/22/2015 House of Blues – Los Angeles, CA
2/23/2015 Club Red – Tempe, AZ w/ Phobia
2/24/2015 Sunshine Theater – Albuquerque, NM w/ Phobia
2/25/2015 Summit Music Hall – Denver, CO w/ Phobia
2/26/2015 Granada Theater – Lawrence, KS w/ Phobia
2/27/2015 Gas Monkey – Dallas, TX w/ Phobia
2/28/2015 Fitzgerald's – Houston, TX w/ Phobia
Presented with completely new artwork and a gaggle of detailed liner notes, Gore Metal: A Necrospective 1998 – 2015 will be unleashed via Relapse Records February 10th, 2015 and comes available digitally and limited addition LP as well as a deluxe two-CD set which comes packaged with the original version of the album for the price of a single CD. Relish the gorific bargains! Preorder your copy today at THIS LOCATION. Desirers of the digitals can point their browsers HERE.

EXHUMED on Gore Metal: A Necrospective 1998 – 2015:
Rob "Bodybag" Babcock – bass, backing vocals
Mike Beams – guitar, backing vocals
Bud Burke – lead guitar, backing vocals
Mike Hamilton – drums
Matt Harvey – guitar, lead vocals
Ross Sewage – lead vocals
Backup vocal "Slay Team": Alejandro Corredor, Dr. Philthy
"…a gleeful celebration of death metal…" – Decibel

"EXHUMED is Carcass reincarnated." – Terrorizer
"…a classic piece of blazing gore metal with death on its mind from start to finish." – MetalSucks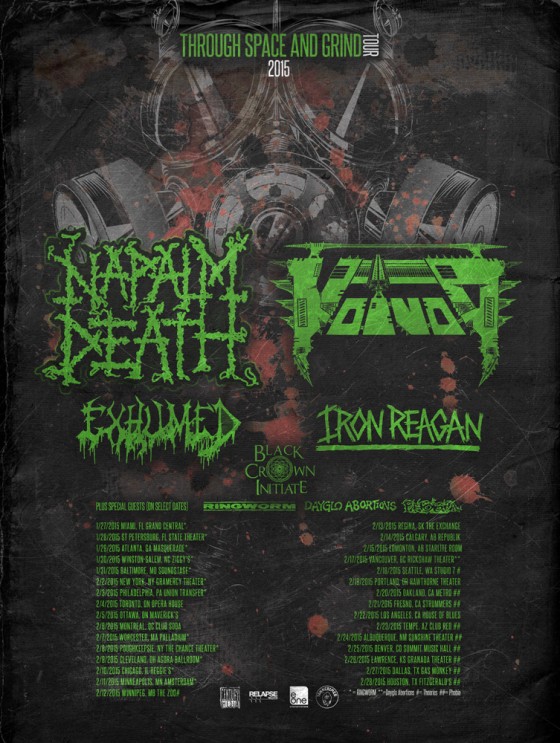 http://www.gorefuckingmetal.blogspot.com
http://www.facebook.com/ExhumedOfficial
http://www.relapse.com