Lock the mausoleum doors and chain up the cemetery gates. Long-standing gore metal maniacs, EXHUMED re-emerge with their disgusting new album Death Revenge. The band's sixth full-length sees them tread into ambitious new territory with their first concept album: a musical melodrama in thirteen parts based on shocking true events. Death Revenge takes place in the late 1820s in Edinburgh, Scotland and tells the macabre tale of a series of brutal murders where the victims' cadavers were sold to anatomists, amid a grisly underground trade of grave-robbery. Recorded with producer Jarrett Pritchard (Goatwhore, Eternal, Gruesome), Death Revenge takes the band's signature gore-drenched, death metal mayhem to theatrical and ghastly new depths. Cover illustration is by Orion Landau with interior illustrations by Lucas Ruggieri (lucasriggieriillustration.com)
Frontman Matt Harvey comments: "We're very excited to see this record come out. It's been a long time since we've fucked up your stereos! I think this record has a darker vibe than the last two, with a pretty gnarly tale of grave-robbery, dissection, murder, and all sorts of general skullduggery. We dig it and we hope you filthy animals will too."
Listen to the new song "Defenders Of The Grave" via YouTube below and Bandcamp plus all streaming services at THIS LOCATION. Watch the official Death Revenge album trailer below.
Death Revenge is set for release on October 13th on CD, LP, deluxe LP with cassette, and digital formats via Relapse Records. Physical packages and digital order are available via Relapse.com HERE and Bandcamp HERE.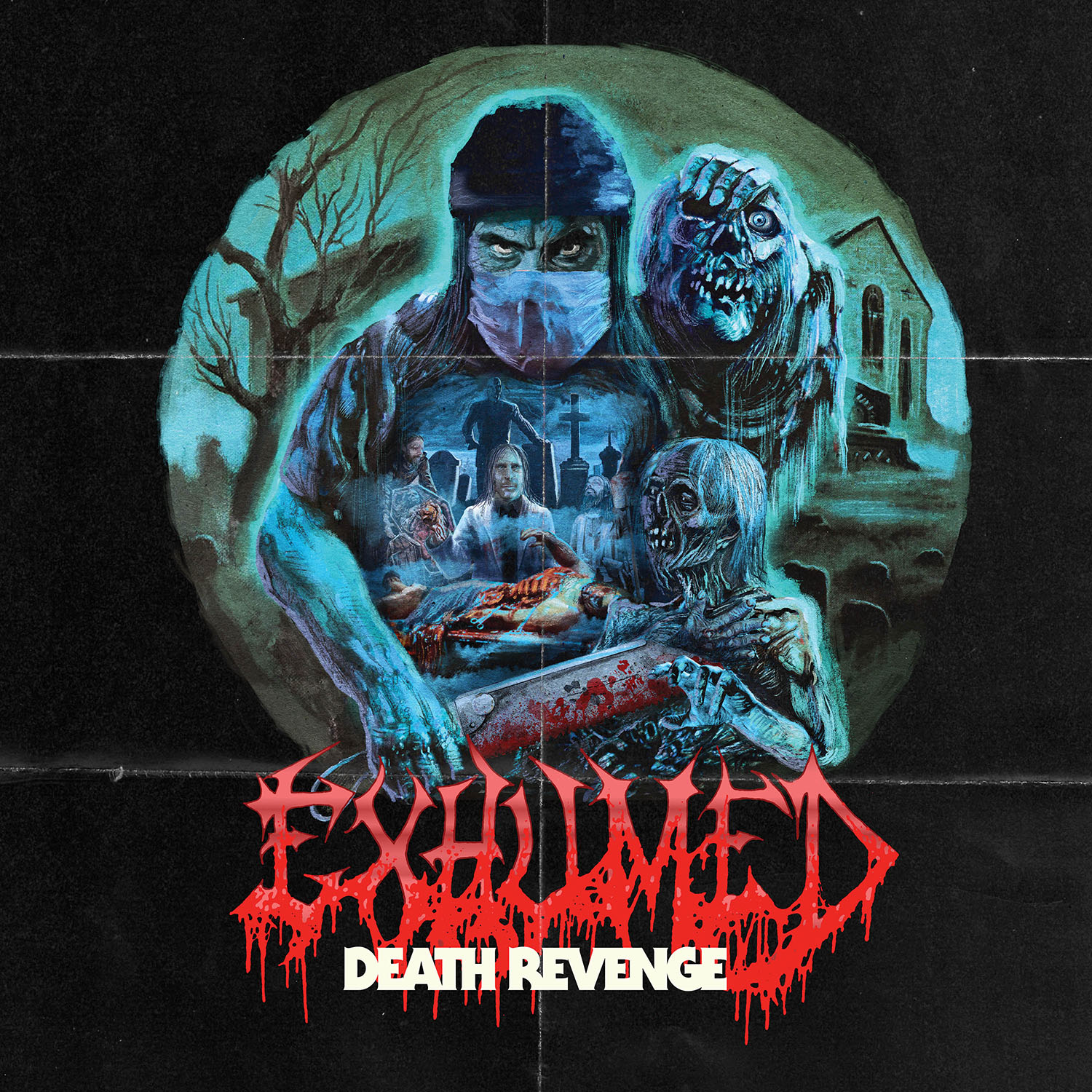 Death Revenge Track Listing:
Death Revenge Overture
Defenders Of The Grave
Lifeless
Dead End
Night Work
Unspeakable
Gravemakers Of Edinburgh
The Harrowing
A Funeral Party
The Anatomy Act Of 1832
Incarnadined Hands
Death Revenge
Death Revenge Underture (Bonus Track)
A Lesson In Violence (Bonus Track)
EXHUMED:
11/05/2017 Ozzfest Meets Knotfest – San Bernardino, CA
San Jose's /EXHUMED/ has blazed a path for modern-sensible old-school death metal since the band's 1991 formation, when the band's founder and sole remaining member Matt Harvey was a tender fifteen years old. /EXHUMED/ spent much of the ensuing decade hacking their way through numerous line-ups, demos, split CDs, and EPs. In 1998, the band finally released their debut album, the genre-(re)defining and critic-repulsing /Gore Metal. The album crystallized the sound — old-school death metal meets full-on grindcore with the spirit of thrash — forged with their 1994 demo and first split CD (/Horrific Expulsion Of Gore and 1996's /In The Name Of Gore respectively). The band envisioned the three releases as a trilogy of sorts.
Touring in support of Gore Metal brought the enlistment of then-bassist (now lead guitarist) Bud Burke to complete the lineup for the band's long-awaited first US tour and festival appearances after Ross Sewage's departure in 1999. EXHUMED upped the ante with their go-for-the-throat sophomore record /Slaughtercult in 2001. The album blatantly blended the band's brutal cult-thrash influences into its sonic meat-grinder. The band evolved further with their third album, 2003's /Anatomy Is Destiny, with more sophisticated arrangements, production, and instrumentation. After touring heavily in support of /Anatomy… and the band's massive two-CD compilation /Platters Of Splatter, /EXHUMED /realigned their personnel, and released an album of cover versions called Garbage Daze Re-Regurgitated in 2005. Shortly thereafter, the band was put on indefinite hiatus.
After six years away from the scene and numerous other projects, Harvey, former members guitarist Wes Caley, and bassist/vocalist Leon del Muerte teamed up with drummer Danny Walker (Intronaut, /Murder Construct/, Phobia) for their acclaimed comeback album, /All Guts, No Glory in 2011. The album earned them spots on numerous top 20 lists for 2011, including Decibel Magazine (#13) and Pitchfork's Metal column Show No Mercy (#11). With the positive reception of the record, /EXHUMED /undertook a grueling road schedule which led to the band finding a new full-time lineup. Mike Hamilton (Deeds Of Flesh, ex-Vile) took over the drum throne and Caley was eventually replaced by returning alumnus Bud Burke, this time on lead guitar.
Over the course of the years, /EXHUMED /has developed an impressive tour resume that includes visits to America, Canada, Europe, Japan, Australia, and Iceland. The band has also performed at high-profile festivals including Maryland Deathfest, Wacken Open Air, Obscene Extreme, and Scion Rock Fest, in addition to tour packages like Summer Slaughter. Somewhere in the midst of all of the touring, /EXHUMED /found the time to write and record a new album, /Necrocracy, released in 2013 to critical acclaim from publications like Decibel, New Noise, MetalSucks, Stereokiller, and PopMatters, all of whom included the album on the best-of lists for 2013. /
EXHUMED /followed up that release with a split alongside Relapse label-mates /Iron Reagan/ (2014), and then returned to the studio to fully re-record their 1998 classic /Gore Metal. The recording, titled /Gore Metal: A Necrospective, also featured the return of bassist/vocalist Ross Sewage as well as completely new artwork and was packaged as a deluxe two-CD set. Now in 2017, /EXHUMED /returns with their first ever concept album in /Death Revenge!
EXHUMED:
Michael "Bud" Burke – guitar, vocals
Michael Hamilton – drums
Matthew Harvey – guitar, vocals
Ross Sewage – bass, vocals
http://www.facebook.com/ExhumedOfficial
http://www.relapse.com
http://www.relapserecords.bandcamp.com
http://www.facebook.com/RelapseRecords
http://www.twitter.com/RelapseRecords