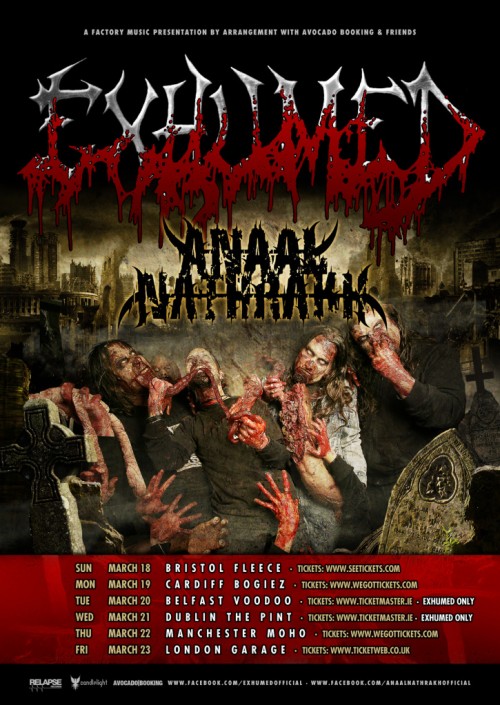 Adding to an already blistering year of touring which includes a first-time march through Brazil with Aborted and the Grind Over Europe Tour 2012 with label-mates Rotten Sound and Magrudergrind, West Coast minions of evil, EXHUMED, will take their audio holocaust to the UK for a short run of dates this March with Anaal Nathrakh! See details below.
EXHUMED continue to decimate eardrums with their All Guts, No Glory full-length, issued last year via Relapse Records. Noted Decibel magazine of the release: "Everything seems more fluid and powerful, though as vicious as it all is, the focus remains on the composition and how it smacks the listener between the eyes." Added Revolver: "… fans of dripping blood, gaping autopsies, and ravenous zombies will absolutely adore this record." Metal Underground praised the band saying, "EXHUMED are back, hungry, vicious, and unrelenting," while Brave Words championed the band: "EXHUMED has aged like corpse putrefaction: that is indeed the highest compliment you can pay to one of 2011's best records." To stream All Guts, No Glory in full visit: http://www.exhumed.bandcamp.com.
To celebrate the band's upcoming live rituals, all EXHUMED titles are now available at a 10% discount from Relapse Records for a limited time. For more info, point your browser HERE.
EXHUMED w/ Aborted
2/16/2012 Beco – Porto Alegre, RS
2/17/2012 Music Hall – Belo Horizonte, MG
2/18/2012 Hangar 110 РṢo Paulo, SP
2/19/2012 Hangar Bar – Curitiba, PR
2/20/2012 Armazém do Café – Catanduva/SP
EXHUMED Grind Over Europe Tour 2012
w/ Rotten Sound, Magrudergrind
2/24/2012 Estraperlo Club – Barcelona, Spain
2/25/2012 TBA Spain
2/26/2012 Sala Jala Jala – Almería, Spain
2/27/2012 Revolver Bar – Lisbon, Portugal
2/28/2012 Hard Club – Porto, Portugal
2/29/2012 Sala Heaven – Santander, Spain
3/01/2012 Salle Des Fêtes De Labège – Toulouse, France
3/02/2012 Kulturwerk 118 – Sursee, Switzerland
3/03/2012 Les Caves Du Manoir – Martigny, Switzerland
3/04/2012 Lo Fi Club – Milano, Italy
3/05/2012 Mochvara – Zagreb, Croatia
3/06/2012 Dürer Kert – Budapest, Hungary
3/07/2012 Euphoria Music Hall – Cluj-Napoca, Romania
3/08/2012 Nova Pekaren – Nitra, Slovakia
3/09/2012 Black Pes – Prague, Czech Rep
3/10/2012 Barrak Music Club – Ostrava, Czech Rep
EXHUMED
w/ Anaal Nathrakh
03/18/2012 Fleece – Bristol, UK
03/19/2012 Bogiez – Cardiff, UK
03/20/2012 Voodoo – Belfast, UK*
03/21/2012 The Pint – Dublin, Ireland *
03/22/2012 Moho – Manchester, UK
03/23/2012 The Garage – London, UK
* – No Anaal Nathrakh
http://www.facebook.com/ExhumedOfficial
http://www.myspace.com/exhumed
http://www.gorefuckingmetal.blgospot.com
http://www.relapse.com