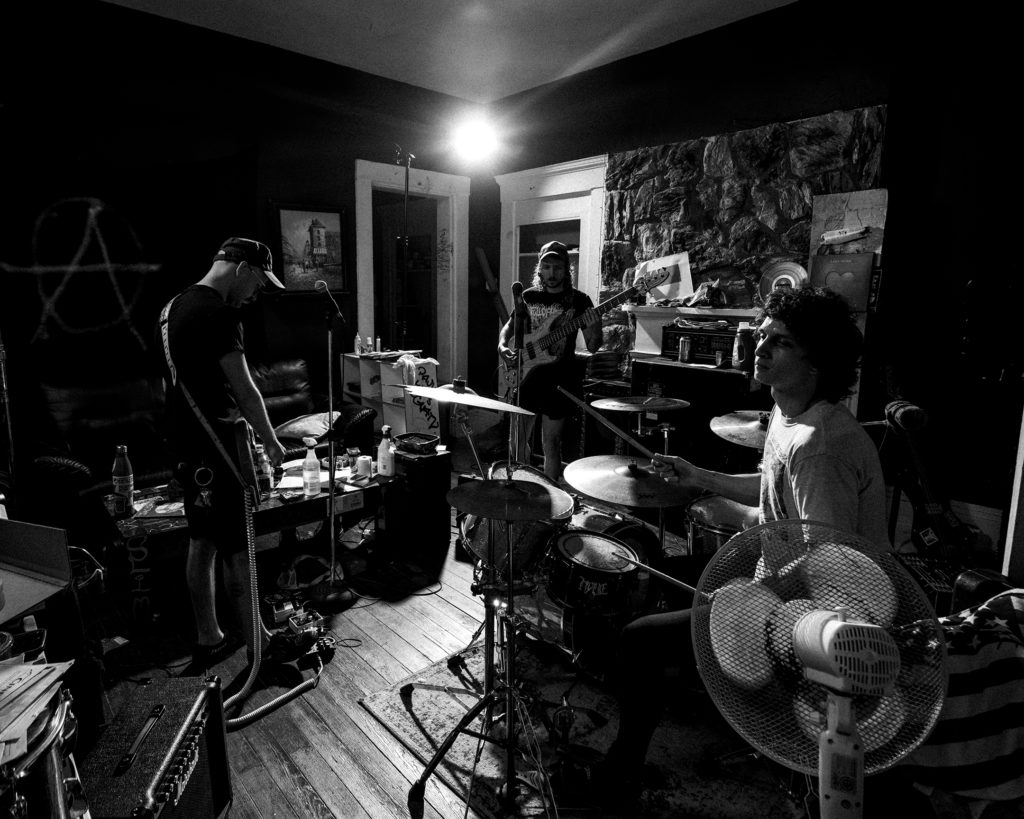 photos by Andy Knolle
Decibel Magazine has leaked the entire Psyop Of The Year file from Cincinnati, Ohio-based clandestine operation EUNOIA. The disinformation-strewn report has been disclosed on the eve of its official declassification scheduled through Nefarious Industries.
EUNOIA's Psyop Of The Year unloads eight rapid-fire mathcore/grind-influenced assaults in under thirty-two minutes, the album recorded by Nick Layman at Russian Recording in Bloomington, Indiana, and mixed and mastered by Colin Marston at the Thousand Caves in Queens, New York.
The account at Decibel describes, "Since this is a psyop, the information regarding the band given to Decibel is unclear. Official recommendation is to listen to the album—pay particular attention to tracks 'How to Watch Pro Football' and 'Black Highlighter.' This tape will not self-destruct after listening. A cryptic message regarding the band was relayed to Decibel: The psychological operation EUNOIA upon the release of its full-length album has been terminated without notice. Operatives Nichols and Aasen have been relocated to operation Tina Fey while Patsy C's whereabouts remain unknown. When contacted for comment, the group's only response was 'Lee Oswald did nothing wrong.'"
EUNOIA's full debrief can be located through Decibel Magazine's online portal at THIS LOCATION. 
Psyop Of The Year will be issued tomorrow, Friday, April 1st on CD and digital via Nefarious Industries; find preorders at the label armory HERE. A limited cassette is also available through Tomb Tree Tapes HERE.
-REPORT ON EUNOIA-
The psychological operation EUNOIA commenced in 2018 in Cincinnati, Ohio. Personnel on this assignment were: Logan Nichols (formerly of [redacted]); Bryce Aasen; and Ian MacAdam (formerly of [redacted]).
Through their four years of activity EUNOIA successfully infiltrated lower class communities in efforts to indoctrinate the youth, suppress free thought, and relay tactics of control onto their "peers." In 2018 and 2019 respectively, EUNOIA distributed the EPs Pronoid and You're Not Paranoid Enough widely to underground sects in the Midwest and Northeast United States regions.
In 2021 EUNOIA produced Psyop Of The Year with tactical support from Nefarious Industries and was decommissioned some months later resulting in the reallocation of operatives Nichols and Aasen to operation Tina Fey.
-END OF REPORT-
http://psyopoftheyear.com
https://eunoia513.bandcamp.com
https://www.facebook.com/eunoia.513
https://www.instagram.com/eunoia.lawn.and.garden
https://nefariousindustries.com
https://nefariousindustries.bandcamp.com
https://facebook.com/nefariousIndustries
https://instagram.com/nefarious_industries
https://twitter.com/nefariousInd