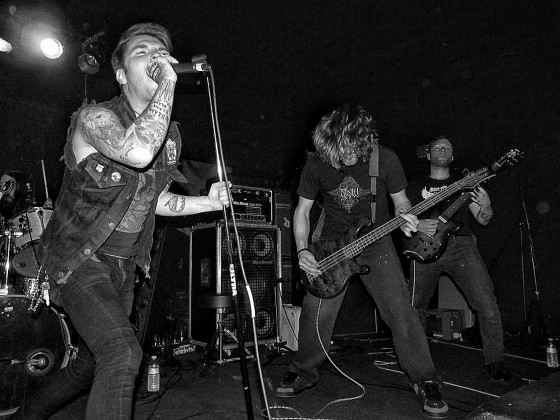 In celebration of its official unveiling today via Seventh Rule Recordings, Revolver Magazine is streaming All Hail Corrosion, the latest offering from Portland funeral doomists EPHEMEROS.
Boasting just three tracks, All Hail Corrosion nods its heavy, sullen head to the likes of Mournful Congregation, Loss and Asunder whilst delving into deeper, darker, more acerbic death/sludge territory. The end product is a gutting onslaught of slow, suffocating riffs, scorned vocals and a profound sense of misery, one that Pitchfork calls "the sonic equivalent of oxidizing razors and toppling gravestones," and Echoes and Dust equates to "the soundtrack to one of those nights you're reaching for a bottle or hallucinating a life you never lived and/or never fucking wanted." The Sleeping Shaman notes, "these guys have a proven pedigree for creating harsh sounds for harsh times, and All Hail Corrosion, their debut offering, is an even more dismal sound than anything they've created before," while Metal Insider gushes, "To say this album is almost tyrannical in its ability to crush all that stands before it in the name of beauty would not be an understatement. The vocals languish in death growls while also alternating anguished screams with droning, ritualistic chants. The heaviness of the music is often times punctured by interludes of an almost ceremonial nature. In fact the entire album gives off the vibe of some type of ancient rite where antediluvian spirits are beckoned to hasten our demise."
Get down with your dejected self, courtesy of Revolver Magazine, at THIS LOCATION.
All Hail Corrosion was tracked and mixed by Fester (Atriarch, Stoneburner) at Haywire Studios, mastered by Brad Boatright (Sleep, From Ashes Rise, Nails) at Audiosiege Engineering and bestows its listeners with forty traumatic minutes of measured depressive harmonies, soul-crushing growls and haunting chants centered around the imminent decay of humanity.
Order All Hail Corrosion via Seventh Rule Recordings HERE.
https://www.facebook.com/Ephemeros
http://www.seventhrule.com