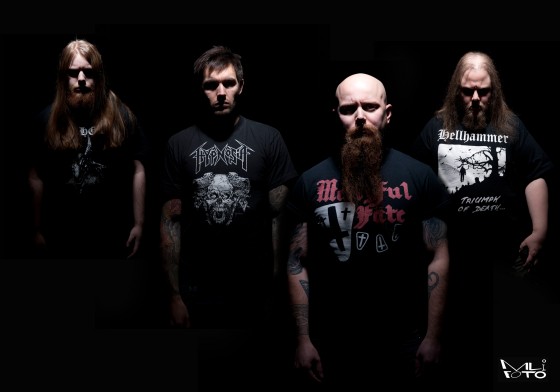 Swedish death metal collective, ENTRAILS, is pleased to unveil Resurrected From The Grave – Demo Collection, an eighteen-track compilation featuring the band's Reborn and Human Decay demos.
The demo material is based on ideas ENTRAILS first developed back in the '90s. For various reasons, they were never released and some years later the band fell apart completely. Guitarist Jimmy Lundqvist continued to write however and saved everything to tape. Fifteen years passed before Lundqvist decided to record these ancient relics with modern tools, computers, and some help from his partner in crime, vocalist Jocke Svensson. The first demo, Reborn, was tracked in early 2009 and the follow-up, Human Decay, shortly after in the Summer of that same year. The demos were initially self-released on homemade CD-Rs and limited to just fifty copies each. Back then, it had already been decided that they would need to be repressed at some point in the future. That time is now.
Lundqvist comments: "It feels great to finally do something serious with the two demos from 2009. After multiple requests from fans asking about the demos, I had to release the brakes on this, now or never. While we are working on the upcoming new ENTRAILS full-length, we feel better to do this release now which gives a bit more time for upcoming shows and the new album!"
Resurrected From The Grave – Demo Collection Track Listing:
1. Reborn (Intro)
2. Evil Obsession
3. The Morgue
4. Your Dead Dog Smile
5. Voices
6. Triumph Of The Sinners
7. Stormy Death
8. Midnight Death
9. Breath Of Blood
10. Entrails
11. Depression
12. Dust To Dust (Intro)
13. Blood Red
14. Euthanasia
15. Evil Terror
16. Total Death
17. Human Decay
18. Casket Garden (Dismember Cover)
Resurrected From The Grave – Demo Collection will be available on CD and digitally in North America on July 22nd, 2014. Head to THIS LOCATION to stream the first single "Blood Red" and preorder your copy today!
ENTRAILS' most recent full-length, Raging Death, was released via Metal Blade in May of 2013 and reaped critical hails both stateside and abroad. Metal Hammer noted that Raging Death "should satisfy those who are hungry for something oldschool," New Noise Magazine dubbed it, "an absolutely perfect slab of catchy, violent Swedish death metal," while Stereogum opined, "Now on their third album, ENTRAILS are still putting young knockoff artists to shame. Perfect for blasting, banging, and bashing."
http://www.facebook.com/Entrails666
http://www.youtube.com/user/entrailsswe
http://www.metalblade.com/entrails