Washington-based deathcore conspirators ENTERPRISE EARTH will kick off their anticipated North American tour with Thy Art Is Murder later this week! The journey runs from March 13th in Baltimore, Maryland through April 15th in Worcester, Massachusetts with additional support provided by Fit For An Autopsy and Aversions Crown as well as Une Misère and Extinction A.D. on select dates. From there, the band will join Florida brutalists Graveview in Whitehall, Pennsylvania for five headlining shows through April 20th in Lincoln, Nebraska. The latest bout of live incursions follows the band's European tour with Rings Of Saturn, Traitors, and Brand Of Sacrifice, currently nearing its conclusion. See all confirmed dates below.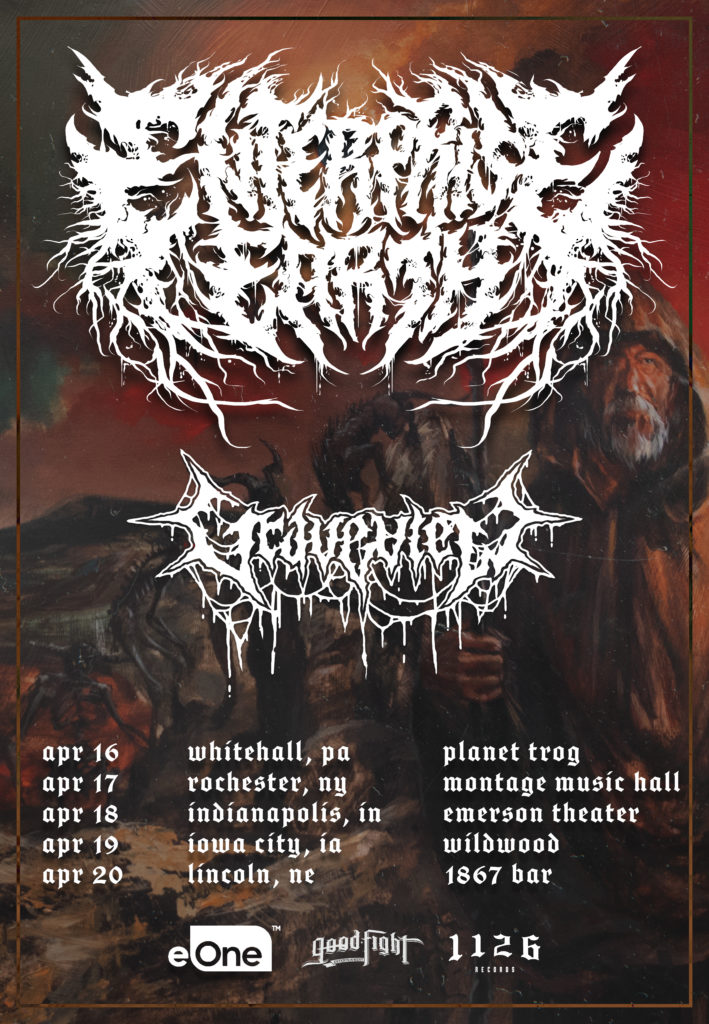 ENTERPRISE EARTH w/ Rings Of Saturn, Traitors, Brand Of Sacrifice [remaining dates]:
3/11/2020 Cassiopeia – Berlin, DE
3/12/2020 Club Puschkin – Dresden, DE
w/ Thy Art Is Murder, Fit For An Autopsy, Aversions Crown, Une Misère:
3/13/2020 Baltimore Soundstage – Baltimore, MD
3/14/2020 The Canal Club – Richmond, VA
3/15/2020 Amos' Southend – Charlotte, NC
3/17/2020 The Kelsey Theater – Lake Park, FL
3/18/2020 The Orpheum – Tampa, FL
3/20/2020 One Eyed Jacks – New Orleans, LA
3/21/2020 The Secret Group – Houston, TX
3/22/2020 Gas Monkey Live! – Dallas, TX
3/23/2020 Paper Tiger – San Antonio, TX
3/25/2020 Club Red – Mesa, AZ
3/28/2020 The Ritz – San Jose, CA
3/30/2020 El Corazón – Seattle, WA
3/31/2020 Hawthorne Theatre – Portland, OR
4/01/2020 Rickshaw Theatre – Vancouver, BC
4/04/2020 Dickens – Calgary, AB
4/07/2020 The Oriental Theater – Denver, CO
4/08/2020 The Bottleneck – Lawrence, KS
w/ Thy Art Is Murder, Fit For An Autopsy, Aversions Crown, Extinction A.D.:
4/09/2020 The Ready Room – St Louis, MO
4/10/2020 Reggies Rock Club – Chicago, IL
4/11/2020 Saint Andrews Hall – Detroit, MI
4/12/2020 The Opera House – Toronto, ON
4/13/2020 Théâtre Fairmount – Montreal, QC
4/14/2020 Gramercy Theatre – New York, NY
4/15/2020 Palladium – Worcester, MA
w/ Graveview:
4/16/2020 Planet Trog – Whitehall, PA
4/17/2020 Montage Music Hall – Rochester, NY
4/18/2020 Emerson Theater – Indianapolis, IN
4/19/2020 Wildwood – Iowa City, IA
4/20/2020 1867 Bar – Lincoln, NE
Founded in 2014 by ex-Infant Annihilator vocalist Dan Watson and ex-Takeover guitarist BJ Sampson, ENTERPRISE EARTH takes their name from a confluence of Illuminati and other conspiracy theories. The band is currently touring in support of their Luciferous full-length, released last Spring via Entertainment One (eOne) / Good Fight Music. Produced and mixed by Jason Suecof (The Black Dahlia Murder, White Chapel, Job For A Cowboy, Carnifex), Luciferous showcases a band committed to brutal audio onslaught and proficient excellence. The band's authentic death metal precision and technical might is unquestionable, as evidenced by their ravenous live delivery. True road warriors, ENTERPRISE EARTH has teamed with contemporaries like Dying Fetus, Whitechapel, Chelsea Grin, Thy Art Is Murder, Carnifex, Oceano, and Winds Of Plague, and joined the Summer Slaughter Tour with iconic genre trailblazers like Cannibal Corpse, Nile, and Suffocation.
Preview and purchase ENTERPRISE EARTH's Luciferous at THIS LOCATION.
About eOne:
Entertainment One Ltd. (eOne) is a talent-driven independent studio that specializes in the development, acquisition, production, financing, distribution and sales of entertainment content. As part of global play and entertainment company Hasbro (NASDAQ: HAS), eOne's expertise spans across film, television and music production and sales; family programming, merchandising and licensing; digital content; and live entertainment. Through its extensive reach and scale, and a deep commitment to high-quality entertainment, eOne unlocks the power and value of creativity.
eOne brings to market both original and existing content, sourcing IP from Hasbro's portfolio of 1500+ brands, and through a diversified network of creative partners and eOne companies including: international feature film distribution company Sierra/Affinity; Amblin Partners with DreamWorks Studios, Participant Media, and Reliance Entertainment; Makeready with Brad Weston; unscripted television production companies Renegade 83, Daisybeck, Blackfin and Whizz Kid Entertainment; live entertainment leaders Round Room Live; world-class music companies Audio Network, Dualtone Music Group and Last Gang; and award-winning emerging content and technology studio Secret Location.
http://enterpriseearthband.com
http://www.facebook.com/enterpriseearthband
http://twitter.com/EEarthBand
http://www.instagram.com/enterpriseearth/?hl=en
http://www.entertainmentone.com
http://www.facebook.com/eOneMusicUS
http://twitter.com/eonemusicus
http://www.instagram.com/eone_music