Progressive deathcore outfit ENTERPRISE EARTH today unveil their brand new video for "You Couldn't Save Me." The punishing track comes off the band's The Chosen full-length, released early this year via MNRK Heavy. The accompanying video fully encapsulates the band's unrelenting onstage dominance.
"If we could capture the live energy from one song off of The Chosen it would easily be 'You Couldn't Save Me,'" comments guitarist Gabe Mangold. "This song is a blast to perform and always gets the crowd energy way up, especially at the end. Filmed on our winter 2022 US tour, Nick Chance captured some of the best 'YCSM' moments and compiled them into one live video. Enjoy!"
View and share ENTERPRISE EARTH's "You Couldn't Save Me" at THIS LOCATION.
Watch the band's previously released video for new track, "Psalm Of Agony," featuring recently recruited singer Travis Worland (Aethere, Bite//Down, The Willow), at THIS LOCATION.
ENTERPRISE EARTH's "You Couldn't Save Me" video fittingly drops during their US headlining tour which commenced last week. The Chosen Tour runs through August 20th in Salt Lake City, Utah with support from Within Destruction, Sentinels, and labelmates Great American Ghost. See all confirmed dates below.
ENTERPRISE EARTH w/ Within Destruction, Sentinels, Great American Ghost [remaining dates]:
7/26/2022 Chain Reaction – Anaheim, CA
7/27/2022 Nile Theater – Mesa, AZ
7/28/2022 Rockhouse – El Paso, TX
7/29/2022 Club Dada – Dallas, TX
7/30/2022 Come & Take It Live – Austin, TX
7/31/2022 The Secret Group – Houston, TX
8/02/2022 The Brass Mug – Tampa, FL
8/03/2022 Respectables – West Palm, FL
8/04/2022 The Haven – Orlando, FL
8/05/2022 Masquerade – Atlanta, GA
8/06/2022 Neighborhood Theater – Charlotte, NC
8/07/2022 The End – Nashville, TN
8/09/2022 Planet Trog – Allentown, PA
8/10/2022 Webster Underground – Hartford, CT
8/11/2022 Knitting Factory – Brooklyn, NY
8/12/2022 The Outpost – Kent, OH
8/13/2022 The Sanctuary – Detroit, MI
8/14/2022 WC Social Club – Chicago, IL
8/16/2022 Emerson Theater – Indianapolis, IN
8/17/2022 Skylark – Rock Island, IL
8/18/2022 The Marquee – Sioux City, IA
8/19/2022 HQ – Denver, CO
8/20/2022 Kilby Court – Salt Lake City, UT
The Chosen is available on CD, LP, cassette, and digitally. Find ordering options at THIS LOCATION.
View the band's previously released videos for "Where Dreams Are Broken," "Reanimate // Disintegrate," "Legends Never Die," and a variety of visualizers and playthroughs from The Chosen at the ENTERPRISE EARTH YouTube channel HERE.
"The Chosen sounds huge and definitive." – Blabbermouth
"The Chosen is ENTERPRISE EARTH's most-everything record to date: it's the heaviest, the most vicious, the most technical, and, not for nothing, the catchiest offering in the band's already-impressive repertoire, and it's already destined to be one of 2022's must-hear metal releases." – MetalSucks
"The title track unleashes some absolutely beautiful soloing and breathtaking vocal harmonies. That sounds weird for this genre, especially for those of us over 40. But ENTERPRISE EARTH makes it work." — Metal Injection
"…the Washington quartet have rather significantly developed their sound and style that has made them take one more step towards asserting their rightful place amongst death metal royalty. The genre has always been about breaking the norm, creating something that will pummel everything in its path, and The Chosen has done that." — Distorted Sound
"…the most memorable ENTERPRISE EARTH release to date…" – New Transcendence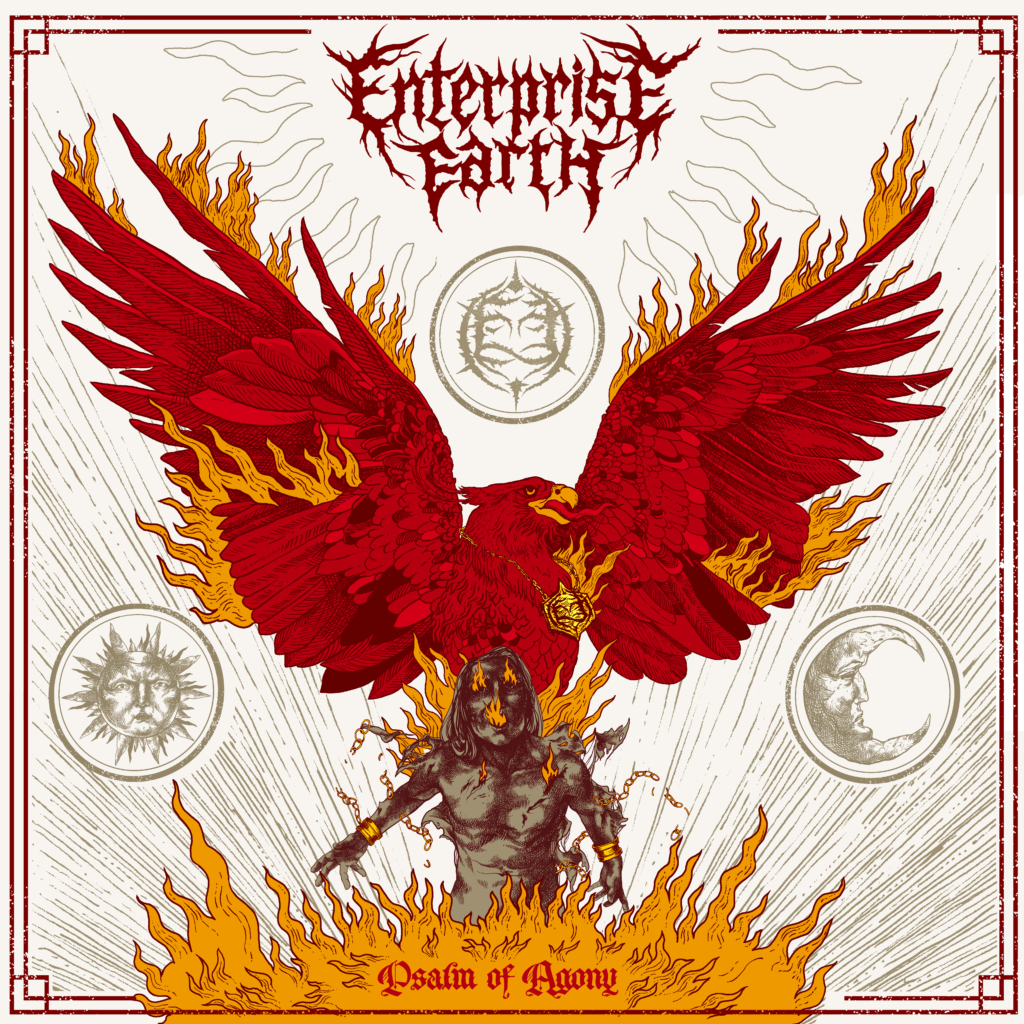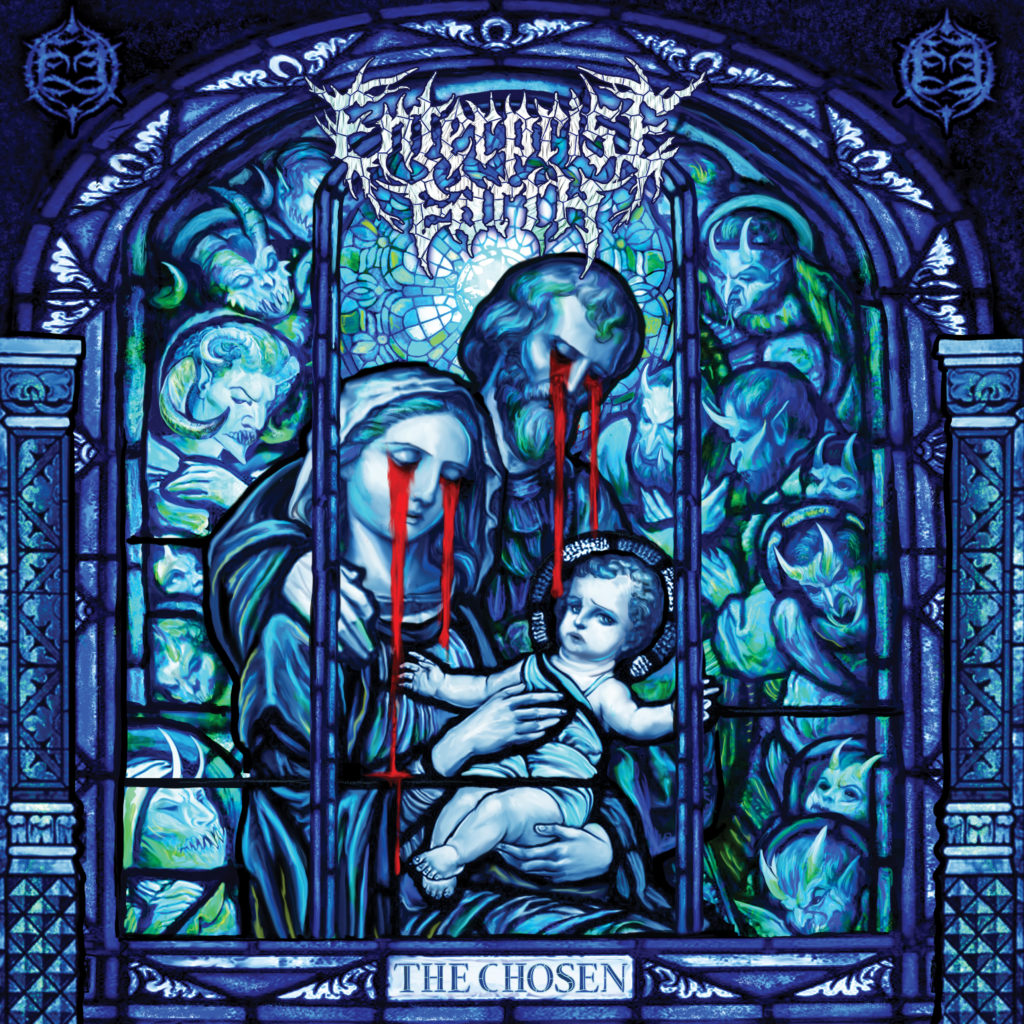 http://www.enterpriseearthband.com
http://www.facebook.com/enterpriseearthband
http://www.twitter.com/EEarthBand
http://www.instagram.com/enterpriseearth
http://www.mnrkheavy.com
http://www.facebook.com/MNRKHeavy
http://www.twitter.com/MNRKHeavy
http://www.instagram.com/MNRK_heavy