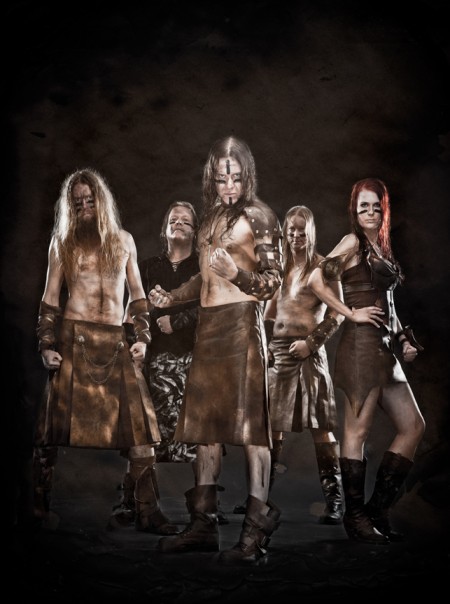 "Burning Leaves," the new single from Finland's favorite folk metal collective, ENSIFERUM, is currently streaming here:
The track comes off the band's fifth studio offering, Unsung Heroes. Set for North American release on September 18, 2012 via Spinefarm Records US, Unsung Heroes is over an hour long and sees the long-running five-piece pushing their signature sound to bold new heights of drama and excess. Called ENSIFERUM's "best effort yet" by PureGrainAudio, Unsung Heroes is a cinematic experience from beginning to end. Produced by Hiili Hiilesmaa (HIM, Sentenced, Apocalyptica), the album features artwork by Kristian Wahlin and a medley of special guests including members of Die Apokalyptischen Reiter plus legendary Finnish singer/actor, Vesa-Matti Loiri.
"We've tried to push the different aspects of what we do as far as we can," reflects the band, "the sonic scope is wider than ever. The folk elements go further down that path and the metallic parts will absolutely rip your face off!"
In addition, ENSIFERUM recently unleashed a video for the track "In My Sword I Trust." The epic clip was shot in Wrocklaw, Poland and directed by Rafal Szermanowicz of Grupa#13. If you missed it, check out the video as well as behind-the-scenes footage HERE.
"This is how a band should progress, comfortably and with confidence in their own ability to keep on creating without leaning too much on their past or changing direction in a blind panic. This is nothing short of amazing, beautiful in every way possible." – Stereokiller
http://www.ensiferum.com
http://www.facebook.com/Ensiferum
https://www.facebook.com/SpinefarmRecordsUS