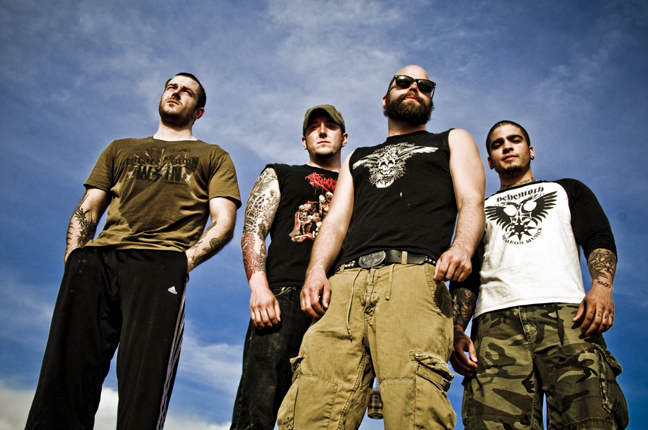 Denver death metal battalion ENEMY REIGN will make their live European debut THIS FRIDAY at the 2010 sold-out edition of the Neurotic Deathfest. The fest features some of extreme metal's most coveted acts including: Bolt Thrower, Carcass, Pestilence, Dying Fetus and Napalm Death (among many others). The band will play The Middle Stage at 6:25pm. Visit http://www.neuroticdeathfest.com for further info.
In addition, ENEMY REIGN vocalist Sherwood Webber (DJ Thunderwheel) will be teaming up with Malignancy vocalist Danny Nelson (Bruticus) for a special DJ set to close out Saturday night!
The band will follow Neurotic Deathfest with a string of club shows:
ENEMY REIGN's European Invasion:
4/30/2010 Neurotic Deathfest – Tilburg (NL)
5/02/2010 Frontline – Gent (BE)
5/03/2010 The Perfect 5th – Taunton (UK)
5/04/2010 The Exeter Cavern Club – Exeter (UK)
5/05/2010 South Of The Border – London (UK)
5/07/2010 Sas, Delemont (CH)
5/08/2010 Emmen Metal Festival – Emmen (NL)
5/12/2010 Abaton – Prague (CZ)
5/13/2010 Archiv – Potsdam (DE)
5/14/2010 AJZ Bahndamm – Wermelskirchen (DE)
ENEMY REIGN released their critically-lauded Means To A Dead End EP in Europe through Neurotic Records. The EP was recorded by Dave Otero at Flatline Audio (Cephalic Carnage, Martriden, Cobalt et al) in 2008 and, until now, self-distributed through the ENEMY REIGN online webstore. The European version contains one newly recorded exclusive bonus track entitled "If The Truth Hurts…Suffer," as well as exclusive art work and other bonus materials. Check out the band's new group photo here: http://tinyurl.com/36ke26d
In related news, Webber and his former bandmates in Skinless recently announced a special one-off performance together on June 19th at Northern Lights in Clifton Park, New York. Featuring the classic lineup that helped rearrange the face of death metal with their soul-crushing Progression Towards Evil and Foreshadowing Our Demise full-lengths (1998 and 2001 respectively), Webber, drummer Bob Beaulac, guitarist Noah Carpenter and bassist Joe Keyser are once again prepared to pummel. Co-headlining the show will be Burning Human featuring Shadows Fall drummer Jason Bittner. Support will come from Wasteform, Israfel and Circle Nine. For more info, check out: http://www.myspace.com/skinless. In addition, Webber will be tracking guest vocals on the upcoming Cephalic Carnage record. Further details TBA.
"An admissibly ferocious, hate-filled and avenging band who have confidently taken control of their own fate… This is a hard-hitting metal release which more than deserves to be check out on its own accord." — Decibel
"…deranged and technically-meticulous death metal for outcasts and non-believers with a discerning taste for standout extreme music." — Hard Times
"Webber's deceptive vocal power is on display for all five tracks making for a self-released effort that blows away almost all self-released efforts and is on par with anything on major labels. But with the sort of experience contained in this band and one of death metal's best front men back in the fray, what would you expect?" — Metal Review
http://www.enemyreign.com
http://www.neurotic-records.com
http://www.neuroticdeathfest.com