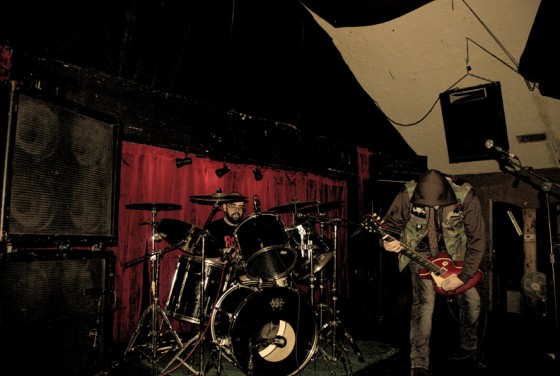 The anticipated sophomore full-length from death/doom duo ENCOFFINATION, O' Hell, Shine In Thy Whited Sepulchres, nears North American release on November 15th. Today the deviants at Decibel Magazine are helping spread the filth via the public's first experience with the opus, with a premiere of the second track from the forthcoming album.
Take one final breath of fresh air before succumbing to the putrid, suffocating darkness of "Rites of Ceremonial Embalm'ment" RIGHT HERE.
Picking up where they left off with their praised 2010 full-length debut, Ritual Ascension Beyond Flesh, the new book of hymns, O' Hell, Shine In Thy Whited Sepulchres, redefines and magnifies ENCOFFINATION's signature low-end funeral doom wrapped in the pure stench of death. Based on Ghoat's own experiences of working in the funeral industry, O' Hell, Shine In Thy Whited Sepulchres is a concept album… not in the linear sense, but abstract; from the death of the human form to the sacrifice of flesh into the Earth. Each members' tracks were recorded in their individual home states this Summer — the drums in Cooper, Texas (ElektroSound) and the guitars, bass and drums in Atlanta, Georgia (Graf Yairden). Each track was recorded in the total solitude of the individual members; another excursion into the abyss of death, invoking total incarnation of funereal reality.
From these combined sessions crawls forth the depraved, suffocating, and incredibly eerie forty-minute O' Hell, Shine In Thy Whited Sepulchres, and album that will slam the coffin lid on the 2011 calendar year as one of the most crushing releases of the year, in pure ENCOFFINATION fashion. The album's visual theme utilizes "Finis Gloriae Mundi," a 17th century painting by Juan De Valdes Leal, and the layout handled by directly by Ghoat.
O' Hell, Shine In Thy Whited Sepulchres Track Listing:
1. Sacrum Profanum Processionali
2. Rites of Ceremonial Embalm'ment
3. Ritual Until Blood
4. Elegant in Their Funebrial Cloaks, Arisen
5. Crypt of His Communal Devourment
6. Washed and Buried
7. Pall of Unrequited Blood
8. Annunciation of the Viscera
ENCOFFINATION is:
Elektrokutioner – drums (Decrepitaph, Beyond Hell, Father Befouled, Scaremaker, Festered, etc.)
Ghoat – guitars/bass/vocals (Father Befouled, Festered, Vomitchapel, etc.)
http://www.facebook.com/templeofencoffinment
http://www.myspace.com/encoffination
http://archasmreleasing.com
http://www.selfmadegod.com
http://www.facebook.com/Selfmadegod
http://myspace.com/selfmadegodrecords