Zones, the sixth studio full-length from San Francisco's long-running quartet, ENABLERS, is confirmed for release on June 14th. The album is set for a vinyl release through a three-way label cooperation between Germany's Exile On Mainstream, UK-based Lancashire & Somerset, and US-based Broken Clover Records. With the album's details, artwork, and track listing, a video for the lead single, "Bill, In Consideration," makes its debut through an exclusive premiere at PopMatters.
Established in San Francisco in 2002, ENABLERS' subsequent five LPs and four EPs have signaled a transcendent approach to "spoken word" music. Delivering another performance of the band's singular, immersive, jazz/post-rock approach, the new Zones album delivers another forty-minute spiral down the rabbit hole, with nine new visceral and poignant character-driven tales.
With the new "Bill, In Consideration" lead single video premiere, PopMatters offers that the song, "is a prime example of the group's spoken word/post-punk poetry with flecks of jazz splattered across the sonic landscape like paint in Jackson Pollock's studio. If the Fall's Mark E. Smith had been raised on a steady diet of American horrors and grown up in the post-Vietnam era and rising tide of consumerism and commercialism, this may have been the result. Enablers' music is not made for passive consumption and this tune bodes well for Zones, a record that seems guaranteed to grab us by our collectivize throats."
Watch ENABLERS' "Bill, In Consideration" video at PopMatters RIGHT HERE.
The Zones LP will see release on June 14th in a run of 1000 copies on 180-gram black pure virgin vinyl with mp3 download card included. Preorders are now live via Exile On Mainstream in Germany HERE, and via Broken Clover Records in the US HERE
Watch for full audio premieres from the album and more to be issued in the days ahead.
ENABLERS will return to Europe for a month-long tour, running from June 6th through July 6th. See all confirmed tour dates below and watch for additional tour dates to be posted.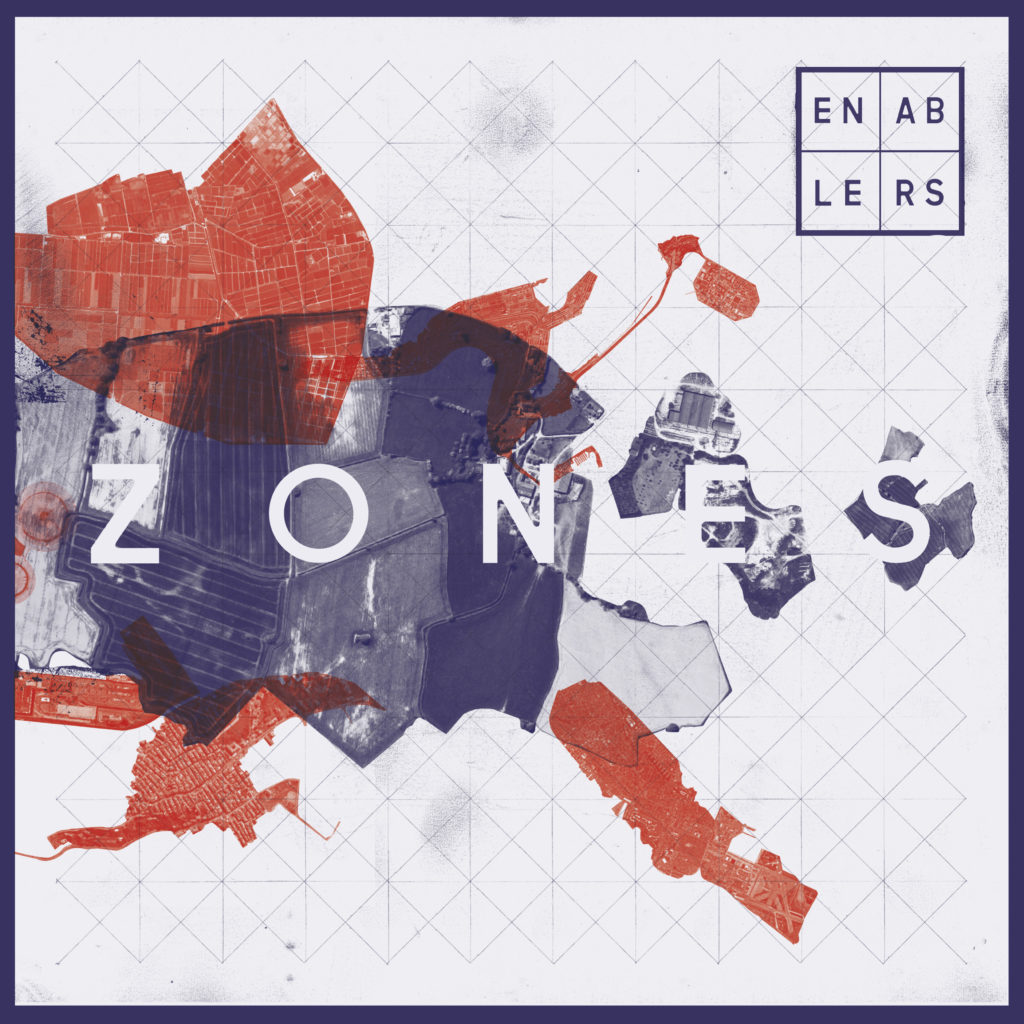 Zones Track Listing:
1. Even Its Lies
2. Cha Cha Cha
3. Furthermore
4. Squint
5. Goon Seat
6. Bill, In Consideration
7. In McCullin's Photography
8. Broke
9. Zones
ENABLERS European Tour:
6/06/2019 TBA – Nantes, FR
6/07/2019 Mangeto – Bayonne, FR
6/08/2019 Galdako – Kaiola Festibala, ES
6/09/2019 Rio Pincon Sound – Don Benito, ES
6/11/2019 La Faena II – Madrid, ES
6/12/2019 Arrebato – Zaragoza, ES
6/13/2019 PTIG – Benicarlo, ES
6/14/2019 Bocca Nord – Barcelona, ES
6/15/2019 L'embobineuse – Marseille, FR
6/16/2019 Le Grattoir – Gerardemer, FR
6/17/2019 TBA – Thionville, FR.
6/19/2019 UT Connewitz – Leipzig, DE
6/20/2019 007 – Prague, CZ
6/21/2019 Soulkostel – Moravia, CZ
6/22/2019 Alchemia – Krakov, PL
6/23/2019 Zukunft – Berlin, DE
6/25/2019 Hafenklang – Hamburg, DE
6/27/2019 Kultura – Liège, BE
6/28/2019 OCCII – Amsterdam, NL
6/29/2019 Magasin 4 – Bruxelles, BE
7/03/2019 Kromme Haring – Utrecht, NL
7/04/2019 La Bulle Cafe – Lille, FR
7/05/2019 La Ferme Electrique – Paris, FR
7/06/2019 Electrowerkz – London, UK
ENABLERS began when Pete Simonelli asked guitarist Kevin Thomson (Hazel Atlas, ex-Nice Strong Arm, Timco, Touched By A Janitor) to collaborate on a book and musical project. Joe Frank Byrnes accepted the invitation to play the drums, and guitarist Joe Goldring (ex-Swans, Toiling Midgets, Touched By A Janitor) joined the band shortly thereafter.
Since the 2004 release of their first LP, End Note (Neurot Recordings), ENABLERS has established a new direction in spoken word music. The prose and poetry of Simonelli is intricately woven into the dynamic interplay of guitarists Joe Goldring and Kevin Thomson, and punctuated by the compulsive and precise drumming of a changing corps of drummers, among them such illustrious names as Yuma Joe Burns, Neil Turpin, Doug Scharin, and now Sam Ospovat (Ava Mendoza, Brendan Seabrook, Beep!, tUnE-yArDs, William Winant). Musically, the compositions range from melodic minimalism to heavy, rhythmically challenging thickets of sound.
Following their first release, End Note, came Output Negative Space (Neurot Recordings, 2004 and 2006, respectively). In 2008, their third LP, Tundra (Exile On Mainstream and Majic Wallet), was released along with two improvisational EPs: The Achievement (Awesome Vistas) and Now You Can Answer My Prayers (Lancashire and Somerset). With an almost entirely DIY approach to touring and their reliably intense live performances, ENABLERS have pleased fans in the underground of the European continent and the UK, earning much credibility along the way as a constantly visible, working band.
In 2011 Blown Realms And Stalled Explosions (Exile On Mainstream and Lancashire And Somerset), their fourth release, found ENABLERS evolving even more. The record's textural and evocative sound realized a new direction while accentuating the singular elements of musicianship and imagination that made the previous releases so engaging.
Their fifth release, The Rightful Pivot, followed in 2015, and took a more intuitive approach to songwriting and collaboration, while holding on to all the ingredients – tension, surprise, and fluidity – that have always distinguished the band's polished and idiosyncratic sound. Berlinesque, their third improvisational EP (self-released on Bandcamp), was a virtual primer for The Rightful Pivot's musical shift in focus.
The 2019 LP, Zones – a cooperation between Lancashire And Somerset, Exile On Mainstream, and Broken Clover Records – is a further example of ENABLERS' push for musical expansion and growth. Zones represents a band that is increasingly more comfortable with experimentation and improvisation, while continuing to embrace all the musical elements that have established their sound and style for close to twenty years. It is a fully realized record and a continuation of the band's refusal to be pinned down by category or genre. 2019 has also seen the release of ENABLERS' fourth EP, Pigeon Diaries (Bandcamp [streaming], expected as vinyl on Lancashire And Somerset later in the year), which once again offers listeners a sonic prelude to their forthcoming LP.
ENABLERS:
Pete Simonelli – vocals
Joe Goldring – guitar
Kevin Robert Thomson – guitar
Sam Ospovat – drums
https://enablers.bandcamp.com
https://www.facebook.com/Enablers-212885122067703
https://www.youtube.com/channel/UCjFxnZh1OB3Sy8O3ixnt6jw
http://www.mainstreamrecords.de
http://www.lancashireandsomerset.co.uk
https://brokencloverrecords.bandcamp.com