ENABLER's sophomore LP, La Fin Absolue Du Monde, will inundate the masses in just days, set for unleashing on Tuesday, May 27th.
A cooperative release between NYC-area based The Compound and the Bay Area's Creator-Destructor, La Fin Absolue Du Monde is a thirty-six minute assault, barely harnessing ENABLER's most diverse and well-executed material to date, and is yet another of the band's releases in homage to director John Carpenter's arsenal of horror/sci-fi masterpieces. Tracked by Shane Hotchstetler at Howl Street Recordings (Expire, Northless), produced by Hotchstetler and the band's founding guitarist/vocalist Jeff Lohrber, and mastered by Steve Austin (Today Is The Day) at Austin Enterprises, the album's raw, organic delivery matched with their frantic, torrid energy showcases some of Lohrber's slickest signature riffage to date, thunderous undercurrents from bassist/vocalist Amanda Daniels and a driving pulse delivered by drummer Ryan Steigerwald (The Ox King, Ringworm).
Now only one week out from its street date, Stereogum is streaming ENABLER's La Fin Absolue Du Monde in its entirety. The accompanying text in part states the album "is their most textured, assured, and satisfying release to date." It continues "The songs found on La Fin have the fury and leanness of tough-guy hardcore and the stomp of d-beat, but the dexterous guitars and anthemic hooks of '80s thrash. It's jolting, physical music, but there's a compelling emotional core that reveals itself in the melodies and especially in the vocals… and once revealed, takes hold."
Hear to the absolute end of your world coming down with La Fin Absolue Du Monde courtesy of Stereogum RIGHT HERE.
La Fin Absolue Du Monde is shipping now. The LP is available in two color schemes through Pirates Press; The Compound's edition is on grey wax with heavy black/white/Orange Crush splatter, and Creator-Destructor's in a half-and-half grey/Halloween orange pattern. Both versions are limited to 250 copies, packed in a wide-spine, uncoated jacket with a digital download code included. The CD is housed in a high-quality, six-panel digipak. All physical versions are available via The Compound HERE, via Creator-Destructor HERE, and via ENABLER, as well as digital, right HERE.
Currently on tour across the Northeast, ENABLER is storming through Canada on their way to rage the East Coast on their way to play Maryland Deathfest for their first time on Sunday May 25th at Baltimore Soundstage with Maruta, Shitstorm, Left for Dead, Unholy Grave, Ratos de Porao and more. Two days later, La Fin Absolue Du Monde will see release, and the following day, ENABLER will join up with Eyehategod and Ringworm for a month-long North American tour.
ENABLER – On Tour Now:
5/20/2014 Bar Le Megog – Sherbrooke, QC
5/21/2014 Jim's Basement – Burlington, VT
5/22/2014 Geno's Rock Club – Portland, ME
5/23/2014 Even Flow – Bay Shore, NY w/ Maruta
5/25/2014 Baltimore Sound Stage – Baltimore, MD @ Maryland Deathfest
5/27/2014 Longbranch Saloon – Knoxville, TN w/ Ringworm
ENABLER w/ Eyehategod, Ringworm:
5/28/2014 Masquerade – Atlanta, GA [tickets]
5/29/2014 Drunk Horse – Fayetteville, NC [tickets]
5/30/2014 Chop Shop – Charlotte NC [tickets]
5/31/2014 611 – Frederick, MD [tickets]
6/01/2014 Underground Arts – Philadelphia, PA [tickets]
6/02/2014 Rex Theater – Pittsburgh, PA [tickets]
6/03/2014 Strange Matter – Richmond, VA [tickets]
6/04/2014 American Legion Post 80 – Binghamton, NY [tickets]
6/05/2014 Brighton Music Hall – Boston, MA [tickets]
6/06/2014 Even Flow – Long Island, NY [tickets]
6/07/2014 Europa – Brooklyn, NY [tickets]
6/08/2014 Basement Transmissions – Erie, PA [tickets]
6/09/2014 Bug Jar – Rochester, NY [tickets]
6/10/2014 Loving Touch – Detroit, MI [tickets]
6/11/2014 Now That's Class – Cleveland, OH [tickets]
6/12/2014 Birdy's – Indianapolis, IN [tickets]
6/13/2014 Cobra Lounge – Chicago, IL [tickets]
6/14/2014 Pyramid Scheme – Grand Rapids, MI [tickets]
6/15/2014 Bottom End Bar – Appleton, WI [tickets]
6/16/2014 Triple Rock – Minneapolis, MN [tickets]
6/17/2014 Diamond Pub – Louisville, KY [tickets]
6/18/2014 Fubar – St. Louis, MO [tickets]
6/19/2014 Hi Tone – Memphis, TN [tickets]
6/20/2014 Southport – New Orleans, LA [tickets]
6/21/2014 Dollhouse – Savannah, GA [tickets]
6/22/2014 Orpheum – Tampa, FL [tickets]
6/23/2014 Looseys – Gainesville, FL [tickets]
6/24/2014 Zydeco – Birmingham, AL [tickets]
6/25/2014 The Handlebar – Pensacola, FL [tickets]
ENABLER:
8/06/2014 The Busted Lift – Dubuque, IA
8/07/2014 The New Direction – Fargo, ND
8/08/2014 Arson Fest – Winnipeg, MB
10/31/11/02/2014 The Fest 13 – Gainesville, FL [info]
"GET READY TO HAVE YOUR FACE RIPPED OFF… RPGs are less destructive than this shit." – MetalSucks
"Often tagged as d-beat hardcore, it doesn't really matter how you categorize them; just know that Enabler is INTENSE." – Lambgoat
"…got a bit of noise-rock influence, no coincidence since Today is the Day's Steve Austin mastered the record." – Pitchfork
"The style of music they play may seem hectic but it's quality musicianship and very true to their own sound. Loud, in your face and and constructed with care." – Headbang Or GTFO
"This is an achievement to be studied and poured over by lesser bands for years to come. A strong contender for album of the year…" – Wonderbox Metal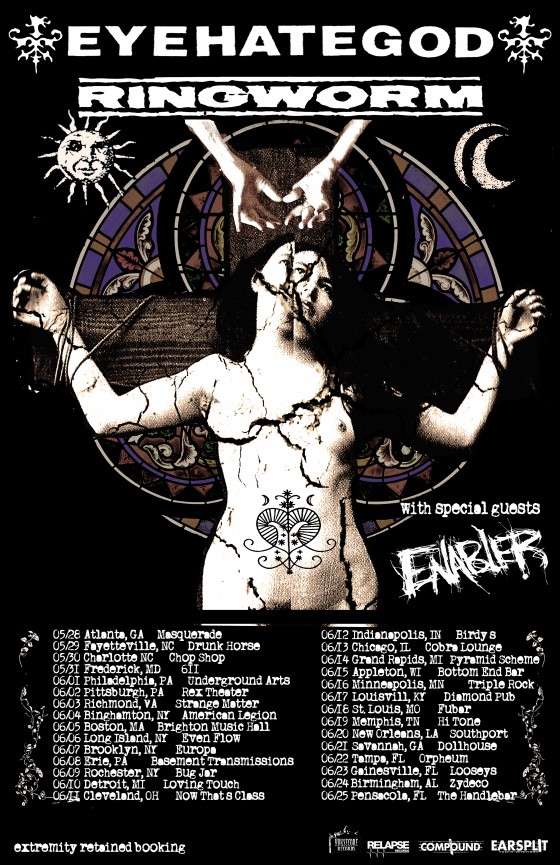 http://enablermke.bandcamp.com
https://www.facebook.com/enablerband
http://www.thecompoundrecs.com
http://www.facebook.com/thecompoundrecs
http://www.earsplitdistro.com
http://creator-destructor.com