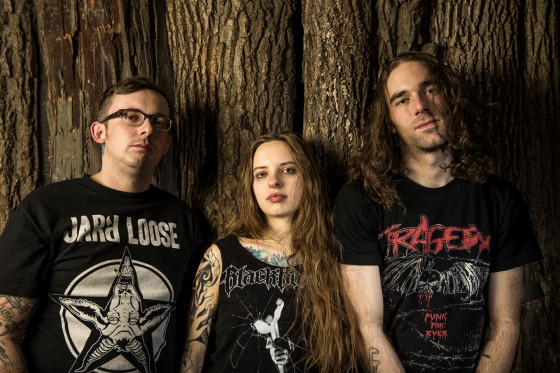 Having just returned from a three-week East Coast tour, ENABLER will head back out on a new six-week tour assault in just days, as the release date for their anticipated second LP, La Fin Absolue Du Monde, nears its street date.
ENABLER's newest tour itinerary begins this Thursday, May 15th with a five-city run including a set at the massive three-day Pouzza Fest in Montreal alongside Reagan Youth, The Hold Steady, Dillinger Four, SNFU, The Dayglo Abortions, 7 Seconds and dozens more. From there, they trek back to the East Coast on their way to let loose at their first ever Maryland Deathfest performance on Sunday May 25th at Batlimore Soundstage with Maruta, Shitstorm, Left for Dead, Unholy Grave, Ratos de Porao and more. Just two days later, their killer second LP, La Fin Absolue Du Monde, will see release the same day as Eyehategod's brand new album, after which both bands will tour the US for a full month, the trek also including Ringworm.
Over recent weeks, multiple tracks from La Fin Absolue Du Monde have been released, including the newest single, "Balance Of Terror" at Pitchfork at THIS LOCATION, "New Life" via is at Lambgoat RIGHT HERE and "Prey" is playing at MetalSucks HERE.
La Fin Absolue Du Monde will see release via The Compound and Creator-Destructor Records on May 27th. Preorders are available via The Compound HERE, via Creator-Destructor HERE, and digital preorders are live HERE.
ENABLER Tour Dates:
5/15/2014 Coach and Horses – Windsor, ON
5/16/2014 Centre-Ville De – Montreal, QC @ Pouzza Fest
5/17/2014 The Central – Toronto, ON
5/18/2014 HvyHouse – Ottawa, ON
5/20/2014 Bar Le Megog – Sherbrooke, QC
5/21/2014 Jim's Basement – Burlington, VT
5/22/2014 Geno's Rock Club – Portland, ME
5/23/2014 Even Flow – Bay Shore, NY w/ Maruta
5/25/2014 Baltimore Sound Stage – Baltimore, MD @ Maryland Deathfest
5/27/2014 Longbranch Saloon – Knoxville, TN w/ Ringworm
ENABLER w/ Eyehategod, Ringworm:
5/28/2014 Masquerade – Atlanta, GA [tickets]
5/29/2014 Drunk Horse – Fayetteville, NC [tickets]
5/30/2014 Chop Shop – Charlotte NC [tickets]
5/31/2014 611 – Frederick, MD [tickets]
6/01/2014 Underground Arts – Philadelphia, PA [tickets]
6/02/2014 Rex Theater – Pittsburgh, PA [tickets]
6/03/2014 Strange Matter – Richmond, VA [tickets]
6/04/2014 American Legion Post 80 – Binghamton, NY [tickets]
6/05/2014 Brighton Music Hall – Boston, MA [tickets]
6/06/2014 Even Flow – Long Island, NY [tickets]
6/07/2014 Europa – Brooklyn, NY [tickets]
6/08/2014 Basement Transmissions – Erie, PA [tickets]
6/09/2014 Bug Jar – Rochester, NY [tickets]
6/10/2014 Loving Touch – Detroit, MI [tickets]
6/11/2014 Now That's Class – Cleveland, OH [tickets]
6/12/2014 Birdy's – Indianapolis, IN [tickets]
6/13/2014 Cobra Lounge – Chicago, IL [tickets]
6/14/2014 Pyramid Scheme – Grand Rapids, MI [tickets]
6/15/2014 Bottom End Bar – Appleton, WI [tickets]
6/16/2014 Triple Rock – Minneapolis, MN [tickets]
6/17/2014 Diamond Pub – Louisville, KY [tickets]
6/18/2014 Fubar – St. Louis, MO [tickets]
6/19/2014 Hi Tone – Memphis, TN [tickets]
6/20/2014 Southport – New Orleans, LA [tickets]
6/21/2014 Dollhouse – Savannah, GA [tickets]
6/22/2014 Orpheum – Tampa, FL [tickets]
6/23/2014 Looseys – Gainesville, FL [tickets]
6/24/2014 Zydeco – Birmingham, AL [tickets]
6/25/2014 The Handlebar – Pensacola, FL [tickets]
ENABLER:
8/06/2014 The Busted Lift – Dubuque, IA
8/07/2014 The New Direction – Fargo, ND
8/08/2014 Arson Fest – Winnipeg, MB
10/31/11/02/2014 The Fest 13 – Gainesville, FL [info]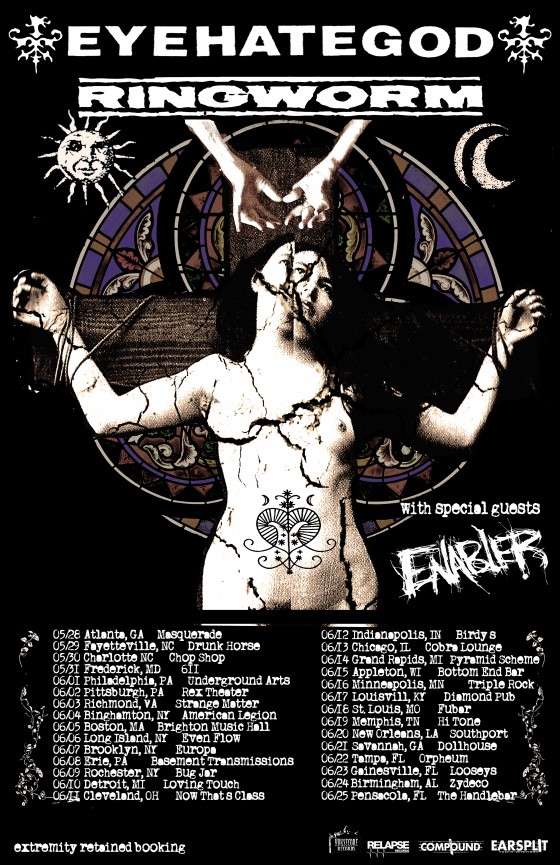 http://enablermke.bandcamp.com
https://www.facebook.com/enablerband
http://www.thecompoundrecs.com
http://www.facebook.com/thecompoundrecs
http://www.earsplitdistro.com
http://creator-destructor.com