A389 Recordings this week proclaims the signing of Columbus, Ohio-based death-dealers EMPIRE OF RATS and the impending release of their vindictive self-titled debut full-length recording this Autumn.
A cast of warriors who have collectively done time in Palehorse, Under One Flag, Pitboss 2000 and countless others unify in their hateful talents in EMPIRE OF RATS, forming a devastating style which is a brutal reminder that heavy hardcore is alive and well. On their self-titled debut LP these scene-veterans have created a perfect record that is sincere, energetic and unapologetically pissed-off without coming off as paint-by-numbers, an eleven-anthem dose of metallic, unsuppressed aggression with a style will inspire fans of Hatebreeed, 100 Demons, Cold As Life, Ringworm, Crucified, Homewrecker and the like to seek street revenge on their enemies in no time. Bearing cover art by Linas Garsys, the deal is sealed and now A389 will release the album via download and 12″ vinyl on October 1st, 2013.
Today Lambgoat dishes out the first public beatdown from Empire Of Rats with an exclusive stream of the track "Another Minute In Hell" — CLICK HERE TO UNLEASH.
Having stormed crowds live regionally across American wastelands including pit-fueled sets at U.S. festivals including The Rumble, This Is Hardcore and more, EMPIRE OF RATS will announce new live throwdowns and tour actions in support of the looming LP over the coming months.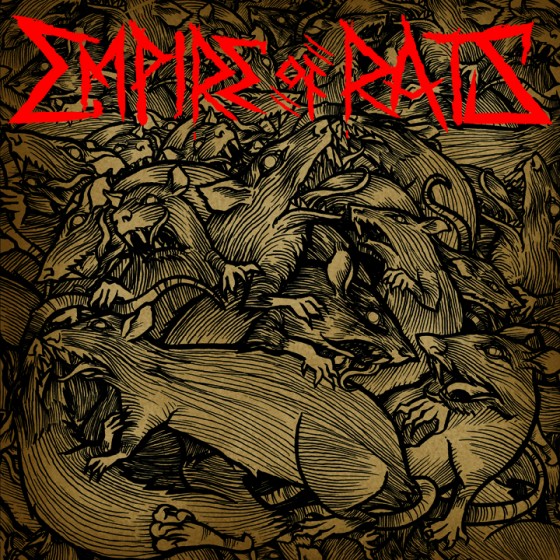 Empire Of Rats Track Listing:
1. Leeches
2. Another Minute In Hell
3. Bottomless Pit
4. Untitled
5. Society's Zero
6. Rats Reign
7. Sinking
8. Little From The World
9. We're Dead
10. Exposed
11. Early Mourning
https://www.facebook.com/empireofrats
http://empireofratsoh.bandcamp.com
http://www.a389records.com
https://www.facebook.com/a389recordings
https://twitter.com/a389recordings