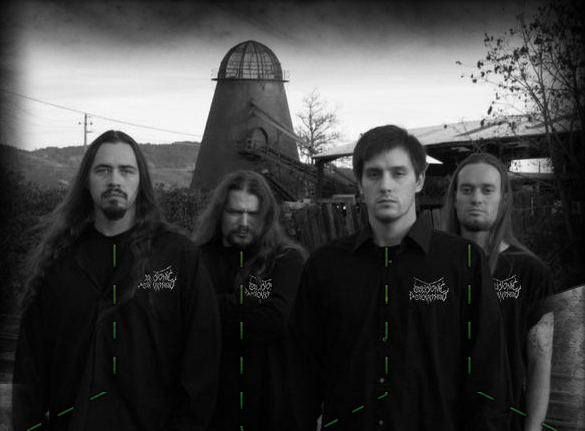 California technical grindcore militia EMBRYONIC DEVOURMENT will kick off the long-anticipated Hymns Of The Extreme tour with Sepsism on Saturday at The Pizza Factory in Modesto, California. The tour will hit over a dozen cities and no soul shall be left unharmed. The band will also make appearances at Slugfest III and the Las Vegas and Central Illinois Metalfests in July. Let the maiming commence.
EMBRYONIC DEVOURMENT Hymns Of The Extreme Tour 2010:
4/10/2010 The Pizza Factory – Modesto, CA w/ Sepsism
4/11/2010 The Cheyenne Saloon – Las Vegas, NV w/ Sepsism
4/12/2010 U.B. Bar – Mesa, AZ w/ Sepsism
4/13/2010 The Compound – Albuquerque, NM w/ Sepsism
4/14/2010 Zen Meister Bar – El Paso, TX w/ Sepsism
4/15/2010 The Ten Eleven – San Antonio, TX w/ Sepsism
4/16/2010 Fitzgerald's – Houston, TX w/ Sepsism
4/17/2010 The Broken Neck – Austin, TX w/ Sepsism
4/18/2010 The Conservatory – Oklahoma City, OK w/ Sepsism
4/19/2010 The Riot Room – Kansas City, MI w/ Sepsism
4/20/2010 Union Station – Colorado Springs, CO w/ Sepsism
4/21/2010 Burts Tiki Lounge – Salt Lake City, UT w/ Sepsism
4/22/2010 The Red Room – Boise, ID w/ Sepsism
4/23/2010 Yazzi's Bar & Grill – Troutdale, OR w/ Sepsism
5/22/2010 Modesto Virtual – Modesto, CA
7/10/2010 Slugfest III @ The Workshop – Ceres, CA
7/16/2010 Las Vegas Death Fest – Las Vegas, NV
7/17/2010 Las Vegas Death Fest – Las Vegas, NV
7/23/2010 Central Illinois Metal Fest @ The Canopy Club – Urbana, IA
EMBRYONIC DEVOURMENT — guitarist/vocalist Lauren Pike, bassist/vocalist Austin Spence, guitarist Adam Weber and drummer Luke Boutietta — recently posted two brand new tracks from their upcoming full-length, Vivid Enterpretations Of The Void [label TBA]. Check out "Militarized Reptoids" and "Darken Thy Fluids" here: http://www.myspace.com/embryonicdevourment. The follow-up to 2007's Fear Of Reality Exceeds Fantasy debut is based on the "Reptilian Agenda," a theory that a reptilian race somehow controls our existence. "The reptilians need the menstrual blood of a virgin in order to keep their human form," elaborated Spence. "These are the same gods that the Aztecs and Egyptians weren't allowed to depict. They have been in control of our world and many others for thousands of years." More on Vivid Enterpretations… and the controversial reptilian agenda in the coming weeks.
In related news, Austin and Lauren recently made their way to Egypt. Check out some very entertaining (and educational) video footage from their trek, here. You'll be glad you did:
http://www.myspace.com/embryonicdevourment
http://www.embryonicdevourment.com