Swedish dark symphonic metal powerhouse ELEINE are pleased to unveil details of their fourth full-length album! Appropriately titled We Shall Remain, ELEINE's highly-anticipated new opus marks their first full-length release through new label home Atomic Fire Records following their Acoustic In Hell EP (October 2022). We Shall Remain will be released on July 14th.
As an appetizer, the band has unveiled their first single off of the record, "We Are Legion," alongside a music video: An instant hit delivering chuggy riffs, an empowering chorus, and ELEINE's signature battle vibe.
"The song is our way of honoring our fans," comments the band. "They have named themselves the ELEINE Legion and they have been with us through thick and thin. They have shown us their dedication time and time again, so this song came naturally to us when we started the writing process of We Shall Remain. This is truly a Legion song to and for our fans. It's a reminder of your own worth, to feel empowered and that you're not alone!"
Watch ELEINE's "We Are Legion" video at THIS LOCATION. Stream/purchase the track HERE.
We Shall Remain was written and produced by guitar player/vocalist Rikard Ekberg and lead vocalist Madeleine Liljestam while Thomas "Plec" Johansson took care of co-recording, mixing ,and mastering at The Panic Room Studio in Skövde, Sweden. Its fiery artwork was designed by Nestor Avalos (nestoravalosofficial.com) and Madeleine Liljestam.
We Shall Remain will be available as a digibook CD, digibook CD + signed photo card (limited edition; EMP & Sound Pollution excl.), jewel case CD, LP (Orange/White), and digitally.
Preorder the album in the physical format of your choice, pre-save it on your favorite DSP, or pre-order it digitally to receive "We Are Legion" instantly at eleine.afr.link/weshallremainPR.
We Shall Remain Track Listing:
Never Forget
Stand By The Flame
We Are Legion
Promise Of Apocalypse
Blood In Their Eyes
Vemod
Through The Mist
Suffering
War Das Alles
We Shall Remain
Besides recently welcoming long-time live bass player Filip Stålberg as new permanent member, ELEINE will embark on their very first North American tour next month. Accompanying legendary Portuguese dark metallers Moonspell on their 30th anniversary tour across the US and Canada, the band will play twenty-three shows from April 29th through May 23rd with additional support coming from Oceans Of Slumber and Vintersea on select dates. To help the group on their journey, visit THIS LOCATION. Find ELEINE's full live itinerary below!
ELEINE w/ Kamelot, Myrath, League Of Distortion: [remaining dates]:
3/24/2023 Sentrum Scene – Oslo, NO
3/25/2023 Trädgår'n – Gothenburg, SE
3/26/2023 Berns – Stockholm, SE
3/27/2023 KB – Malmö, SE
3/29/2023 Vanha Ylioppilastalo – Helsinki, FI
3/31/2023 Pakkahuone – Tampere, FI
4/01/2023 Tapahtumakeskus Tullisali – Oulu, FI
4/03/2023 Helitehas – Tallinn, EE
4/04/2023 Melnā Piektdiena – Riga, LV
4/06/2023 Progresja – Warsaw, PL
4/07/2023 MeetFactory – Prague, CZ
4/08/2023 Barba Negra – Budapest, HU
w/ Moonspell, Oceans Of Slumber:
4/29/2023 The Monarch – Brooklyn, NY
4/30/2023 Warehouse On Watts – Philadelphia, PA
5/01/2023 Hangar 1819 – Greensboro, NC
5/02/2023 The Masquerade – Atlanta, GA
5/03/2023 Conduit – Orlando, FL
5/05/2023 Scout Bar – Houston, TX **
5/06/2023 Paper Tiger – San Antonio, TX **
5/07/2023 Trees – Dallas, TX **
5/08/2023 Tumbleroot Brewing – Santa Fe, NM **
5/09/2023 Last Exit Live – Phoenix, AZ **
5/10/2023 1720 – Los Angeles, CA **
5/11/2023 Brick By Brick – San Diego, CA **
5/12/2023 DNA Lounge – San Francisco, CA **
5/13/2023 Bossanova Ballroom – Portland, OR **
5/14/2023 The Cobalt – Vancouver, BC **
5/16/2023 Oriental Theater – Denver, CO
5/17/2023 Granada Theater – Lawrence, KS
5/18/2023 The Forge – Joliet, IL #
5/19/2023 Piere's – Ft. Wayne, IN #
5/20/2023 Preserving Underground – Pittsburgh, PA #
5/21/2023 Petit Campus – Montreal, QC #
5/22/2023 Source De La Martiniere – Quebec, QC #
5/25/2023 Sonia – Boston, MA #
End Tour
8/11/2023 Alcatraz Metal Festival – Kortrijk, BE
** = w/ Vintersea
# = no Oceans Of Slumber
View ELEINE's previously released videos for "Enemies" HERE, "Ava Of Death" HERE, and "All Shall Burn" HERE. Order/stream Acoustic In Hell now at THIS LOCATION.
Don't forget to subscribe to Atomic Fire Records on YouTube. Listen to "'We Are Legion" as well as other new tracks in the AFR New Releases playlist on Spotify HERE.
ELEINE:
Madeleine Liljestam – vocals
Rikard Ekberg – guitar, vocals
Filip Stålberg – bass
Jesper Sunnhagen – drums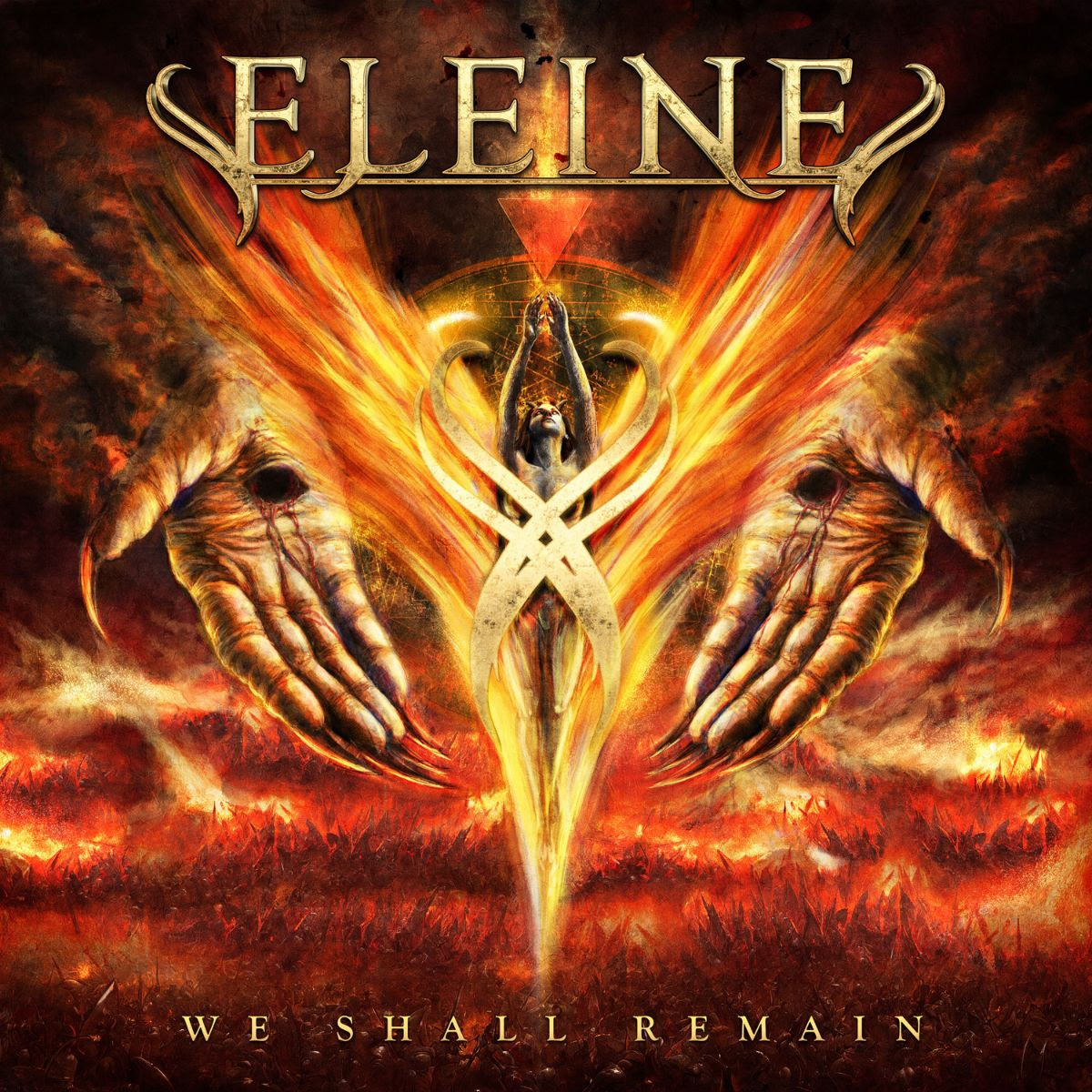 http://www.eleine.com
http://www.facebook.com/eleineofficial
http://www.instagram.com/eleineofficial
http://twitter.com/eleineofficial
http://www.youtube.com/c/eleineofficial
http://www.atomicfire-records.com
http://www.facebook.com/atomicfirerecords
http://www.instagram.com/atomicfirerecords
http://www.twitter.com/atomicfirerec