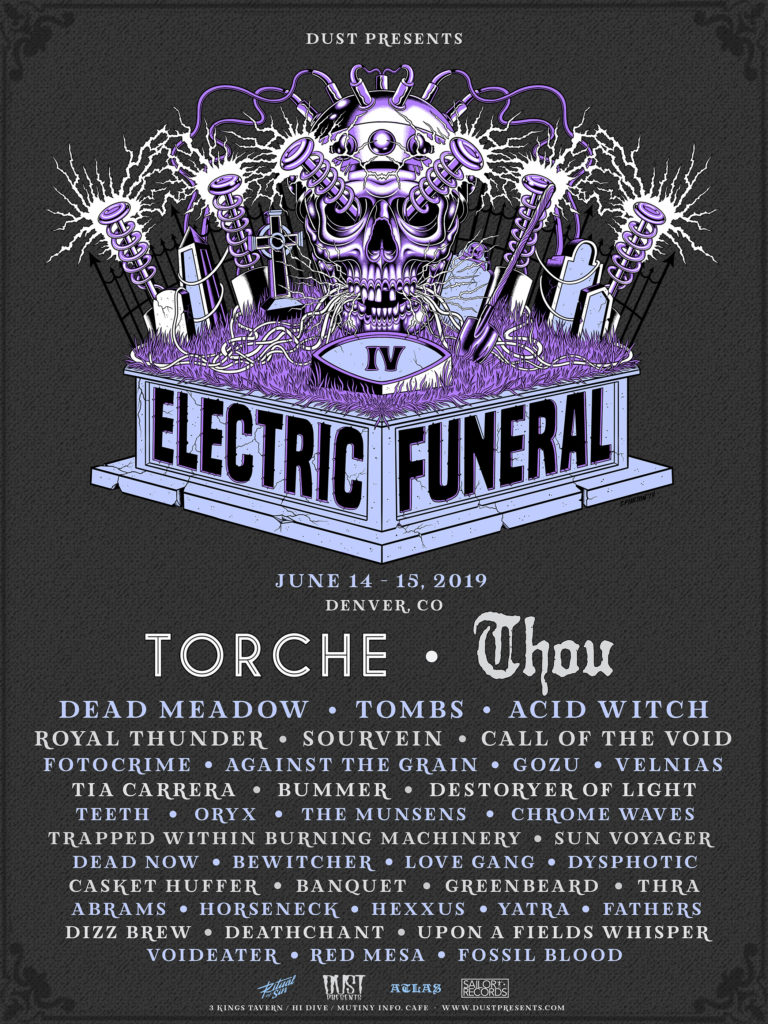 ELECTRIC FUNERAL FEST IV will take over Denver, Colorado this Friday and Saturday, June 14th and 15th! Boasting its most powerful and diverse lineup to date, this year's gala features headlining sets from Miami riff merchants Torche, Louisiana sludge metal unit Thou, psychedelic stoner rock veterans Dead Meadow, and Atlanta rock heroes Royal Thunder, as well as performances by nearly three dozen other esteemed acts from across the rock and metal spectrums including Tia Carrera, Chrome Waves, Un, Horseneck, Gozu, Sourvein, and Tombs! See confirmed set times below.
An event run and produced by musicians, ELECTRIC FUNERAL FEST is Denver's premier heavy music festival, built as a bridge between one of North America's most powerful and vibrant cities for heavy music and the legions of bands and fans who visit the Mile High City each year. Boasting three stages at three separate venues – 3 Kings Tavern, Hi-Dive, and Mutiny Information Cafe – the yearly celebration manifests an irreplaceable street energy as fans gather on the sidewalks between venues, hit local bars for a breather, and snap photos with their favorite bands passing by.
Read Invisible Oranges' recent interview with festival organizer Shaun Goodwin at THIS LOCATION.
For further info, tickets, merch, and more visit the Dust Presents website: www.dustpresents.com.
ELECTRIC FUNERAL FEST IV:
Friday – June 14th, 2019
3 Kings Tavern Stage:
5:15 – 5:55 Fathers
6:15 – 6:55 Dead Now
7:15 – 7:55 Destroyer of Light
8:15 – 8:55 Velnias
9:15 – 9:55 Sourvein
10:15 – 11:00 Acid Witch
11:30 – 12:35 Thou
Hi-Dive Stage:
5:40 – 6:20 Love Gang
6:40 – 7:20 Banquet
7:40 – 8:20 Oryx
8:40 – 9:20 Tia Carrera
9:40 – 10:20 Against the Grain
10:40 – 11:25 Royal Thunder
Afterparty
12:45 – 1:25 Bewitcher
Mutiny Information Cafe Stage:
3:00 – 3:40 Fossil Blood
4:00 – 4:40 Deathchant
5:00 – 5:40 Voideater
6:00 – 6:40 Hexxus
7:00 – 7:40 Greenbeard
Saturday June 15th, 2019
3 Kings Tavern Stage:
4:15 – 4:55 Abrams
5:15 – 5:55 Thra
6:15 – 6:55 Yatra
7:15 – 7:55 Chromes Waves
8:15 – 8:55 Teeth
9:15 – 9:55 Gozu
10:15 – 11:00 Tombs
11:30 – 12:35 Torche
Hi-Dive Stage:
4:40 – 5:20 Casket Huffer
5:40 – 6:20 Sun Voyager
6:40 – 7:20 Trapped Within Burning Machinery
7:40 – 8:20 The Munsens
8:40 – 9:20 Fotocrime
9:40 – 10:20 Call of The Void
10:40 – 11:25 Dead Meadow
Afterparty
12:45 – 1:25 Bummer
Mutiny Information Cafe Stage:
3:00 – 3:40 Red Mesa
4:00 – 4:40 Upon a Fields Whisper
5:00 – 5:40 Horseneck
6:00 – 6:40 Dizz Brew
7:00 – 7:40 Dysphotic
http://www.dustpresents.com
http://www.facebook.com/dustpresents
http://instagram.com/dustpresents