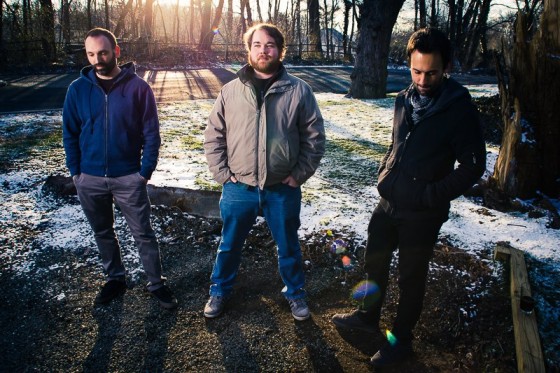 As EL DRUGSTORE gets ready to pump their mangled instrumental chaos into your holiday shrimp cocktail on New Year's Eve, with the release of their debut full-length, Plague Ship, today Noisey gets down with the sickness and busts out a pulverizing new jam from the record.
The second of ten brainbanging EL DRUGSTORE rippers on the record, "Hipster Tits" is one of the album's most extensive, smacking you right in the face with over five minutes of nonstop hyper-jam dementia, supplying some of the most schizophrenically-inclined tension-builders to be found within the confines of the Plague Ship. When our thugs approached Noisey's people about deploying a different track from the record, their response was, "How can you have a song called 'Hipster Tits' and not premiere it on VICE?"
Get in on the unharnessed action with Noisey/VICE whenever you have a free hand AT THIS LOCATION.
MetalSucks is crazy for these dudes too; they recently dropped "The Natives Are Getting Useless" from the record RIGHT HERE.
Plague Ship will see digital release on Nefarious Industries — EL DRUGSTORE's independent label founded with their cohorts in A Fucking Elephant in 2011 — on New Year's Eve, with a physical pressing to follow.
Comprised of guitarist Kevin Conway (ex-East of the Wall), drummer Seth Rheam (East of the Wall) and bassist Rolando Alvarado, EL DRUGSTORE's jacked-up delivery is at full-mast on Plague Ship, the record bearing over forty-five minutes of their belligerent, instrumental bombast. On the dizzying array of head-scratching jam-outs, amplification runs rampant, propelling the massive array of effect/pedal-laden spazz-riffery through the pummeling percussive whiplash without a whiff of spitty breath to be found. Plague Ship was tracked at parts unknown by the band and their cohort Chris Alfano (East of the Wall, Argonauts), and mixed and mastered by Kevin Antreassian at Backroom Studios.
EL DRUGSTORE Live:
2/01/2014 Paradise Lost – New Brunswick, NJ w/ Zevious, Fond Han
"The music is hyperactive, disjunctive and jarring. It will enthrall you as well as pummel you with its tornadoes of complex riffing and eccentricities. Instrumental technical metal has been done before but El Drugstore have a style all their own and Plague Ship can attest to that. 9/10" – American Aftermath
"The Jersey instrumental trio makes a fuckload of noise… 45 minutes of brain-busting, off-timed scatterrock." – Noisey/Vice
"…a winding and twisting instrumental act with a capital 'mental'… Delightfully non-linear…" – Heavy Blog Is Heavy
"In places Plague Ship soundtracks a cyclone carnival ride, all dizzying tempos and blurring sights, and follows riders as they disembark to stagger down the midway, dodge fest-goers and barfpiles, then come to a stop facedown behind the toilets. It's wild!" – MetalSucks
http://www.facebook.com/eldrugstore
http://www.facebook.com/NefariousIndustries
http://www.nefariousindustries.com