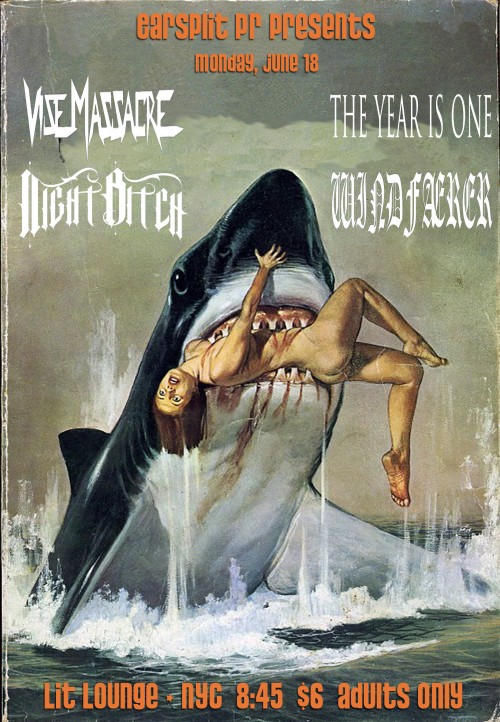 That's right tri-state riot-seekers, the fine folks who have run New York City's venerable Precious Metal Monday night metal shows for the past six years finally bit off more than they can chew, and have offered Earsplit PR a full night to curate! The debauchery will take place Monday, June 18th, as always at Precious Metal's steady home at the Lit Lounge on the Lower East Side, and as always, run by Curran Reynolds (Wetnurse, Today Is The Day). With four Earsplit-related audio terror units taking the stage that night, ears will be scathed from 9pm until midnight, with plenty of depravity to prevail far into the morning hours.
Elizabeth, New Jersey-based trio WINDFAERER — the brainchild of young Earsplit henchmen Michael Goncalves — will raise fists with their epic, violin-infused Iberian folk metal, while the metallic, Danzig worship of Connecticut's NIGHTBITCH (featuring members of Ipsissimus) will bring the ragers out in throngs. The dual-bassist dementia from NYC-based AmRep-gone-deathstomp quartet THE YEAR IS ONE (fronted by known Guitar World photographer/writer Jimmy Hubbard) will get gnarly alongside our close comrades in Brooklyn's most enraged speed metal/hardcore bastard brigade, VISE MASSACRE, celebrating their self-released Expendable Humans LP. Between the beatings, the congregation will be serenaded by the beats and charm (and badass hat) of DJ Mike SOS (SEIZURE CRYPT/S.O.S.).
Anybody in the vicinity that night come on out, and kiss your Tuesday goodbye.
Earsplit PR Precious Metal Throwdown:
6/18/2012 Lit Lounge – New York, NY
VISE MASSACRE
THE YEAR IS ONE
NIGHTBITCH
WINDFAERER
and SEIZURE CRYPT's DJ Mike SOS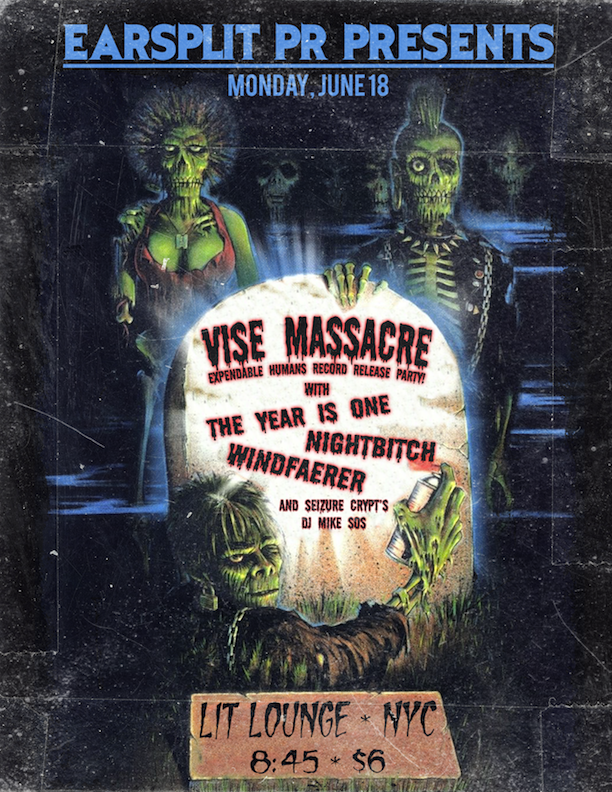 https://www.earsplitcompound.com
http://www.myspace.com/preciousmetalnyc
http://www.litloungenyc.com
http://http/www.facebook.com/ViseMassacre
http://theyearisone.bandcamp.com
http://nightbitch.bandcamp.com
http://windfaerer.com