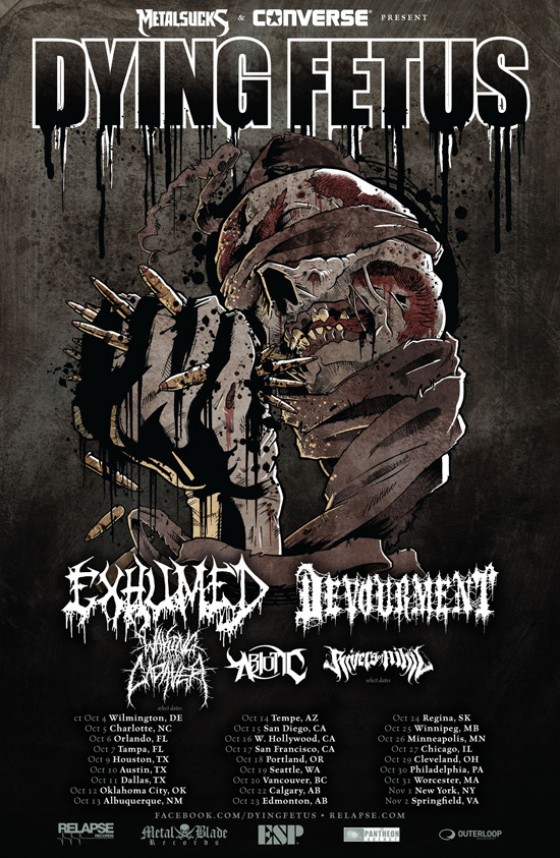 Dying Fetus recently announced their headlining tour for this Fall with Exhumed, Devourment, Waking the Cadaver (10/4-10/19), as well as up-and-coming Metal Blade Records artists ABIOTIC and RIVERS OF NIHIL (10/26-11/2). The tour will begin in October 4th and wraps up on November 2nd.
Surfacing from the heart of South Florida, Miami's ABIOITIC transcends high above the rest with a most preternatural sound. By interweaving well-cultivated musical dexterity and pronounced lyrical finesse, ABIOITIC epitomizes an unwonted entity of unmatched musicianship. In a short amount of time since the quintet's inception in 2010, this ghoulish coterie has made a paramount impact in the death metal scene and support from the masses continues to grow. The five-piece group consists of vocalist Ray Jimenez, bassist Alex Vazquez, drummer Andres Hurtado and guitarists Matt Mendez and Johnathan Matos. The band's Metal Blade debut, Symbiosis, is available everywhere now and their Dan Drescher-directed music video, Facades, is streaming at metalblade.com/abiotic.
Reading, Pennsylvania's death metal quintet, RIVERS OF NIHIL, recently entered Mana Recording Studios in St. Petersburg with Erik Rutan to record their first full-length album and Metal Blade Records debut, which is due out before the end of 2013. Tracking has been completed and finishing touches are being put on the album and the artwork. Music and information will be released in the coming months. Until then, fans can sample what's to come in a demo for "Rain Eater" on soundcloud HERE.
RIVERS OF NIHIL guitarist Brody Uttley comments on the tour: "We're incredibly excited to be part of this tour. Dying Fetus played a huge role in shaping the early sound of Rivers of Nihil and they continue to influence us to this day, and we grew up listening to Exhumed and Devourment and we're honored to be touring with them. We're also excited to be touring with some of our younger peers and Metal Blade brothers in Abiotic. We'll be playing all new material from our new album, which will be coming out later this year."
ABIOTIC, RIVERS OF NIHIL (10/26 – 11/2)
w/ Dying Fetus Exhumed, Devourment, Waking The Cadaver (10/4 – 10/19)
10/04/2013 Mojo 13 – Wilmington, DE
10/05/2013 The Soapbox – Wilmington, NC
10/06/2013 Back Booth – Orlando, FL
10/07/2013 The Orpheum – Tampa, FL
10/09/2013 Fitzgerald's – Houston, TX
10/10/2013 Red 7 – Austin, TX
10/11/2013 Trees – Dallas, TX
10/12/2013 Chameleon Room – Oklahoma City, OK
10/13/2013 Warehouse 21 – Santa Fe, NM
10/14/2013 Rocky Point – Tempe, AZ
10/15/2013 Observatory – Santa Ana, CA
10/16/2013 The Whisky – W. Hollywood, CA
10/17/2013 DNA Lounge – San Francisco, CA
10/18/2013 Branx – Portland, OR
10/19/2013 Studio Seven – Seattle, WA
10/20/2013 Rickshaw Theater – Vancouver, BC
10/22/2013 Republik – Calgary, AB
10/23/2013 Pawn Shop – Edmonton, AB
10/24/2013 Riddell Centre – Regina, SK
10/25/2013 Park Theater – Winnipeg, MB
10/26/2013 Station-4 – St Paul, MN
10/27/2013 Reggie's – Chicago, IL
10/29/2013 Peabodys – Cleveland, OH
10/30/2013 Chance Theater – Poughkeepsie, NY
10/31/2013 Palladium – Worcester, MA
11/01/2013 Gramercy Theater – New York, NY
11/02/2013 Empire – Springfield, VA


http://www.facebook.com/abioticfl
http://www.twitter.com/abioticfl
http://www.youtube.com/abioticvideo
http://www.metalblade.com/abiotic
http://www.facebook.com/riversofnihil
http://www.riversofnihilpa.bandcamp.com
http://soundcloud.com/rivers-of-nihil