"DVNE take the audience on an inter-galactic journey of epic proportions through a sometimes utopic sometimes dystopic landscape with a surprising twist behind every corner. The climbing and descending between delicate and intricate then brutal and pounding drawn out riffs and guitar solos and minimal vocals is astounding and when delivered almost anonymously behind a darkened hazy red cloud of smoke is truly emotive, crushing, mesmerizing and constantly spine chilling…" – Cvlt Nation
In just a few short weeks, Edinburgh-based progressive metal/sludge behemoths DVNE will make their way stateside to play Psycho Las Vegas in Las Vegas, Nevada, followed by a special show at Brick By Brick in San Diego, California with Elder and Red Fang. The two shows will mark DVNE's first-ever US live performances!
Comments guitarist/vocalist Victor Vicart, "We're gearing up for the US and couldn't be more excited to play our first shows over there. Psycho is going to be mental; loads of bands we love and it looks like we're going to have a three-day non-stop party too. We also have a show in San Diego with Elder and Red Fang the following Monday so our post festival blues are sorted!
"Following those shows," he continues, "we'll be back home in Edinburgh and the plan is to lock ourselves in the practice room and finish our next album. We're really excited to enter the studio again and explore with new sounds and instruments; it's going to be a blast!"
DVNE recently completed a UK tour supporting New Orleans icons Eyehategod. Lauded The Moshville Times of their performance in Glasgow, "I've seen [DVNE] a handful of times now, they've always impressed me live, and tonight they were at their best, flying through an absolutely blistering set focused on the Mastodonian Asheran. On yet another uncharacteristically hot Glasgow evening, Audio was stiflingly clammy so as the mellow segue music from Asheran filled the short gaps between songs the guys caught their breath and wiped sweat from their gear. On occasion, vocalist/guitarist Victor Vicart used these pauses to switch between his nine-string and six-string guitars. During the likes of 'Thirst' Victor's vocals and guitar parts acted as lighter, emotive counters to Dudley Tait's growled hollers and chunkier riffs. All the while Dan Barter's swift fills and Allan Paterson's rolling basslines kept the songs driving forward. The local(ish) boys done great!"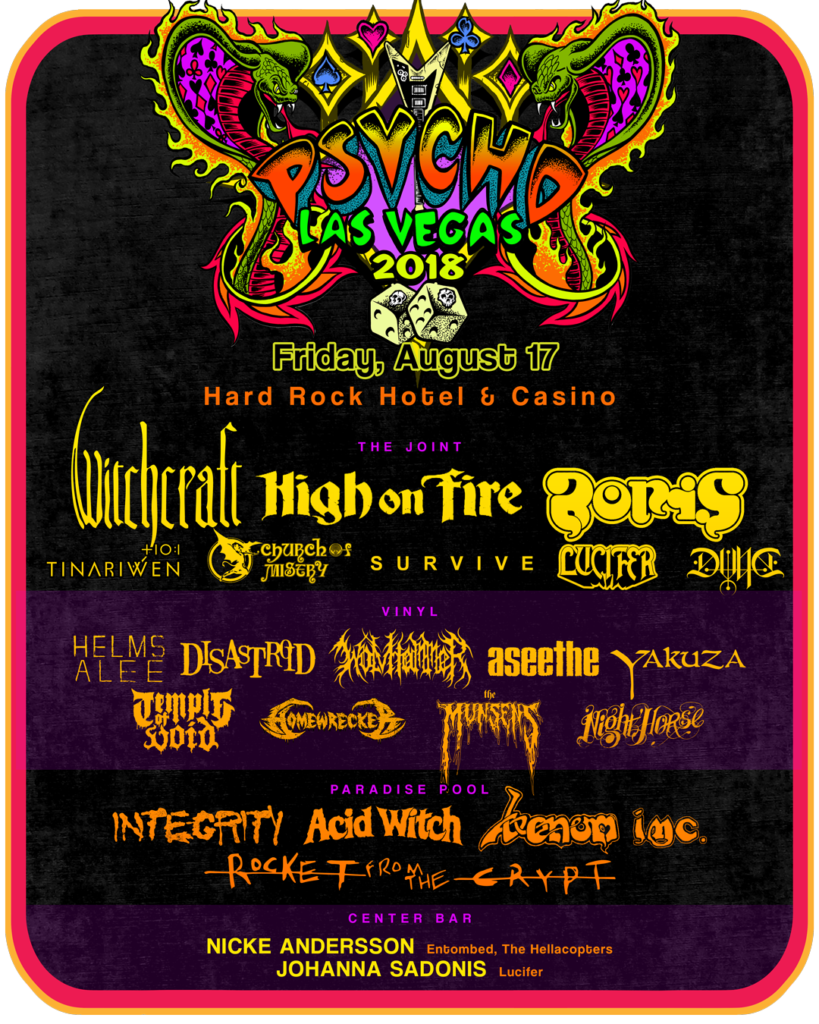 DVNE:
8/17/2018 Psycho Las Vegas @ The Hard Rock Hotel And Casino – Las Vegas, NV [info]
8/20/2018 Brick By Brick – San Diego, CA w/ Elder, Red Fang
DVNE (pronounced dune) released the critically-lauded debut full-length, Asheran, last year via Wasted State Records. A sixty-minute epic narrative following the tale of the rise and fall of civilizations, the return of an empire thought millennia lost, and the world-spanning events that consequently unfold, Asheran is steeped in themes of science fiction, environmental issues, and both dystopic and utopic visions for the future of mankind. Asheran was captured at Chambers Studio in Edinburgh, and mixed and mastered by Tom Dring of Vagrant Studios (Dragged Into Sunlight, Venom Prison).
A special orange clear 2xLP edition of Asheran is currently available at THIS LOCATION where the record can be streamed in its stunning entirety.
DVNE features Victor Vicart (guitar, vocals, keys), Daniel Barter (guitar, vocals), Dudley Tait (drums), and Allan Paterson (bass). Forged in 2013, DVNE's Scottish roots lie with Tait and Paterson, with Vicart hailing from France and Barter from England. DVNE's debut EP Progenitor was released in December 2013 and was followed the next year by a second EP entitled Aurora Majesty. Both offerings were released via Wasted State Records. Thanks to the excellent critical reception, DVNE quickly began to tour the UK and around Europe sharing stages with the likes of such scene household names as Crowbar, Eyehategod, Inter Arma, Dragged Into Sunlight, and Black Tusk. DVNE unleashed their most ambitious album to date in August 2017. Titled Asheran, the offering was released on 2xLP vinyl, CD, and digitally again via Wasted State Records. Since Asheran's release, DVNE took on a month-long European headlining tour and recently partnered with Psycho Entertainment, curators of the esteemed Psycho Las Vegas festivals, for management. The union marks Psycho Entertainment's first ever management venture. DVNE will release their follow-up to Asheran next year with details to be announced in the coming weeks.
"…Asheran is exactly what you'd hope for from a group of high-fantasy fanatics. All but one of its tracks… clock in at six minutes or longer; all of them are powered by sprawling, expertly paced arrangements that reveal more wonders – alternately clean and shouted vocals, serpentine riffs, crushing crescendos – as the listener moves from one suite to the next, retaining their catchiness all the while." – Revolver
"Taking influences from post-metal, death, prog, stoner rock and more, as well as the back catalog of Tool, the genre-straddling Asheran is rich with ideas and ginormous riffs… every bit as epic as anyone could have hoped for…" – Louder Sound
"DVNE's formula works because their songwriting is excellent. Jumping between musical styles is always in service of the songs and never sounds like an exercise in self-aggrandizement. The songs swirl through acoustic passages, lyrical guitar work and sung vocals, and some of the heaviest fuzz I've heard outside a straight up sludge metal band. They've managed to craft one of those rare albums where its accessibility belies its complexity." – Metal Bandcamp
"With a grandiose sonic expanse that parallels the magnificence of its cover artwork, Asheran is a captivating journey through some towering and resplendent soundscapes comprised of both elegant cascades of lustrous melodies and downright, gritty sludge." – Diamond In The Groove
"…a fantastic addition to the growing progressive death/stoner sub-genre and to the annals of metal in general." – Heavy Blog Is Heavy
"…although every track clearly has its own identity, its own unique twists and turns and evocative, enigmatic touches, each one also contributes equally to the greater whole, allowing the band to craft one hell of an epic musical narrative along the way. This truly is a phenomenal release…" – No Clean Singing
"DVNE have created a true journey with Asheran… an album that rewards multiple listens… The scope and the scale of the songs are consistently great and occasionally breath-taking and the execution is uniformly excellent." – Echoes And Dust
"…as fantastical as its album cover suggests." – Sputnik Music
"Asheran is just fucking magnificent." – Itdjents
"…a near-flawless collection of progressive doom/sludge metal songs… DVNE are an impressive proposition that manage to translate their atmospheric and emotive music live with both confidence and aplomb…" — Wonderbox Metal
"Each song is but a chapter in a grand epic, one that should be listened to as a whole to appreciate fully, a vast, monumental poem in music form. It drifts from poignant beauty to overwhelming storm, never faltering and never failing to engage the heart with its unrelenting intensity, always moving there with cohesive and technical excellence." – Angry Metal Guy
http://www.facebook.com/DvneUK
http://www.instagram.com/dvne_uk
http://open.spotify.com/artist/1isrot4GGRmnqFT2vMAa5q
http://songs-of-arrakis.bandcamp.com/
http://www.facebook.com/psychoentertainmentpresents
http://www.vivapsycho.com