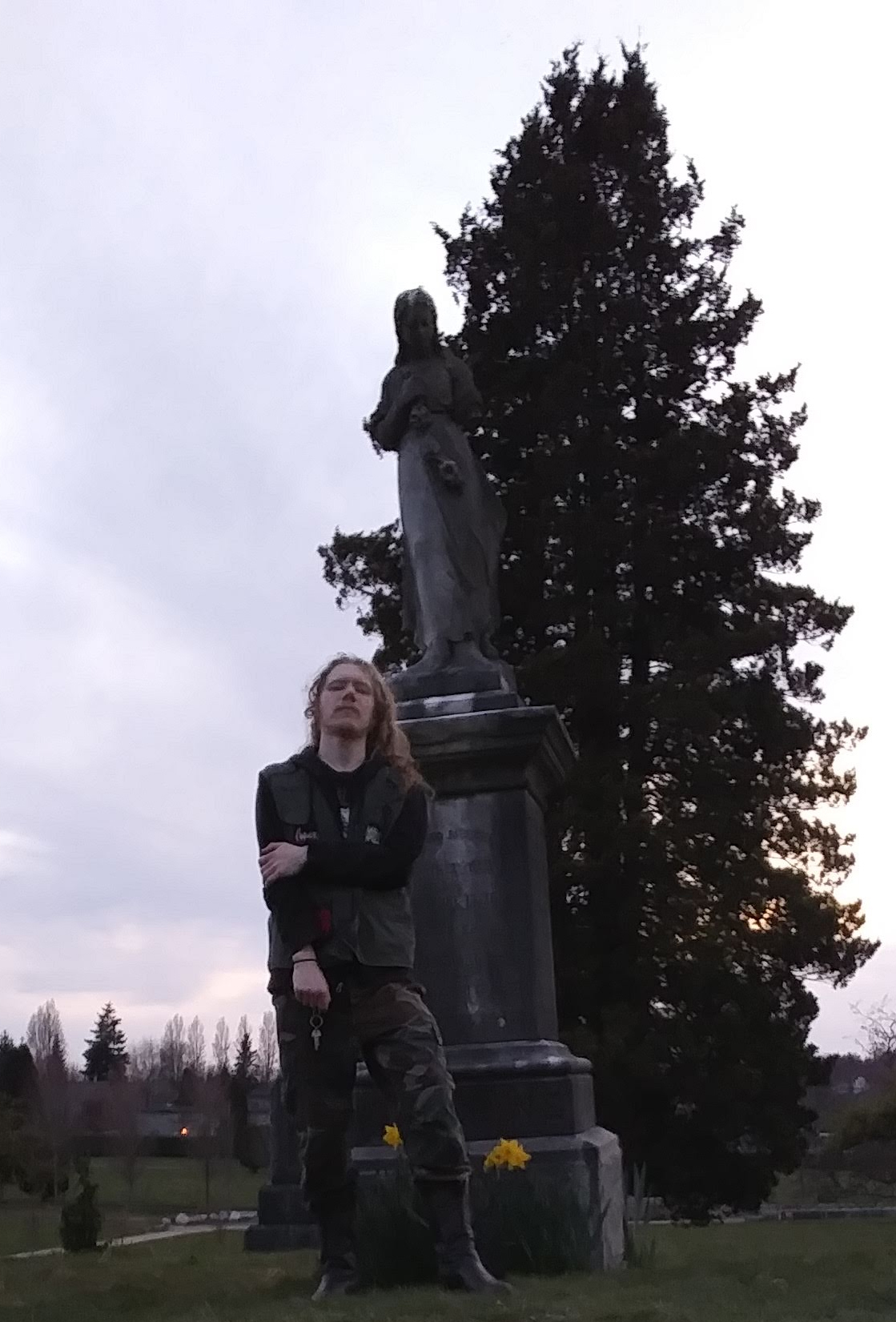 "Decay" is the latest single from Vancouver, British Columbia-based melodic death metal solo outfit DUNGEON SERPENT. Premiered today through Invisible Oranges, the new track precedes the act's debut album, World Of Sorrows, which is being prepared for release next week through Nameless Grave Records.
World Of Sorrows was written by DUNGEON SERPENT's architect Arawn, who performs guitars, vocals, and bass, and programming. The record was recorded January through March of 2021 at 6085 Productions by producer J. Hook who provides additional programming, mixed by Andrew Lee, mastered by Dan Lowndes at Resonance Sound Studios. The record features interior Illustrations by M. Lin, photography/graphics by Arawn, layout by Arawn and Brandon Corsair, and Thomas Cole's "The Course Of Empire: Desolation" as the main cover.
Arawn reveals, "To me 'Decay' is the philosophical cornerstone and musical origin of all DUNGEON SERPENT material, perfectly conveying the atmosphere of a forever fading yet majestic time. Through a sequence of evocative and energetic speed-death riffs inspired by Mi'Gauss and Amon Amarth it conveys the majesty of a long-lost world in its prime, slowing down and leading into a longer improvised solo paying homage to classic 70s rock bands like The Eagles, Outlaws, Thin Lizzy, and Funkadelic. 'Decay' very perfectly embodies the eternal decline of all human achievements, be it personal or cultural in slow nostalgic glory, and our vain efforts to preserve an era that no longer is."
Invisible Oranges calls DUNGEON SERPENT's output, "death metal which just happens to be melodic, a tumultuous exercise in eerie atmospheres and thick, chunky riffcraft which transcends the influences," writing of "Decay" specifically, "expect catchy and melodic riffs, to be certain, but with a brawn which can only be expected from the old masters."
Stream DUNGEON SERPENT's "Decay" first through Invisible Oranges now at THIS LOCATION.
Nameless Grave Records will release World Of Sorrows on CD and all digital platforms on July 16th. Find preorders at the label webshop HERE and Bandcamp HERE. A vinyl pressing will follow late in the year.
Spawned from the misty woodland gloom of British Columbia in 2018, DUNGEON SERPENT is the creation of one Arawn, who has taken his time in the creation and refining of the act's debut album, now emerging with the stronghold World Of Sorrows. With five expansive, brutal, and archaic movements of melodic death metal carnage, the album fuses influence from brutal acts of the genre, citing Intestine Baalism, Molested, Vehemence, and Mi'gauss, with the dense layering of Rotting Christ and Eucharist. Once combined with the forsaken Canadian tradition of hyperblast, the outfit forms a sound that is at once blistering yet also introspective and mournful, a vortex of low, morbid tremolo riffs, maniac blastbeats, vehement guttural vocals, and powerful atmospheric melodies, converging to perfectly embody the somber mysticism and fantasy-oriented lyrics.
With this mix of ideas and sounds, DUNGEON SERPENT mastermind Arawn proves himself to be well beyond the stale revivalist trends and feeble-minded bland ignorance that plagues the modern metal underground. Channeling obscure and somewhat eclectic influences to create an exciting style of death metal, DUNGEON SERPENT explores new musical ideas while never abandoning the genre's signature speed and brutality in the process.
https://dungeonserpentmdm.bandcamp.com
https://www.facebook.com/NamelessGraveRecords
https://www.instagram.com/namelessgraverecords
https://namelessgraverecords.bandcamp.com