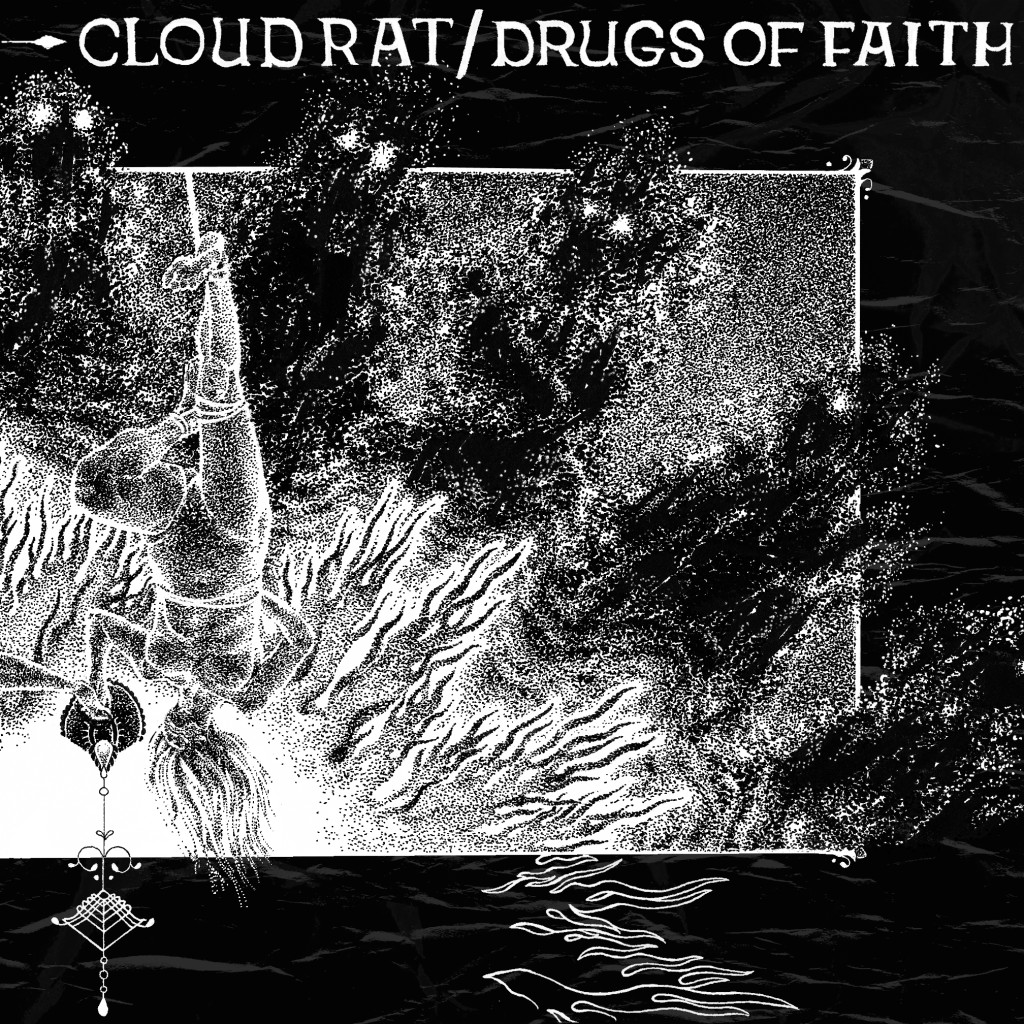 Virginia grind n' rollers, DRUGS OF FAITH, have teamed up with CLOUD RAT for a split 7″ EP which is now available via Selfmadegod Records.
No Clean Singing has issued a track from each side of the split, of which CLOUD RAT deploys three tracks on the A-side. Their tracks were recorded at Lakebottom Recording House in Toledo, Ohio, with J.C. Griffin, including the streaming song, "Dull Bulb," the webzine declaring, "It's a vicious, bone-fracturing piece of mayhem with the riffs and the bass drum lined up to make sure the punches go straight through the other side of your abdomen."
On the B-side, DRUGS OF FAITH supplies two new tracks captured at Developing Nations in Baltimore, Maryland with Kevin Bernsten, including the now-playing, "Patriots." No Clean Singing offers, "The song's mid-paced beginning rumbles like a smoke-belching tank before starting to hammer and then rampage while Johnson screams in a red fury."
Swing over to NO CLEAN SINGING to stream the new tracks RIGHT HERE.
Founding DRUGS OF FAITH vocalist/guitarist Richard Johnson (Enemy Soil, Agoraphobic Nosebleed) said, "We're big fans of CLOUD RAT and can't wait to hold a copy of the split in our hands." CLOUD RAT guitarist Rorik said, "We are beyond excited to be sharing a record with DOF. A split truly for the hippest of the hip."
The split, 100 on red vinyl and 400 on black and featuring a download code, is available now via the Selfmadegod Records webstore with prior releases HERE and stateside exclusively via SMG's US mailorder, Earsplit Distro, alongside prior band and label releases HERE, and additional merch can be purchased directly via DRUGS OF FAITH HERE,
CLOUD RAT / DRUGS OF FAITH track listing:
A – CLOUD RAT
1. Dull Bulb
2. Erasing
3. Canary
B – DRUGS OF FAITH
1. Unexpected
2. Patriots
http://www.drugsoffaith.com
http://www.facebook.com/drugsoffaith
http://www.facebook.com/Cloud-Rat-182492468498487/
http://www.selfmadegod.com
http://www.facebook.com/selfmadegod
http://twitter.com/selfmadegodrec