Oregon death metal dealers DRIPPING DECAY have officially joined the Satanik Royalty Records roster for the release of their debut full-length, Festering Grotesqueries.
Forged in 2020 in the sewers of Portland, DRIPPING DECAY spews forth putrid, old-school death/grind inspired by the classic slasher films of the '70s and '80s. Their blasting output pays homage to the golden age of not only horror cinema, but death metal itself.
Notes Satanik Royalty Records head, Freiburger, of the band's signing, "I have been following DRIPPING DECAY since their name first caught my eye in 2020. When they approached me about the album at first, I wasn't sure if I could because of how much I have on my agenda. But I just couldn't stop listening to the album. It is a bumper-to-bumper banger and I am extremely proud to put this album out! On top of that, their performance at Disemboweled God Fest was amazing! We are honored and excited to welcome DRIPPING DECAY to the Satanik Royalty Records family!"
Adds the band, "The opportunity to work with Satanik Royalty Records is a special one for a variety of reasons. Freiburger as an individual is a staple of the Pacific Northwest metal scene known for promoting and embodying camaraderie, honest dealings, and the promotion of high-quality extreme music acts. His label adheres to his personal standards in every one of those regards and as such we as a band are honored to be a part of the Satanik Royalty roster."
Initially featuring founding guitarist Neil Smith (Frightmare, ex-Lord Gore, ex-Blood Freak), drummer Jason "The Machine" Borton (ex-Jungle Rot), vocalist Eric Stucke (Hallucinator), and bassist Trevor Soule, DRIPPING DECAY chose five of their finest platters of splatter to serve up to an unsuspecting public in the form of 2021's Watching You Rot demo. Cut in a matter of hours by the band themselves, the only outside force to touch the eighteen-minute blast of bestial morbidity was noted engineer Dan Lowndes of Resonance Sound Studios, who mastered the disc prior to its release via Portland's own Headsplit Records. The initial run of CDs and cassettes quickly sold out, and additional pressings and distribution deals were brokered via Black Hole Productions (South America) and Corpus Vermis Records (Italy), as well as vinyl pressings via Flesh Vessel Records (US) and Fucking Kill Records (Germany). Wrote Decibel Magazine, "Composed of inveterate maniacs and sickos, DRIPPING DECAY's demo combines all the necessary elements for a successful death-grind release and then smashes them into a gooey pulp. The unrecognizable heap is then left to putrefy and only after a significant amount of decomposition has occurred does it begin to resemble the extreme morbidity that is DRIPPING DECAY's killer demo."
Early 2022 saw the departure of Soule, who was replaced by Jackson Jordan (ex-Conducting From The Grave) in time for inaugural live performances both local and regional. By late Summer, the band had completed their debut record and were ready to put it to tape. Entering Portland's Falcon Studios with engineer Derek Leisy, DRIPPING DECAY spat outa thirty-six-minute audio onslaught of blistering death metal performed with the surgical precision for which these seasoned musicians are known.
The five cuts from Watching You Rot were reforged and refined, then joined by nine new songs to form the fourteen-track Festering Grotesqueries, set for release via Satanik Royalty later this year. Mixed by noted death metal journeyman Vincent Detto (Mortiferum, Cerebral Rot, Oxygen Destroyer), Festering Grotesqueries combines the timeless production of DRIPPING DECAY's death metal forebears with meticulousness performances and a sick, occasionally nihilistic lyrical bent; a self-destroying viewpoint concocted in a city crumbling from within.
Stand by for further details on Festering Grotesqueries to be unveiled in the weeks to come.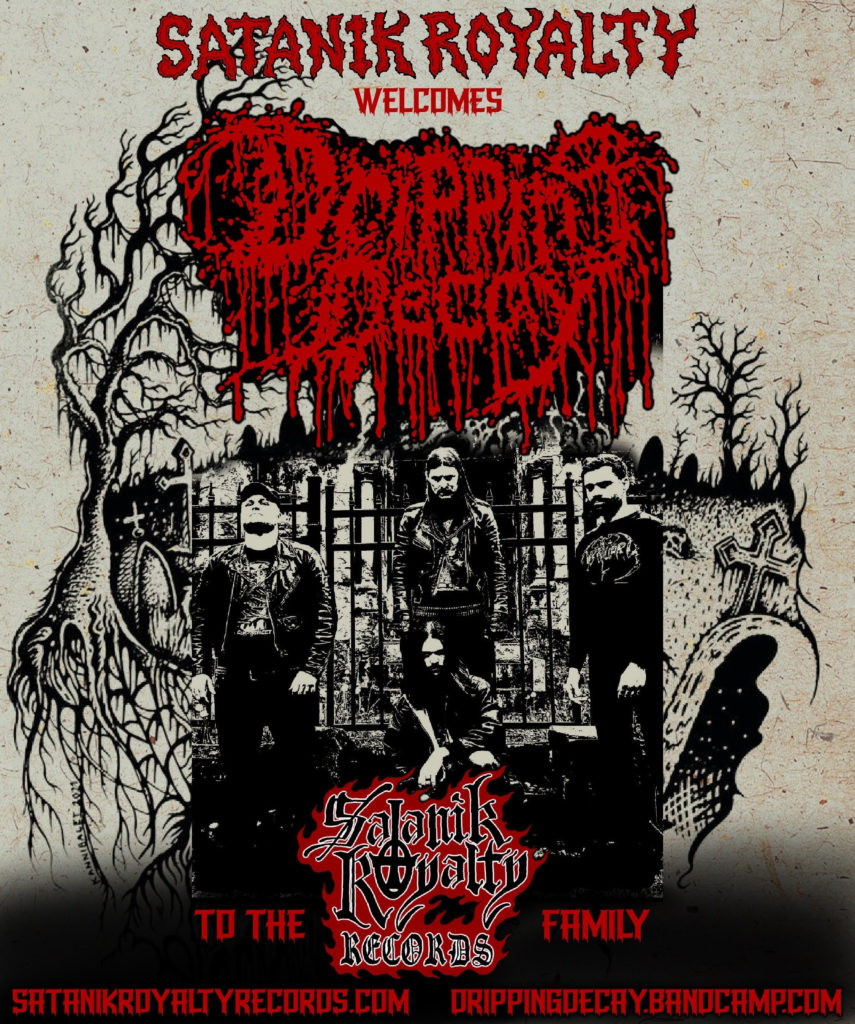 http://www.facebook.com/drippingdecay
http://drippingdecay.bandcamp.com/album/watching-you-rot
http://www.satanikroyaltyrecords.com
http://www.facebook.com/satanikroyaltyrecords
http://www.twitter.com/recordssatanik
http://www.instagram.com/satanikroyaltyrecords