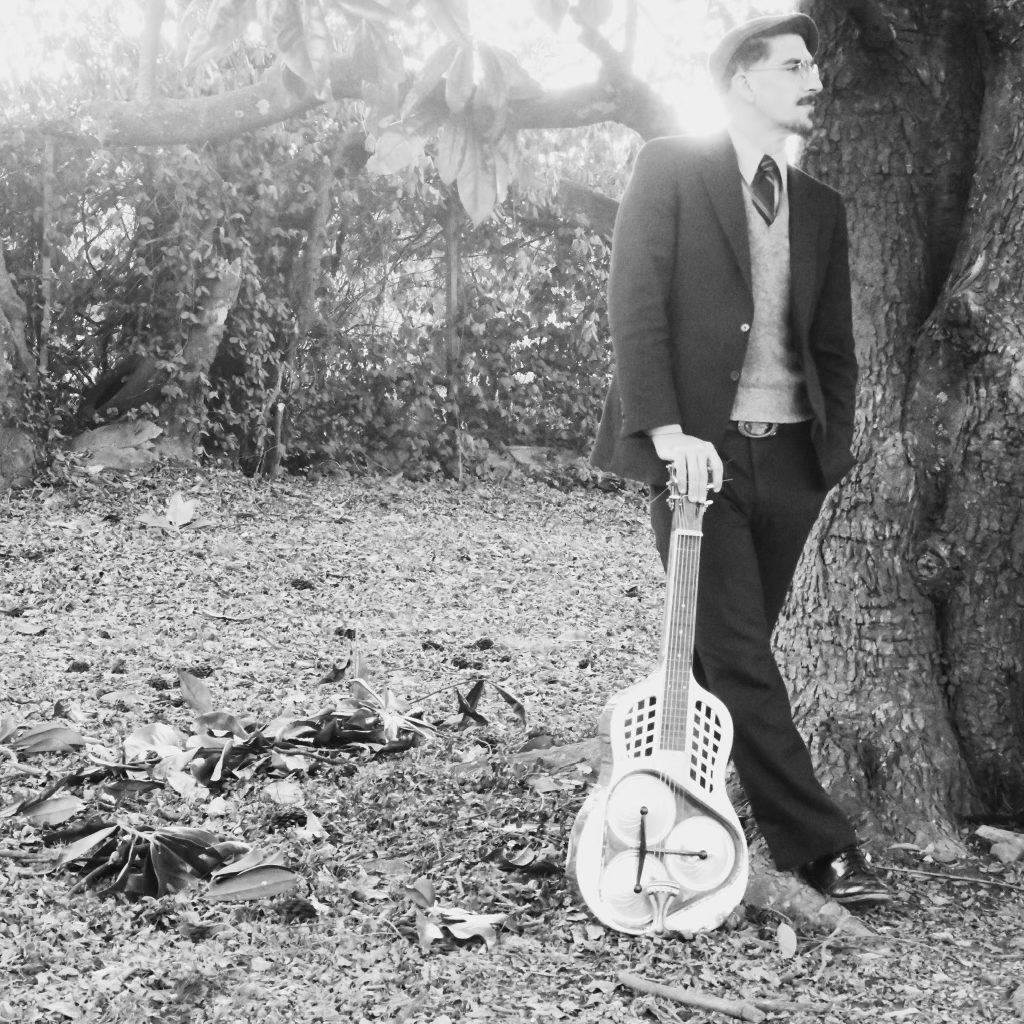 photos by Ericka Poore
The second season of Anti-Corporate Records' beloved The Magnolia Sessions continues this month, with the release of a new recording from DOUGLAS FRANCISCO, out today. Alongside its release, the song "Blasphemy" is now playing at The Sleeping Shaman.
The first season of The Magnolia Sessions delivered a new record the first week of every month from its launch in September 2020 through May of 2021. The series showcases bluegrass, dark country, and folk singer/songwriter acts, recorded in an intimate outdoor setting by a large magnolia tree at the Anti-Corporate Music/Black Matter Mastering headquarters in Nashville, Tennessee, by owner Dan Emery. The first season yielded heartfelt releases from Matt Heckler, Jason Dea West, Johno Leeroy, Cristina Vane, Nick Hans, Casper Allen, Jeff Loops, Angela Autumn, and Austin Stambaugh. Following a break over the Summer, the new season of The Magnolia Sessions relaunched in September, having since delivered albums from The Lost Dog Street Band, The Hill Country Devil, Joe Wunderle, The Resonant Rogues, and Cooper McBean. Many of the records in the series have debuted on the Billboard Bluegrass Charts and more.
After seven years braving the hazards and solitary toil of a lumberjack and having recently played his National Tricone lap steel on the new Lost Dog Street Band album, Glory, DOUGLAS FRANCISCO steps briefly away from the dark forests and his band, Shaky Barbers, to deliver an equally dark but more subdued recording for The Magnolia Sessions. Constructed of genre-bending steel guitar compositions, these arrangements feature the unlikely union of viola de gamba, double bass, snare drum, and resophonic guitar played by two old friends: renowned New Orleans string player Ben Fox, and Keith J. Smith of Resonant Rogues. With these recordings, captured live under the magnolia tree, FRANCISCO breathes life into a haunting yet, at times, hopeful serenade. A soundtrack to all your nightmares and intrusive thoughts. Those that find us all in due time.
FRANCISCO delves, "It seemed appropriate, while in Nashville putting a finer point on my steel parts for Lost Dog Street Band's new album, Glory, that Mr. Emery and I record the old resonator under the magnolia tree. Having been a solitary creature well before the world fashioned more of them, I was fully prepared to perform as such. A fast-fleeting desire for accompaniment came and before old friend Keith J. Smith, a drummer in a past life, arrived in town. With little information or notice and even less knowledge of the music, which I scarcely possessed, sought-after upright bassist and obscure instrumentalist Ben Fox answered the call to action, arriving the next day with his bass and Viola de Gamba at my request. With just a short practice less than an hour before the crickets started chirping, we set up and began improvising and playing the songs I showed them. As I write this, I still couldn't tell you what all we recorded, and it would take me longer to learn some of the instrumentals than it did to improvise them. Over and underwhelmed by the city I left the next day for my home in the woods thousands of miles away only to reside here now. I look forward to listening to and discovering what will be new songs for other folksy songs as well as myself!"
Adds Anti-Corporate Music/Black Matter Mastering engineer Dan Emery, "We recorded DOUGLAS' session early in the season, so as with some of the other sessions from this period, it lacks the strong symphony of insects that many of the other sessions have. Regardless of that, I think this one came out really well. DOUGLAS had accompaniment on acoustic guitar and snare drum from Keith Smith of The Resonant Rogues, who had recorded their session two days prior, and Ben Fox, who I had just met that day, who played upright bass and viola da gamba. I had never recorded a viola da gamba before. To be honest, I didn't even know they existed until Ben brought his over. For those curious, it is a six-string bowed instrument. Sort of like a slightly larger six-string cello. The way that they played was very refreshing as well. There are a lot of Eastern European influences on these songs, and just generally dark overtones. Definitely my cup of tea. It is also worth mentioning that all the instrumental tracks were improvs. For three musicians to come together from completely different parts of the country (Washington, North Carolina, and Louisiana to be exact) and be able to click together musically the way they did on only one day's notice, is remarkable to say the least."
Stream DOUGLAS FRANCISCO's "Blasphemy" through The Sleeping Shaman now at THIS LOCATION.
The Magnolia Sessions titles are available directly through Anti-Corporate Music's webshop HERE.
Watch for additional installments of The Magnolia Sessions to post the first week of the month through late Spring.
DOUGLAS FRANCISCO's The Magnolia Sessions Track Listing:
1. No Light At The End Of The Tunnel
2. Room Full Of Roses
3. Lucky Penny
4. Flowers On My Grave
5. If Rain Is What You Want
6. I Hate The Sun
7. Exile
8. Over And Over
9. Listening To The Rain Fall
10. Blasphemy
11. It's Bad For Me
12. Time Alone Will Tell
http://anticorporatemusic.com
http://facebook.com/anticorpmusic
http://www.blackmattermastering.com
https://www.facebook.com/blackmattermastering
https://www.instagram.com/black_matter_mastering