Legendary metal maven, DORO PESCH, has joined the ranks of the Rolling Stones, AC/DC, Motörhead, and Slayer in the bottled liquid category and is proud to present two very special rock 'n' roll drinks: DORO Hero Cava Brut Reserva Champagne and Herzblut [Lifeblood] Vino Tinto Red Wine.
"It was my wish for my 30-year stage anniversary – which I will be celebrating on May 2nd and 3rd, 2014 in my hometown of Düsseldorf [Germany] – to present unique drinks to the fans that represent my own taste and quality standard," states DORO. "We went to a great old wine region in Spain to pick the right product for me and I discovered a very fine red wine there."
View Metal & Wine's 8-minute "making-of" video of these two very special and commemorative drinks below.
"Hero" is a track off of DORO's 2012 album, Raise Your Fist, which was dedicated to one of the greatest vocalists in rock and metal, Ronnie James Dio. "Herzblut [Lifeblood]" was released as a single in 2009. The Herzblut EP contains German, French, Spanish, and Portuguese versions of the song.
DORO's 30 Years Strong And Proud Tour launches next year. Her career in music spans three decades, sixteen studio albums, eleven EPs, countless tours to play for her worldwide fanbase, and even includes movie acting. This year, she was the recipient of the Metal Hammer Award in Berlin and the Golden Gods Award in London – both in the "Legend" category.
The two-night live concert party in May 2014 celebrating DORO's multi-decade career already includes the participation of Blind Guardian, Mille Petrozza of Kreator, and Udo Dirkschneider of U.D.O. / ex-Accept. "I have the most awesome friends and colleagues," DORO shares with a wide smile.
Raise Your Fist — which features musical guests Lemmy Kilmister of Motörhead and Ozzy/Firewind guitarist Gus G. — debuted at #65 on the American Billboard Heatseekers chart in November of last year. It can be purchased from the Nuclear Blast Webshop.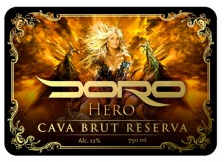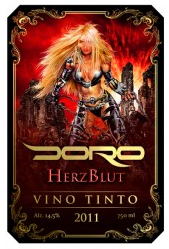 Metal & Wine presents: DORO: The Making Of Cava "Hero" & Red Wine "Herzblut" (english version) from Metal & Wine on Vimeo.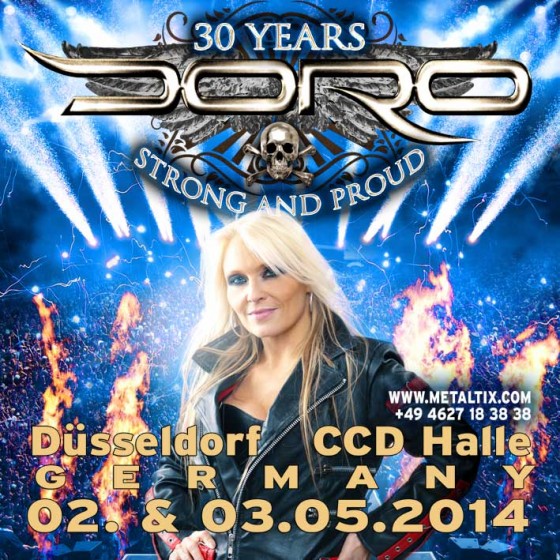 http://www.DORO.de
http://www.facebook.com/DOROOFFICIAL
http://www.Twitter.com/DOROOFFICIAL
http://www.YouTube.com/DOROOFFICIAL
http://www.myspace.com/DOROBAND
http://www.nuclearblastusa.com
http://www.nuclearblast.de