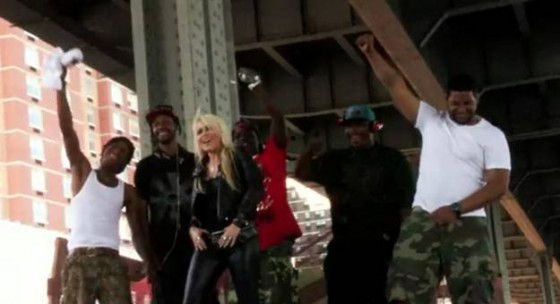 "Raise Your Fist In The Air," the new video from The Queen of Metal, DORO PESCH, premiered last week in front of 75,000 metalheads at the Wacken Open Air festival in Germany, and is now available for viewing on YouTube. The song comes off DORO's EP of the same name, which is now available digitally on iTunes.
Most fans know that New York is DORO's second home. However, the "Raise Your Fist In The Air" video wasn't filmed in flashy Times Square; it was shot in The Bronx. "For Manhattan," DORO explains, "we would have needed permissions to film for each and every street corner – in the Bronx, nobody cares."
While police didn't care, the video shoot didn't go unobserved.
"We purposely trudged around the most rundown quarters in our video truck," DORO elaborates. "The gangs that hung around there were watching every step of ours suspiciously. We felt anything but safe. I explained to the guys who we were and that 'Raise Your Fist' can be considered quite a critical song that names and shames the constantly growing injustice in the world."
When DORO offered gang members and homeless individuals the opportunity to appear in the video, the tense atmosphere was quickly infused with sheer enthusiasm.
"That was the best thing we could have done," DORO reports happily. "The video came out absolutely great… and the parts with the people from the Bronx are the ones I like most."
Raise Your Fist In The Air EP Track Listing:
1. Raise Your Fist
2. Victory
3. Engel
4. Lève Ton Poing Vers Le Ciel (French version of "Raise Your Fist In The Air")
Of her Raise Your Fist full-length album – which will be released this Fall – DORO states: "I've put all my passion, blood, sweat, and tears into my first record for Nuclear Blast."
http://ww.DORO.de
http://ww.facebook.com/DOROOFFICIAL
http://www.twitter.com/DOROOFFICIAL
http://www.YouTube.com/DOROOFFICIAL
http://www.myspace.com/DOROBAND