25 Years In Rock, the long-awaited new 2DVD/CD set from German metal queen DORO PESCH, will be released in Europe via Nuclear Blast on November 26, 2010 and in the rest of the world in 2011.
PESCH celebrated her 25-year career as the reigning queen of German heavy metal by performing a three-hour set on December 13, 2008 at the ISS Dome in her hometown of Düsseldorf, Germany. Holy Moses, Leaves Eyes' and Arch Enemy opened the proceedings followed by a full DORO set. Backed by her long-time band mates of Nick Douglas, Johnny Dee, Joe Taylor and Oliver Palotai, the performance included guest appearances by Overkill's Bobby "Blitz" Ellsworth, Grave Digger's Chris Boltendahl, former Nightwish singer Tarja Turunen, Scorpions' Klaus Meine and Rudolf Schenker, a host of female vocalists such as Liv Kristine (Leaves' Eyes), Floor Jansen (After Forever), Liv (Sister Sin) and many others.
25 Years In Rock includes this special once-in-a-lifetime event in its entirety, as well as a China tour special, out takes from her 2500th concert and much more.
In related news, PESCH is preparing for her return to the U.S. later this month for four special dates in New Hampshire, New Jersey, Virginia and New York as part of the on-going Fear No Evil world tour. Said Pesch of the upcoming shows, "I'm so excited to return to U.S. soil and see my American fans again! They will definitely be great shows as the band is doing all these summer festivals and we are on fire! I can't wait!"
The US dates will serve as virtual warm up shows for the band's Japanese debut this October [check out the Japanese teaser video here: http://www.youtube.com/user/EarsplitPR#p/u/0/HLG_9UCkbdo]
DORO PESCH U.S./Japanese Tour Dates:
09/30/2010 Rocko's – Manchester, NH
10/01/2010 The Pennant – Brooklawn, NJ
10/02/2010 Jaxx – Springfield, VA
10/03/2010 Crazy Donkey – Farmingdale, NY
10/08/2010 Holiday Shinjuku – Tokyo, Japan
10/10/2010 Holiday Nagoya – Nagoya, Japan
10/11/2010 Holiday Osaka – Osaka, Japan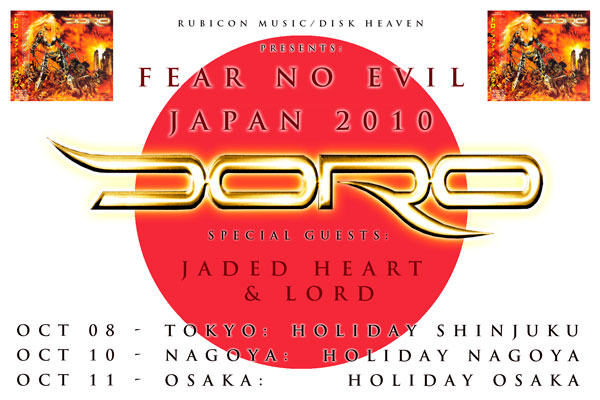 http://www.doropesch.com
http://www.myspace.com/doroband
http://www.facebook.com/DoroPeschOfficial