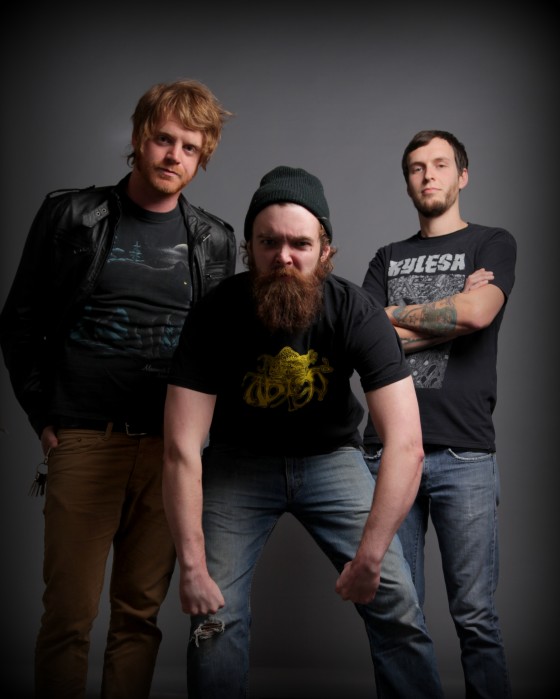 Bellingham's breakneck genresmashers DOG SHREDDER have confirmed a Fall tour where the trio will toast the West Coast alongside NYC tech sorcerers Dysrhythmia. Easily one of the most face-melting displays of rapid and technical rock mayhem of the year, the rager will kick off in Vancouver, British Columbia on October 26th and drill through Seattle, Portland, Arcata, San Francisco, Los Angeles, Phoenix, and New Mexico. Final confirmations on several of the venues will be announced in the coming days, and DOG SHREDDER will be declaring additional live actions in the weeks ahead.
DOG SHREDDER West Coast Tour w/ Dysrhythmia:
10/26/2012 TBA – Vancouver, BC
10/27/2012 Highline – Seattle, WA
10/28/2012 Rotture – Portland, OR
10/29/2012 Alibi – Arcata, CA
10/30/2012 Elbo Room – San Francisco, CA
11/01/2012 Los Globos – Los Angeles, CA
11/02/2012 Tempe Tavern – Phoenix, AZ
11/03/2012 The Gasworks – Albuquerque, NM
DOG SHREDDER released their Brass Tactics 12″ in April through Seattle's Good To Die Records, which received incredible accolades from media outlets across the globe, spawning an entire new population of 'SHREDDER fanatics. The band will enter the studio in early 2013 to construct and capture the anticipated follow-up to Brass Tactics.
Brass Tactics can still be streamed in its intense entirety at DOG SHREDDER's Bandcamp page.
"…they definitely sound like they're throwing everything into the ring, trying to turn the Fucking Champs into the Fucking Chumps." – Pitchfork
"…one of the more complex and surprising records I have heard so far this year. 9/10" – American Aftermath
"…for those finding their favorite sounds in chaotic progressions and intense experiences, it may be their biggest surprise of the year. 4/5" – Music Emissions
"…a three-song EP that leavens its brevity with pulverizing rock bravado. Lightning quick time changes, epic shredding (of guitars, not dogs), and prog-metal thrashing…" – Seattle Weekly
"Multi-layered and tightly knit while simultaneously maintaining a level of spacey ambiance…" – Invisible Oranges
"…high tension music that fuses together elements of punk, prog and laser-focused jams to create an experimental sound not unlike South Youth covering Black Sabbath." – The Sleeping Shaman
"…a chaotic and petulant release that rejects easy classification, displaying the messy energy of punk but with the sheer skill and instrumental sophistication of progressive metal, and a rollicking, irreverent hard rock quality." – About.com
http://dogshredder.bandcamp.com
http://www.facebook.com/dogshredder
http://www.twitter.com/dogshredder
http://www.goodtodierecords.com