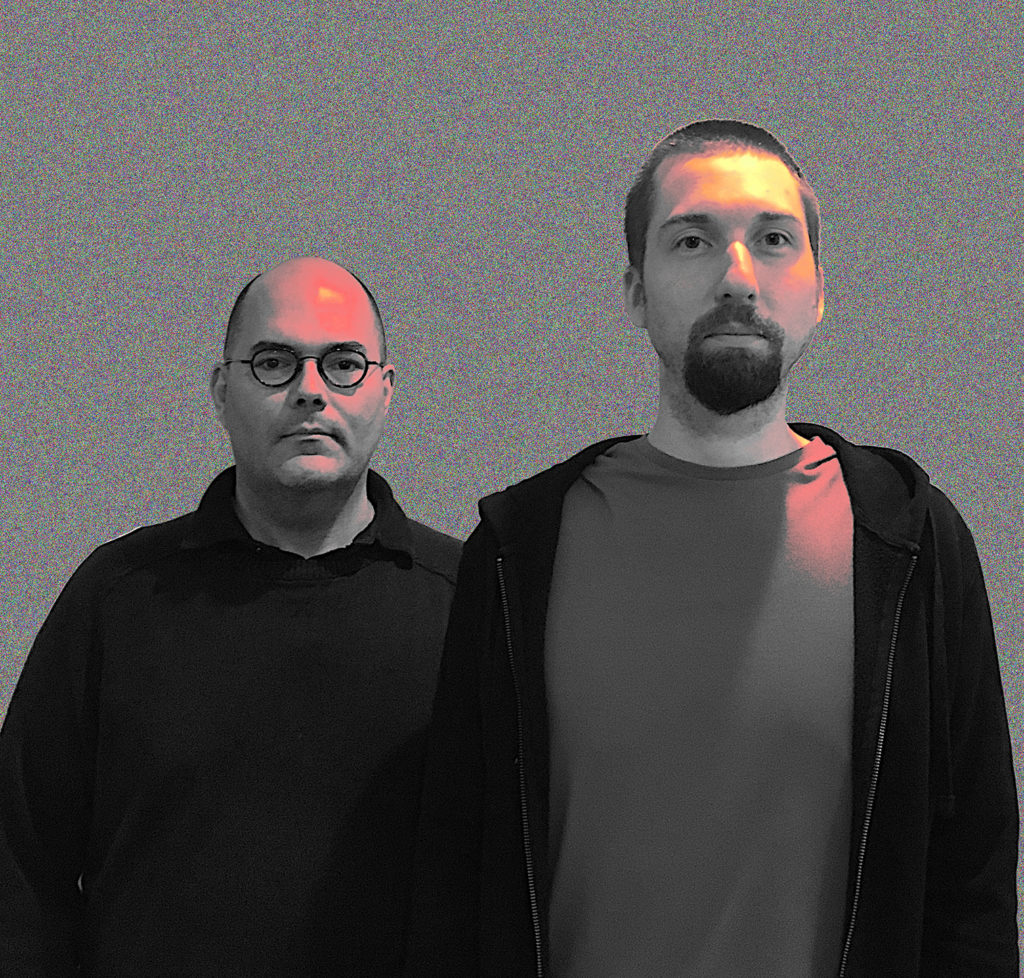 "The Floor" is the newest track from Virginia-based DIGITAL NEGATIVE, which makes its public debut today through a premiere at Decibel Magazine ahead of the duo's impending second EP.
DIGITAL NEGATIVE is the electronic/industrial project from Richard Johnson (Drugs Of Faith, Agoraphobic Nosebleed, ex-Enemy Soil) and Daniel Euphrat (Person918x, Timmy Sells His Soul). The group formed during the pandemic quarantine of 2020 and released their eponymous debut EP via Hostile 1 Tapes in 2021.
Simply named EP 2, the second DIGITAL NEGATIVE EP delivers five more brutal, electro-industrial tracks, while tackling some new ground. Unlike the band's first EP that was put together during the lockdowns, Johnson and Euphrat worked in person to craft the new material; rhythmic sound collages constructed of guitars, electronic drums, samples, and vocals.
With "The Floor," Euphrat writes, "The theme underlying DIGITAL NEGATIVE is to emphasize the artificiality of the music. Part of that has to do with choosing the right samples, but the other aspect is programming drum patterns that are counter to what a human drummer would normally play. The beat here is an attempt to hybridize trap and footwork, two genres that I admire for emphasizing the unique capabilities of drum machines. Melodically, the goal was to repeat a few simple themes across a variety of "instruments" to give what is essentially a collage of disparate samples a feeling of cohesion."
Decibel describes "The Floor" as, "a glitched-out, pulsing track that really underscores DIGITAL NEGATIVE's modus operandi of selecting samples to emphasize the artificial sounds in their productions."
Hear DIGITAL NEGATIVE's "The Floor" first through Decibel Magazine now at THIS LOCATION.
DIGITAL NEGATIVE will independently release EP 2 through Bandcamp on March 3rd. Find preorders where "Industrial Scraps" is playing HERE and stand by for further updates.
DIGITAL NEGATIVE is also working on the process of taking this project to a live setting over the months ahead with plans for regional shows and tour dates to follow.
https://digitalnegative.bandcamp.com
https://twitter.com/digitalnegativ2