[photo by Brendan Fieldhouse]
Philadelphia hypergrind trio, DIE CHOKING, has finalized the itinerary for their maiden European tour with Department Of Correction this February, coinciding with the CD release of their III debut LP. The band will tackle upstate New York this weekend, and has announced a ton of additional 2016 tour dates as well.
Surrounding its initial deluxe vinyl release through Earsplit's The Compound Recs in October, DIE CHOKING's III has been issued glowing accolades from international punk and metal press outlets and bewildered fans who have witnessed the trio deploying the LP's ripping anthems live. III will now be issued on CD as the band raids Europe for the first time. From February 12th through the 27th, DIE CHOKING will partner with Paris-based Department Of Correction for a two-week tour across Europe, the shows heavily concentrated in the UK and France, and including a set at the first DeathFist Fest in Nantes. The CD version of III will be available exclusively to tour attendees on all dates, and then see public availability on February 26th, in Europe via Selfmadegod Records and in the US via The Compound Recs/Earsplit Distro.
DIE CHOKING plays Syracuse and Ithaca, New York this Saturday, January 8th and Sunday, January 9th, both shows with upstate grinders, Sulaco (ex-Brutal Truth, Napalm Death). The band also continues to book gigs through the first half of 2016, this week being confirmed to take part in Berserker III Fest in Detroit in early March, joining Macabre, Black Tusk, Yautja, Mutilation Rites, Conan, Voivod, Ghoul, Fucking Invincible and tons more. Several additional tour dates with Fucking Invincible will follow the fest, with several of them now booked through mid-March. DIE CHOKING is also working on an April Southeast mini-tour with Organ Dealer, and a May New England mini-tour with Pyrrhon.
Stream DIE CHOKING's III in its merciless entirety via Soundcloud HERE and Bandcamp HERE.
The limited pressing of III exclusive to The Compound / Earsplit Distro mailorder in an A Side/B Side black-base Blue Splatter is available HERE, and the Blues Of The Mighty Haze and Blue & Bone Splatter Milky Clear pressings available through DIE CHOKING right HERE.
DIE CHOKING III Tour Dates:
1/08/2015 Funk n' Waffles – Syracuse, NY w/ Sulaco [info]
1/09/2016 Chanti-Loft – Ithaca, NY w/ Twin Lords, Sulaco
2/12/2016 Le Buzz – Paris, FR w/ Department Of Correction
2/13/2016 Bar Live – Roubaix, FR w/ Department Of Correction
2/14/2016 Unicorn – London, UK w/ Department Of Correction
2/15/2016 Red Lion – Bristol, UK w/ Department Of Correction
2/16/2016 Northumberland – Newcastle, UK w/ Department Of Correction
2/17/2016 The Adelphi – Preston, UK w/ Department Of Correction
2/18/2016 The Old Angel – Notthingham, UK w/ Department Of Correction
2/19/2016 DeathFist Fest – Nantes, FR w/ Department Of Correction [info]
2/20/2016 Raymond Bar – Clermont Ferrand, FR w/ Department Of Correction
2/21/2016 Les Pavillons Sauvages – Toulouse, FR w/ Department Of Correction
2/22/2016 Thunderbird Lounge – Saint Etienne, FR w/ Department Of Correction
2/23/2016 Haus Mainush – Mayence w/ Department Of Correction
2/24/2016 Sanitätstelle – Chemnitz, FR w/ Department Of Correction
2/25/2016 Epplehaus – Tübingen, DE w/ Department Of Correction
2/26/2016 Cafete – Bern, CH w/ Department Of Correction
2/27/2016 Black Box – Saint Dizier, FR w/ Department Of Correction
3/04/2016 Berserker Fest III – Detroit, MI [info]
3/05/2016 TBA – Grand Rapids, MI
3/10/2016 Gallery 5 – Richmond, VA w/ Fucking Invincible
3/11/2016 Sidebar – Baltimore, MD w/ Fucking Invincible
3/12/2016 Lava Space – Philadelphia, PA w/ Fucking Invincible
5/12/2016 The Funky Jungle – Providence, RI w/ Pyrrhon
5/13/2016 Obrien's – Boston, MA w/ Pyrrhon
5/14/2016 Geno's Rock Club – Portland, ME w/ Pyrrhon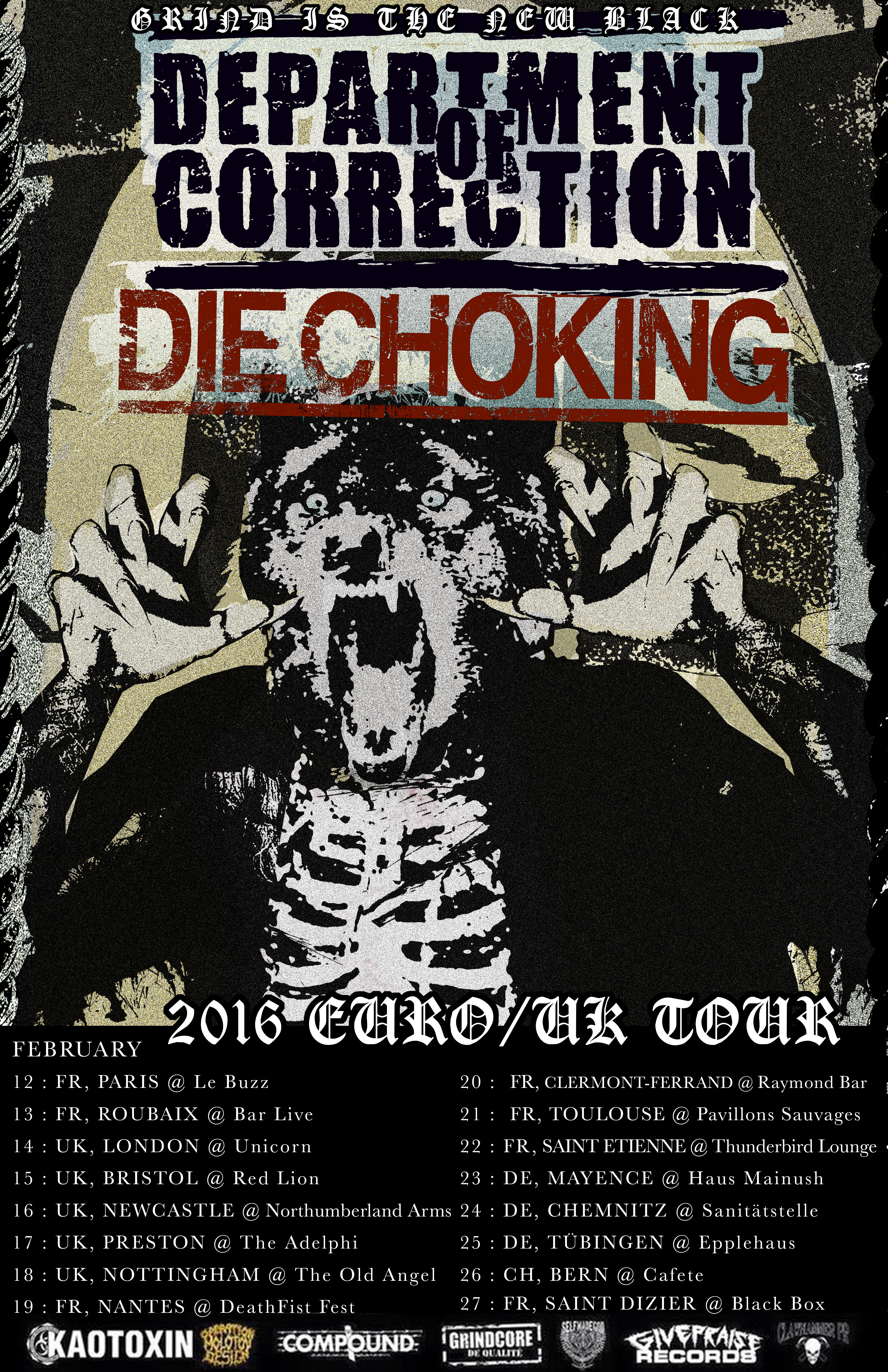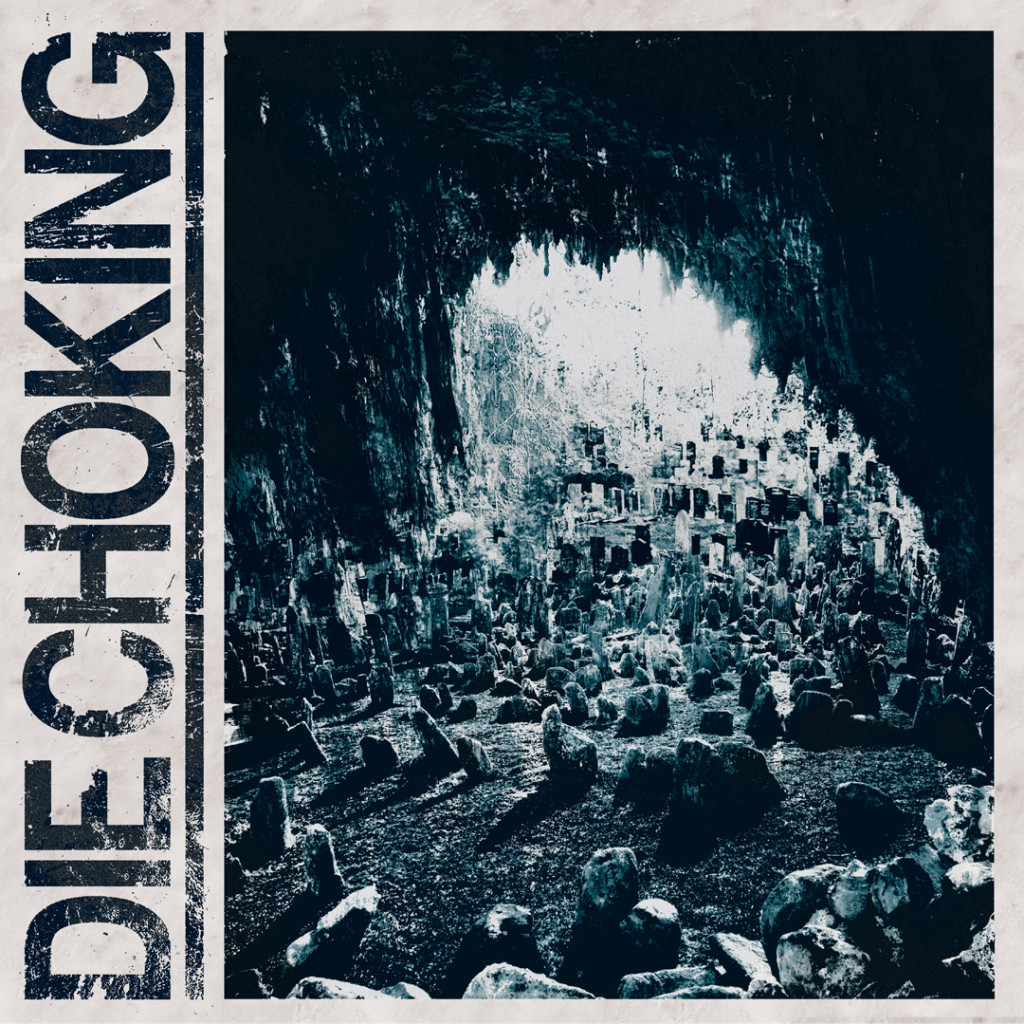 http://www.diechoking.com
http://www.facebook.com/diechoking
http://www.diechoking.bandcamp.com
http://www.facebook.com/TheCompoundRecs
http://www.thecompoundrecs.com
http://www.earsplitdistro.com
http://www.thecompound.bandcamp.com