Grinders, shredders, ragers and speedfreaks, welcome DIE CHOKING, a Philly bred trio quickly becoming known for their smoldering concoction of brutal punk mayhem, grindcore, and raw metal, played at ungodly fast speeds of pure sonic annihilation. The band's five-song self-titled EP bas been freshly dispatched to the printing presses for its first vinyl incarnation, pending release in conjunction with the extreme music purveyors at Earsplit's label, The Compound.
Featuring Paul J Herzog (ex-Total Fucking Destruction) on bass/vocals, Joshua T. Cohen (Cop Problem) on drums, and Jeffrey V. Daniels (Burden) on guitar, DIE CHOKING digitally released this first studio effort in January and immediately sparked an underground buzzstorm. CvltNation.com stated of the release,"this band scrambles your brain cells with their brand of high-octane grindcore laced with traces of rancid crust! What I dig about this record is the hidden grooves that are smashed against walls of aggressive speed and angst," continuing, "…DIE CHOKING also brings the noise with their messages of anti-authority and anti-capitalism."
The Die Choking EP was recorded by Brutal Truth guitarist Dan O'Hare at his Mark It Zero Studios in New Jersey, the same studio DIE CHOKING will return to on March 1st to record a new five-song EP due out later this Summer. Preorders for the vinyl version of the 7″ will be available in the coming days via The Compound/Earsplit Distro.
Die Choking 7″ Track Listing:
I. Low Finality
II. Momentum
III. Greed War
IV. Reason Resist | Reason Reborn
V. Uninstall
DIE CHOKING has several notable forthcoming tour dates confirmed, including a featured performance in Brooklyn at Artificial Brain's record release show March 15th at Saint Vitus Bar. The band was also hand-picked by Decibel Magazine owner and founder Albert Mudrian to be the regional support for the Philadelphia stop the Decibel Magazine Tour featuring Carcass, The Black Dahlia Murder, Gorguts, and Noisem on April 12th at The Trocadero. Other regional stops including shows with The Compound labelmates Enabler are being announced now via the band's website.
DIE CHOKING Live Actions:
3/14/2014 Paradise House – New Brunswick, NJ
3/15/2014 Saint Vitus Bar – Brooklyn, NY w/ Artificial Brain, The Communion
4/04/2014 Siren Records – Doylestown, PA w/ Carved Up, Bardus
4/12/2014 Trocadero – Philadelphia, PA w/ Carcass, The Black Dahlia Murder, Gorguts, Noisem
4/24/2014 The Mr. Roboto Project – Pittsburgh, PA w/ Enabler, Black Mask, Meth Quarry, Rabid Pigs
Continuous updates will emerge as DIE CHOKING prepares tours for the Summer and Fall months in support of these two EPs and also enters the studio to record their debut full-length before the end of the year.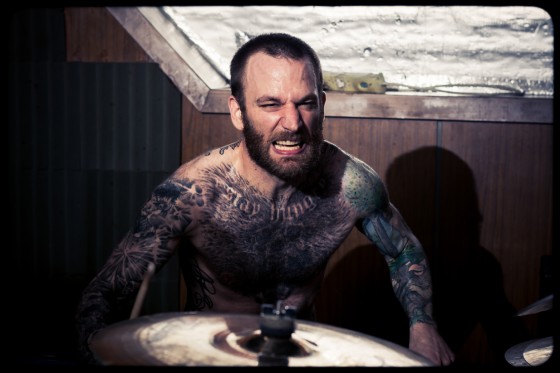 photos by Dante Torrieri
http://diechoking.com
http://facebook.com/diechoking
http://diechoking.bandcamp.com
https://www.facebook.com/TheCompoundRecs
http://www.thecompoundrecs.com
http://www.earsplitdistro.com