DIABLO SWING ORCHESTRA To Release New Album Stateside Via Sensory Records
Sweden's eclectic metal troupe DIABLO SWING ORCHESTRA will peak the curiosity of North American masses through the release of their third full-length, Pandora's Piñata, May 22nd via Sensory Records, with Candlelight Records handling the album in Europe.
An eclectic mash up of metal, opera, swing jazz, tango, and spaghetti western soundtrack, the music DIABLO SWING ORCHESTRA creates is unlike that of any other group on the planet. The message of DSO has expanded its way through an incredibly devout fanbase developed over years of infiltrating viral markets dominated by open-minded musical thrill seekers, in addition to prominent live gigs on several continents over recent years, and fans of their incredibly unique, technical, ambidextrous groove are eagerly awaiting the arrival of Pandora's Piñata.
DSO have released a visual trailer for the album utilizing "Voodoo Mon Amour," the opening track to the maze of Pandora's Piñata, the track displaying the obvious and incredible talent of the outfit.
The follow-up album to their acclaimed 2009-released Sing Along Songs For The Damned And Delirious, also released via Sensory, Pandora's Piñata finds DIABLO SWING ORCHESTRA expanded into a massive eight-piece lineup, with the permanent addition of two horn players. The new album is a smörgåsbord of different levels of musical insanity building on the foundation laid down on their previous album. And as always the musical mayhem is fronted by the glass shattering voice of Annlouice Loegdlund, a metal queen at night but a trained opera singer by day, her incredibly infectious and professional range setting the rest of the incredibly layered tunes alive with vibrant flames of originality. The theme of the album follows the seven cardinal sins that one can imagine falling out of this like-no-other-audio-visual-piñata. The story is also followed up in the artwork which as usual has been created by the band's bass player Anders Johansson. For the third time the band collaborated with renowned Swedish illustrator Peter Bergting to create the album cover. Featuring over fifty minutes of brand new material sure to enlighten, empower, and likely even confuse the everyday metal fan, Pandora's Piñata is undoubtedly an album that most any fan of extreme musical experimentation should experience.
The upcoming year will find DIABLO SWING ORCHESTRA creating disturbances on stages around the world, beginning with a tour of Latin America in May and June with a European trek and much more to follow.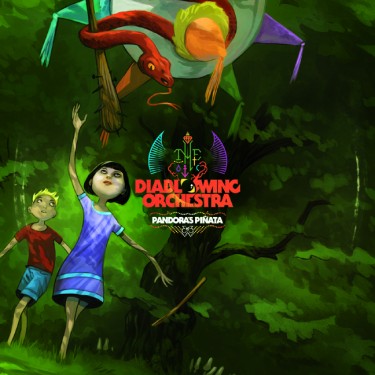 Pandora's Piñata Track Listing:
1. Voodoo Mon Amour
2. Guerrilla Laments
3. Kevlar Sweethearts
4. How To Organize A Lynch Mob
5. Black Box Messiah
6. Exit Strategy Of A Wrecking Ball
7. Aurora
8. Mass Rapture
9. Honey Trap Aftermath
10. Of Kali Ma Calibre
11. Justice For Saint Mary
DIABLO SWING ORCHESTRA Latin American Tour Dates:
5/24/2012 La Quinta – Caracas, Venezuela
5/25/2012 Teatro Matacandelas – Medellin, Colombia
5/27/2012 Ozzy Bar – Bogota, Colombia
5/29/2012 Inferno Club РṢo Paulo, Brazil
5/30/2012 Salon Reducci – Buenos Aires, Argentina
6/01/2012 Circo Volador Mexico City, Mexico
6/02/2012 Calle 2 – Guadalajara, Mexico
Recording Musicians For Pandora's Piñata:
Annlouice Loegdlund – Lead Vocals
Daniel Håkansson – Vocals & Guitars
Pontus Mantefors – Guitars, Vocals, Synthesizers & Effects
Daniel Hedin – Trombone & Backing Vocals
Anders Johansson – Bass
Martin Isaksson – Trumpet & Backing Vocals
Johannes Bergion – Cello & Backing Vocals
Petter Karlsson – Drums & Percussion
Additional Musicians For Pandora's Piñata:
Diana Lewtak – Violin
Erika Risinger – Violin & Viola
Emilia Wareborn – Viola
Michael Carlqvist – Double Bass
Anna Melander – Flute
Lucy Rugman – Clarinet
Ekaterina Skidanova – Oboe
Elisabeth Jansson – Horn
Wictor Lind – Timpani & Percussion
Oskar Reuter – Mandolin
Live Setup As Of 2012:
Annlouice Loegdlund – Lead Vocals
Daniel Håkansson – Vocals & Guitars
Pontus Mantefors – Guitars, Vocals, Synthesizers & Effects
Daniel Hedin – Trombone & Backing Vocals
Anders Johansson – Bass
Martin Isaksson – Trumpet & Backing Vocals
Johannes Bergion – Cello & Backing Vocals
Johan Norbäck – Drums
http://diabloswing.com
https://www.facebook.com/pages/Diablo-Swing-Orchestra/61680950315
http://www.lasersedgegroup.com/sensory.html
http://www.facebook.com/pages/The-Lasers-Edge-Group/176127959010