Austin doom-crushers, DESTROYER OF LIGHT, have updated their Summer tour, which begins in just one week, then consumes the remainder of June and nearly half of July.
The upcoming tour is the first extensive tour from DESTROYER OF LIGHT since their Summer 2015 tour with Godhunter, which was booked in support of their Endsville split 2xLP. This new trek sees DESTROYER OF LIGHT taking their Endsville anthems back out to the masses, beginning in Fort Worth on June 16th, then running up through the Central and Midwestern states to the Pacific Northwest, before running down the West Coast on their way back to Texas, the final show going down in the band's hometown on July 11th.
A brief trailer for the tour is posted HERE.
Additionally, DESTROYER OF LIGHT has been confirmed to take part in the second installment of Shadow Woods Metal Fest in Maryland this September, with the likes of Zud, Tombs, Mantar, Wino with Faith In Jane, Ghost Bath, Darsombra, Blood Storm, and countless others, around which another tour is being routed.
Following the recent departure of Keegan Kjeldsen, these tour dates will see DESTROYER OF LIGHT taking to the streets as a three-piece for the first time, with Jeff Klein handling lead guitars, Steve Colca on guitars and vocals, and Penny turner on drums, the trio strategically bulking up on extra amplification for the journey. The band is working on their new album, which will see release in early 2017 on a label to be announced at a later date along with more info on the permanent lineup.
Stream DESTROYER OF LIGHT's Endsville split with Godhunter RIGHT HERE, and see the lyric video for "Electric Shadows" HERE.
Endsville is available through a joint release with Godhunter co-owned Battleground Records and DESTROYER OF LIGHT's Heavy Friends Records, the 2xLP bearing two slabs of 180-gram vinyl on two colors packed in a gatefold sleeve. Order the digital and vinyl HERE.
DESTROYER OF LIGHT Tour Dates:
6/16/2016 The Grotto – Fort Worth, TX
6/17/2016 Road Map – Texarkana, AR
6/18/2016 Downtown Lounge – Tulsa, OK @ Freak Tulsa 2016
6/19/2016 The Elbow Room – Wichita, KS
6/20/2016 Bourbon Theatre – Lincoln, NB
6/21/2016 Three Kings Tavern – Denver, CO
6/22/2016 Flux Capacitor – Colorado Springs, CO
6/24/2016 Wastelander Studio – Boise, ID
6/25/2016 VFW – Missoula, MT
6/26/2016 Emerald of Slam – Richland, WA
6/27/2016 Victory Lounge – Seattle, WA
6/28/2016 The Panic Room – Portland, OR
6/29/2016 The Wandering Goat – Eugene, OR
6/30/2016 Base Kamp – Ashland, OR
7/01/2016 Starlite – Sacramento, CA
7/02/2016 Hemlock Tavern – San Francisco, CA
7/03/2016 Sweet Water Saloon – Los Osos, CA
7/04/2016 Lexington – Los Angeles, CA
7/05/2016 Soda Bar – San Diego, CA
7/06/2016 The Womb Room – Las Vegas, NV
7/07/2016 Yucca Tap Room – Tempe, AZ
7/08/2016 191 Toole – Tucson, AZ
7/09/2016 The Sandbox – El Paso, TX
7/10/2016 The Depot O'Bar – Lubbock, TX
7/11/2016 The Grand – Austin, TX
9/15-18/2016 Camp Hidden Valley – White Hall, MD @ Shadow Woods Metal Fest [info]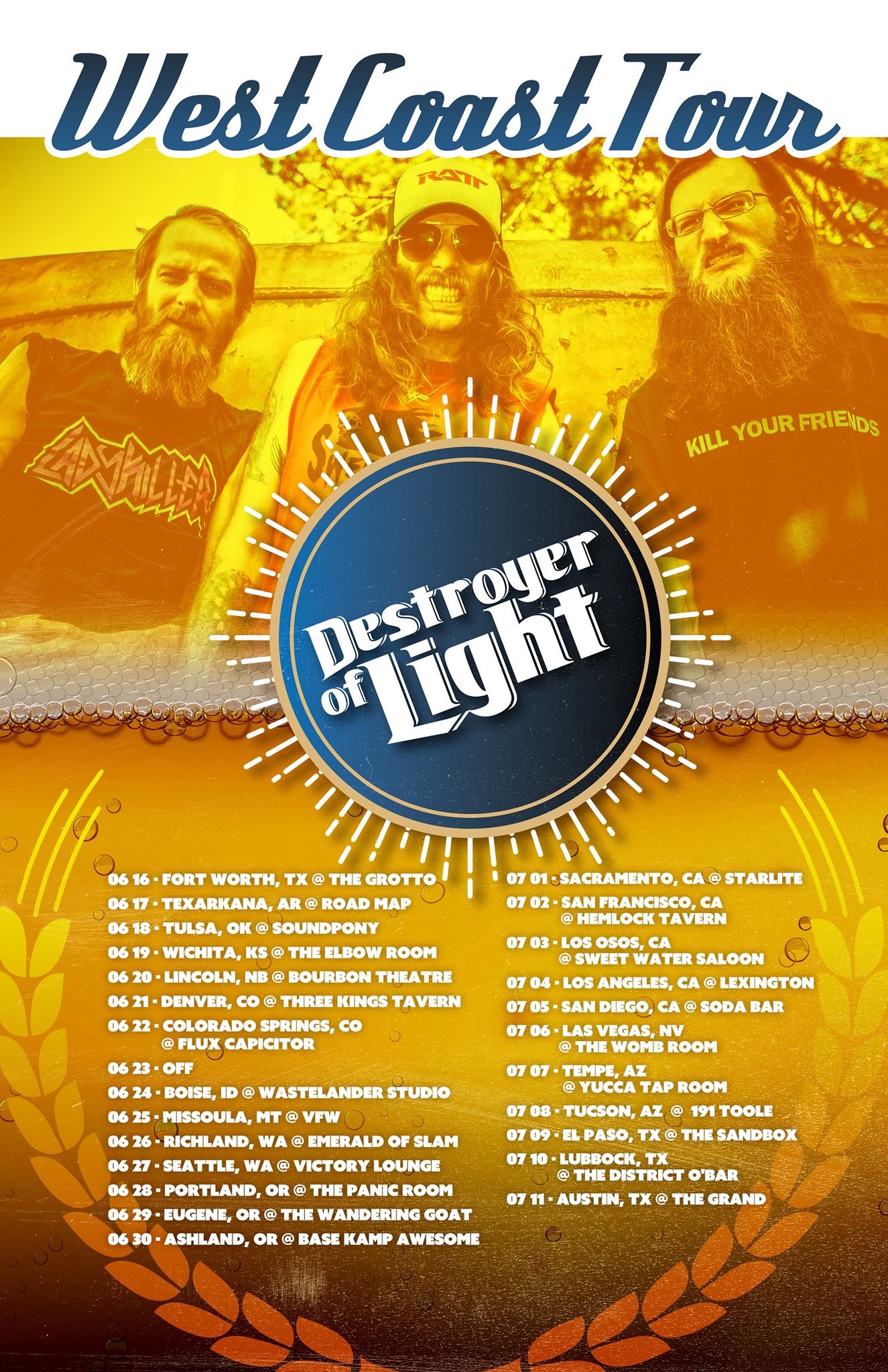 http://www.destroyeroflight.bandcamp.com
http://www.facebook.com/destroyeroflight
http://www.facebook.com/pages/Heavy-Friends-Records/1396186950655438