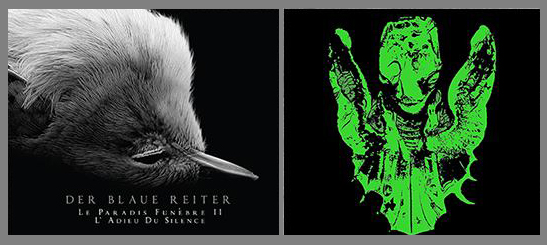 In celebration of two very special releases from Belgium's dark ambient/industrial powerhouse, Neuropa Records, today Decibel Magazine thrusts forth tracks from DER BLAUE REITER and ROSES NEVER FADE.
First up in the Neuropa double shot is "Conquest Of Glory," from Barcelona-based post-apocalyptic darkwave project, DER BLAUE REITER. The foreboding psalm serves as the third movement of their recently released Le Paradis Funèbre II – L' Adieu Du Silence full-length. Founded in 2005, DER BLAUE REITER is a Catalan music project that fuses apocalyptic ambiance with neoclassical passages and militarist percussion. Their compositions function as chillingly poignant soundtracks to a post-nuclear, diseased world wriggling beneath the weight of its own self-inflicted suffering and looming demise, with Le Paradis Funèbre II – L' Adieu Du Silence chronicling humanity's final days. Rife with compelling orchestrations, cinematic soundscapes, majestic industrial cascades and a martial air, Le Paradis Funèbre II – L' Adieu Du Silence serves as the project's darkest creation to date, where light is just a rumor, and the future a legend.
Next is "Every Heart That Will Break," from dark neofolk trio, ROSES NEVER FADE. The solemn hymn comes by way of the band's second long player, Devil Dust. Featuring Ancient VVisdom's Nathan Opposition, The Way To Light's Austin Rathmell and Pale Creation's Nick Fiction, Devil Dust was mastered by Paul Logus (Anthrax, Clutch, Hellyeah, Shadows Fall, Satyricon et al) at PLX Mastering in New York City and offers up nearly forty-minute dark, brooding, acoustic-based melancholy marked by its lushly layered, enveloping guitars and stark, chilling lyrical imagery. A fitting audio journey for fans of Agalloch, Death In June, Joy Division, and Tom Waits.
Experience both tracks, now streaming at Decibel Magazine at THIS LOCATION.
DER BLAUE REITER's Le Paradis Funèbre II – L' Adieu Du Silence and ROSES NEVER FADE's Devil Dust are both available now Via Neuropa Records. For ordering options, point your browser to THIS LOCATION.
https://www.facebook.com/derblauereitermusic?fref=ts
http://www.facebook.com/pages/Roses-Never-Fade/165331503620181
http://www.neuroparecords.com
http://www.facebook.com/neuroparecords