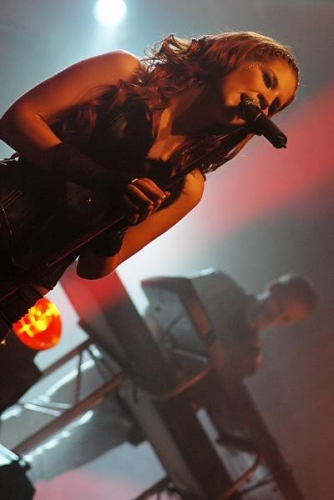 Dutch epic metallers DELAIN will be performing on North American soil for the first time this September!
DELAIN are one of the main acts set to appear this September 11th at the annual ProgPower USA Festival in Atlanta, Georgia, set to perform alongside Kamelot, Nocturnal Rites, Hammerfall, Tarot, Tyr, Leaves' Eyes and more. See the full lineup and more at: http://progpowerusa.com. Immediately following the fest, DELAIN have also booked shows in Mexico City and Sao Paulo before returning home. More live appearances will be announced shortly.
Interviews with DELAIN will be available at the festival, as well as to North American journalists abroad via phone while the band are stateside on the days surrounding ProgPower. Contact Earsplit for details.
DELAIN "Mini World Tour" 2010:
8/07/2010 Wacken Open Air – Wacken, Germany
9/11/2010 ProgPower USA – Atlanta, GA
9/13/2010 Circo Volador – Mexico City, Mexico
9/18/2010 Carioca Club – Sao Paulo, Brazil
9/19/2010 ExpoBrasilia – Brasilia, Netherlands
The progressive metal professionals at New Jersey's Sensory Records — who released the band's sophomore release April Rain to North American audiences in 2009 (the album released via Roadrunner Records in Europe) — also reissued the band's debut Lucidity in June, tying perfectly in with this upcoming US appearance of the band. The expanded edition of Lucidity features four full bonus tracks not available on the European version, and was also made available for the first time as a digipak worldwide.
DELAIN was conceived by former Within Temptation keyboard player Martijn Westerholt. Although Within Temptation was a rising star on the European metal scene, Westerholt had to leave the band due to a chronic illness. During his recuperation he wrote the material that would evolve into the Lucidity sessions. For the DELAIN studio project, Westerholt brought together some of the best known names in the European metal scene: Marco Hietala (Nightwish, Tarot), Sharon Den Adel (Within Temptation), Liv Kristine (Leaves' Eyes), and Ad Sluijter (Epica). He also discovered a young vocalist named Charlotte Wessels. With a voice that matched her stunning looks, she immediately became DELAIN's front woman.
The instant success of Lucidity in the European market necessitated Westerholt to create a fully active, touring band. DELAIN went on tour in support of Within Temptation and other high profile bands, and appearances at festivals as well as Dutch television elevated the band's status into headlining performers. The band's follow up album, April Rain, has further established the band as rising stars in the gothic metal scene.
Review copies of the reissue of Lucidity are available to North American journalists now, as well as interviews with the band any time. Please get in touch with any requests.
http://www.delain.nl
http://www.myspace.com/delainmusic
http://www.lasersedgegroup.com