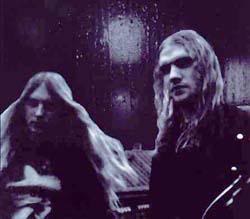 Decibel Magazine today has premiered the first song from OCTOBER TIDE's new album, A Thin Shell, scheduled for release on September 28. "Blackness Devours" can now be heard by visiting: http://decibelmagazine.com/Content.aspx?ncid=378527.
A Thin Shell is the first new album from Sweden's OCTOBER TIDE in over ten years. Mixed/mastered at Black Lounge Studios in Sweden and featuring artwork from American photographer/graphic designer Travis Smith (Opeth, Katatonia, Testament, Death etc.) the album delivers what fans have anxiously awaited from this treasured band. Guitarist/founder Fredrik Norrman recently commented, "I have wanted to get OCTOBER TIDE back together for some time. When we decided the time was right, ideas for new songs surprisingly came together nicely. Many sleepless nights were involved, with lots of coffee of course, but the songs were written in flow one after another."
Formed in 1995 by then Katatonia guitarist Norrman and Katatonia/Bloodbath vocalist Jonas Renkse, OCTOBER TIDE quickly made a mark with two albums recorded and released during the years 1997 and 1999 (Rain Without End and Grey Dawn, respectively). Much of the band's music was written during a short break up of Katatonia which later proved only temporary as the band would reform and continues today; their latest album, Night Of The New Day, features work by Norrman. OCTOBER TIDE would not perform live during this short period of activity and few interviews with the members were granted despite praise from both media and fans. The band, until reforming in late 2009, would maintain a cult status throughout the doom/metal community.
OCTOBER TIDE currently features vocalist Tobias Netzell, drummer Robin Bergh, session bassist Jonas Kjellgren (Scar Symmetry, Carnal Forge) with Norrman.

http://www.myspace.com/octobertideband
http://www.candlelightrecordsusa.com